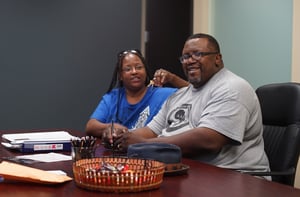 To understand property taxes, it may help to start with something more familiar: Sales taxes. Imagine you're at a restaurant and you order $23 worth of food. But, when you received the bill, the total came out to $24.58. That's because there was $1.58 added in sales tax, which typically goes to your state government's general fund.
It's much the same way with property taxes. You want to buy a house, which requires a monthly mortgage, but you also need to pay property taxes, which go towards specific government-funded activities. For first-time homebuyers, this can raise a lot of questions. So, we've created a list of frequently asked questions when it comes to your property taxes.
What are property taxes used for?
Property taxes pay for services provided by your local government. This includes schools, police and fire departments, water, sewer, street maintenance, recreational programs, park improvements, and more. If your city organizes garbage or recycling in your community, your property taxes pay that, too.
Your property taxes not only benefit the city where you live but the county and state, too.
What if I don't want or need those services? Do I still have to pay property taxes?
Whether you use the city parks or the nearby community center, you are still required to pay property taxes if you own a home. It's important that police officers, firefighters, and teachers have the resources they need to provide services to you and your family. Plus, it keeps your community clean and functional.
Who decides what the property tax will be?
The local assessor's office assesses your home and places a value on it. That amount is then taxed.
Note that property taxes vary by city, county, and state. The Minneapolis city assessor's property tax estimator can be found here.
So how does the assessor come up with the property tax?
The assessor takes the taxable value of your property, multiplies it by the tax or levy rate set by your city to get the annual property tax bill. The average U.S. property tax bill is 1-2% of the value of a home, but this range can vary widely. And if you're buying a new home, it pays to be extra careful.
New homes are often assessed at higher rates than older homes that have the same market value. The thought is that the taxes on the two homes will eventually even out. In reality, sometimes they do and sometimes they don't.
Property taxes could add a lot of money to my monthly expenses. How do I find out how much the property taxes are on a home?
Property taxes don't typically go down. However, sometimes they will remain unchanged for a year before climbing again. Look for a home's property taxes on the listing sheet. And if you can't find the number, ask a real estate agent. In the meantime, it may help to know that property taxes (unlike sales tax) can be deducted from your federal income tax returns.
If you need more help, Hennepin County has a similar list of questions on its website. If you have further questions, we at Twin Cities Habitat for Humanity, are also happy to help.