When Twin Cities Habitat partners with a neighborhood for revitalization efforts, we're happy to take a backseat and let the residents drive. After all, it's their block, their neighborhood, and nobody knows it better than them. The people who live, work, and play in a community have the best understanding of what investments of time and money will help raise the overall quality of life for everyone around them. But convincing residents to open up and share their vision for their community requires a great deal of trust. For residents on one block of Charles Avenue in St. Paul's Frogtown neighborhood that trust in Habitat increased dramatically when we decided NOT to build a home on their block.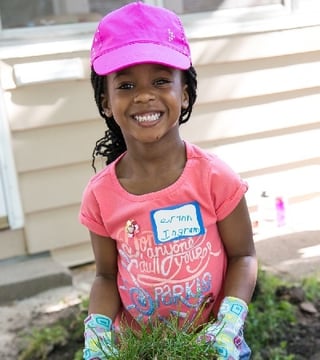 Many of the homes on this block of Charles Avenue (between Dale and Kent Streets) date back to the 1880s, representing one of the earliest working class developments in the Thomas-Dale neighborhoods. They're narrow, tightly packed, and built with thicker-than-normal wooden frames. During the foreclosure crisis, when nobody was building anything new in Frogtown, Twin Cities Habitat purchased one of these homes that had fallen into disrepair. It was next to an empty lot, so we proposed knocking the home down and building a brand new Habitat home on both lots. Our initial thinking was: everyone would want a bigger new home replacing one of the most dilapidated homes on their block. We were wrong.
Residents made it clear they loved the historic look and feel of their block, and wanted to preserve as many of the original vernacular Victorian-era workers cottages as possible. We listened to the community's voice and sold the home so it could be rehabbed and brought back to its former self. Today a young couple is proud to call that house home.
In 2016, Polina Montes de Oca, who oversees the neighborhood revitalization partnerships at Twin Cities Habitat, started to meet with local organizations like the Frogtown Neighborhood Association, Historic St. Paul, and NeighborWorks Home Partners to figure out how to support Charles Avenue residents' visions for their block.
Together, we coordinated with Charles Avenue residents to do a week of repair, paint, and planting projects in early June. All week volunteers worked on several homes and capped it all on Saturday June 10, 2017, when more than 65 people joined forces with residents in finishing off the projects and putting in new plants up and down the block.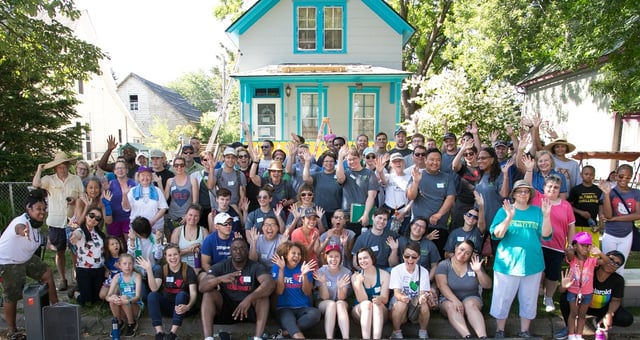 Pat, who has lived in her home on Charles Avenue for four decades, welcomed everyone in the morning and said how great it was to see the neighbors coming together for something so positive. She echoed a lot of people's hopes that the event was more of a kickoff to deeper involvement than a closing celebration for a week of work well done. Kiki, who owns a home on the corner of Charles Avenue, said she loves her home and wants her entire block to feel just as special.
The celebration day included entertainment, delicious organic and freshly prepared food catered by Hampden Park Co-op, and a resource fair featuring over twenty local organizations. Every household on the block, regardless of whether they partook in the activities, received a "goody bag" filled with resources, household products, and a welcome mat.
Inspired by the volunteers working all along the block, some resource fair organizations stepped away from their tables to lend a hand in the planting, while others scheduled future projects or services with residents.
Jim Sazevich, a St. Paul research historian, gave a walking tour of the block. He stopped in front of one home and shared that his grandparents had owned it. It was the same home that Habitat decided not to tear down.
Successful Neighborhood Revitalization takes lots of partners—starting with engaged residents. Twin Cities Habitat was also thankful to rely on the expertise and capacities of local organizations and the support of Thrivent Financial (which is the #1 all-time sponsor of Habitat for Humanity and is deeply engaged in local revitalization efforts in Minneapolis and St. Paul).
If you want to see what Neighborhood Revitalization looks like (and feels like) at Twin Cities Habitat, please join us for the upcoming Jordan Week of Kindness that'll be celebrated in partnership with the residents of the Jordan neighborhood of Minneapolis on Saturday, July 22, 2017.