There is power in community.

At least, that's what we've learned through our partnerships and experiences with the Jordan neighborhood in Minneapolis, and Frogtown neighborhood in St. Paul.

Together with other local organizations and community groups, Habitat's Neighborhood Revitalization program has carried out several community-building projects in these close-knit neighborhoods to engage residents and provide service opportunities to make home improvements and enhance the aesthetics of the block(s).
This summer, Neighborhood Revitalization, in partnership with the Frogtown Neighborhood Association, NeighborWorks Home Partners, and Historic Saint Paul, will launch a summer-long initiative to transform an entire block of of the Charles Ave. in the Frogtown neighborhood. The initiative, called Residents Regenerate: Charles Ave., will begin on June 10th with community projects. The kick-off will serve as a celebration of the neighborhood and community, and will include curb appeal projects, block clean up work, landscaping, and paint and repair work.
"We are extremely excited to kick off this community building project that has been in the making for the past year!" said Polina, Neighborhood Revitalization Program Manager at Twin Cities Habitat. "It's definitely a collaborative effort, and one that celebrates the stories and history of this working-class immigrant neighborhood of St. Paul."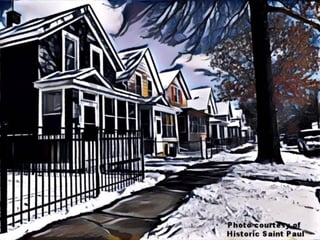 Residents Regenerate: Charles Ave. came about after Habitat for Humanity purchased a workers cottage in the neighborhood in 2011-2012 that was positioned next to a vacant lot. Habitat's plan was to purchase the adjacent lot and demolish the existing home in order to conduct a new build on the property.The local neighborhood association stepped in and shared information about the home's historical significance. After receiving feedback from the local community, Habitat sold the property to Preserve Frogtown, a partnership between Frogtown Neighborhood Association and Historic Saint Paul, in order to preserve and rehabilitate the existing structure.
Since then, Habitat has worked closely with the Frogtown community. After Thrivent Financial sponsored our first Neighborhood Revitalization community building project, Garage-a-Palooza, in 2015, Twin Cities Habitat was invited to continue to work collectively to support the preservation of not just one home, but the entire block. Carol Carey from Historic Saint Paul has helped residents and community members recognize the value of the character of the homes on the block (almost all the houses on this block are vernacular Victorian-era workers cottages), many of which were built over 100 years ago.
"That block in particular is part of a cluster of blocks recommended for further survey and research as a potential residential historic district representing the Thomas-Dale neighborhood's earliest period of development as a working class neighborhood."
"During this entire process of planning the initiative, it has been important for us to get residents' input," Polina said. "We want to work with residents and local organizations to help them envision what they want their block to be like, and then, provide resources to help make it happen."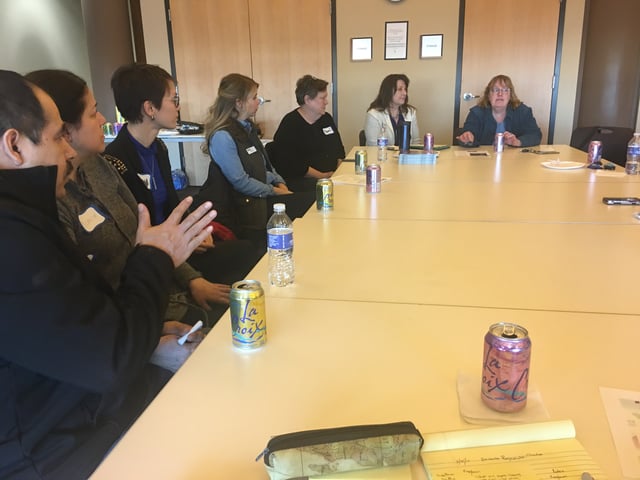 For the Residents Regenerate: Charles Ave initiative, there is a strong focus on making repairs that preserve existing homes' historically-significant features. There is also a desire to address safety issues with local traffic, and to explore what to do with some of the vacant lots within the community. And, because the initiative is a partnership with NeighborWorks Home Partners, there will also be ways for renters and landlords to participate in this community-building project.
There are several ways for Frogtown residents to participate in the initiative:
Residents are encouraged to apply as soon as possible for needed repair work (please contact America at Twin Cities Habitat at 612-305-7199 to receive more information)
Community members are invited to attend future resident gatherings (Please contact Polina or the Frogtown Neighborhood Association for information on future meetings)
Provide feedback on the initiative directly to Habitat for Humanity or the Frogtown Neighborhood Association
Come out and volunteer! Opportunities to lend a hand with these projects will be made available in May, and will continue to be scheduled throughout the summer.