When you're looking at homes, you want a REALTOR® who can help you make the right choice. But there are certain kinds of information your Realtor can't share, no matter how much you'd like to know – and for good reason.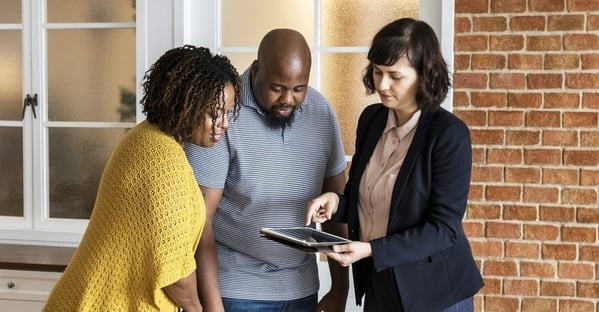 It's easy to assume that your Realtor doesn't want to give you bad news, but it's a matter of what's considered "material fact" and what isn't. Robyn Bipes-Timm, President of TCHFH Lending, Inc., says material fact includes "anything that might substantively affect the buyer's decision" – information like house age, condition, what defects it might have, or whether or not it's been remodeled in the past.
A Realtor can share and use material fact to advise clients to make the best home buying decision – but there's plenty that falls outside that definition, too. Read on to learn what information your Realtor can't tell you and why.
Questions your Realtor can't answer
If you've ever asked a Realtor for more information and were shut down, it's likely because the answer to your question might touch on the class, race, national origin, sex, disability, or other information about the people who've lived in the house or neighborhood – things that have nothing to do with the house itself.
Here are a few common questions Realtors can't answer for homebuyers:
"What kind of people live in this area?"
"How much do people make around here?"
"How old are my neighbors?"
"Which is the best school in the area?"
"What is the crime rate around here?"
"Are there a lot of [Christians/Jews/Hindus/Muslims/other religious groups] in this neighborhood?"
"How big is the family that lives in the house now?"
If your Realtor doesn't answer those or other questions not directly related to the cost or condition of the house, they're not withholding information from you. In fact, it's illegal and unethical for them to answer many of those questions.
What your Realtor can't tell you due to the Realtor Code of Ethics
Licensed real estate agents become Realtors by joining the National Association of REALTORS®. Real Estate Agents are bound by a Code of Ethics, which includes guidance on what information can be ethically shared by a Realtor with their client. They're required to take training and certification courses regularly to make sure they know the current standards and how to apply them when helping clients buy and sell homes. "It makes sure they're acting in legal ways and responsible ways," Robyn says.
The Code of Ethics also outlines things Realtors shouldn't do, like blockbusting (using misleading information to scare clients into selling their homes) and steering (the illegal practice of incentivizing a client's buying decision based on characteristics of the buyer, seller, or neighborhood).
Steering is why Realtors can't tell you things like the demographics of a neighborhood, racial makeup of an area, or personal details about previous homeowners. Motivated by prejudice and profiteering, real estate steering and discrimination has been an issue for decades – and it continues today.
"Realtors shouldn't communicate things like whether or not the neighborhood is 'safe,' income composition in the area, and whether or not the schools in the area are 'good' schools," Robyn says. She says that underneath each of those questions is the potential for assumption, misinformation, or prejudice to influence a buyer's decision – based on information that has nothing to do with the home for sale.
There's also seller confidentiality to consider. The current homeowner might not be comfortable sharing everything about a home or their reason for moving. For example: "Why is the homeowner selling?" may seem like an innocuous question, but the answer might be tied to personal information the seller isn't required to share. In cases like that, it's on the real estate agent to act in accordance with both the Code of Ethics and the seller's preference.
Where homebuyers can find the information they want
Even if they can't legally tell you everything, a Realtor is still your go-to guide to finding the right home for you. To get the most out of your Realtor relationship, Robyn suggests creating a list of needs and wants for the home you're looking for – priorities that can help your Realtor find a home that meets your needs and budget. They might not be able to use all of that information, but getting everyone on the same page can help narrow your search and eliminate non-starters.
Robyn says buyers should come to their own conclusions about homes and neighborhoods – but real estate agents can help there, too. "Realtors should point people to resources where they can find objective information for themselves," she says. The City of Minneapolis website, school ranking sites, historical information, and Truth in Sale of Housing (TISH) reports are some of the ways buyers can learn more about the home and the area.
To really get a good look at a neighborhood, Robyn suggests you visit for yourself, virtually and in person. Take a drive, visit a local store or coffee shop, or go online to meet some locals. Firsthand experience can help you see yourself in your new home and neighborhood.
All references to Realtors in this piece denote real estate agents who have joined the National Association of REALTORS®.