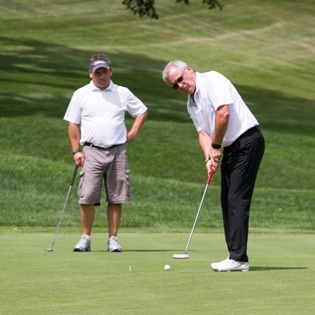 120 golfers and volunteers turned out for Twin Cities Habitat for Humanity's 21st annual Raise the Roof Golf Tournament on August 1st, raising over $145,000. That's a remarkable number that will have an impact across the Twin Cities. "Events like Raise the Roof are a wonderful opportunity to engage people that love to golf and have fun, as well as support Habitat and our mission," said Habitat President and CEO, Susan Haigh.
Prior to lunch, participants had the opportunity to take part in a clinic lead by Master's Champion Charles Coody and PGA professional Mike Goodes. After lunch, over 100 golfers drove to their assigned tees for the 1:00 shotgun start.
I was fortunate to be stationed at the 10th hole tee to take pictures of each foursome. It was fun to see how much fun the golfers were having, and amazed at how many of them had played in previous Raise the Roof events. Most inspiring was to see how many of the golfers supported Habitat by bidding on a silent auction item before teeing off. (There were volunteers stationed around the course touting various auction items).
At the end of play golfers met back at the clubhouse for a program, dinner, and auction. Susan Haigh opened up the program by introducing participants to Habitat's new strategic plan, Impact 2020. She was followed by Shauna, a 19-year-old college student who grew up in the North Minneapolis Habitat home her family bought in 1995. Shauna told the attentive audience about what it meant to have a safe, stable home to go home to each night.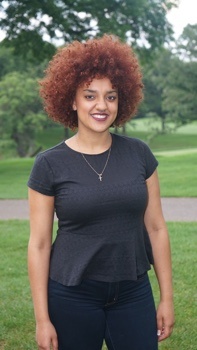 "Habitat has done more than give my family a roof over our heads, they answered our prayers," she said. "Having a home shouldn't be a privilege, it should be a right that's why organizations like Habitat are needed and so important for our community". Shauna currently attends Lawrence University in Appleton, Wisconsin after graduating with honors from Patrick Henry High School in North Minneapolis.
Mike Nordstrom, and Judy McNamara, event chairs, encouraged everyone to place their final silent auction bids then opened the live auction and fund-a-need portion of the program. After hearing Shauna's moving talk, the golfers were very generous in their bids, topping last year's total by over $10,000!
Congratulations to our top placed foursome Alliance of Computer Professionals!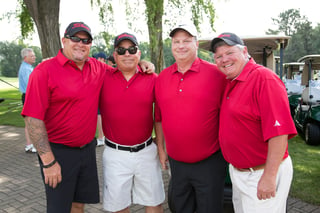 Events like Raise the Roof would not be possible without the support of generous partners. Event sponsors included: Two Harbors Investment Corp.; Valspar Corp.; Schwegman, Lundberg, Woessner, Intellectual Property Attorneys; Wallace Carlson Printing; Alliance of Computer Professionals;AVI SPL; Corporate Service Consortium; Element Fleet Management; EMC2; The Excelsior Group; HCI Equity Partners;HGA; Hickey & Associates; KPMG; Landtitle; MMC, Metropolitan Mechanical Contractors; McGough; Merchant & Gould, An Intellectual Property Firm; RBC Wealth Management; Welsh/Colliers International; and Mercedes-Benz.
We would like to give a huge thank you to all of the sponsors that made this event happen. We could not have done it without them and our wonderful volunteers.
All the funds raised from this event will go back into our mission of home building programs, financial coaching, A Brush With Kindness and giving back to the families in our community. Events like this are not only fun and engaging to community partners, but they help Habitat reach their mission of providing homes for less fortunate families in our community. They fulfill the desire of others to give back to a great cause. And last they help provide the foundation of success for family's that need it the most.
Don't forget to save the date for next year's Raise the Roof event on August 7th, 2017.