Great things are happening at Bii Gii Wiin Community Development Loan Fund, a referral partner with Twin Cities Habitat for Humanity. Like Twin Cities Habitat, Bii Gii Wiin offers financial coaching and prepares people for homeownership. But they offer other services too, such as free tax preparation through a Volunteer Income Tax Assistance (VITA) site, micro entrepreneurship training for opening a small business, an Individual Development Account program, a credit enhancement loan product, and financial and homeownership workshops.
Amber Leger, VITA Site Coordinator and Executive Assistant at Bii Gii Wiin, says of the programs at Bii Gii Wiin: "It's the client's dream and I'm here to build that with them."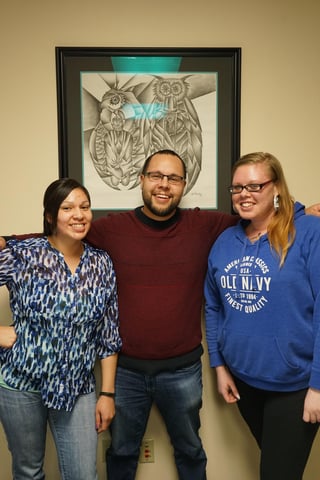 Their team might be small, but it's mighty: everyone wears a couple different hats. Amber organizes Bii Gii Wiin's three sites that provide free volunteer income tax assistance, which are open to anyone who earns a lower income and/or has accessibility barriers to filing taxes. Amber is also a financial housing counselor, and conducts monthly workshops alternating between financial education and homeownership.
Amber's colleague, Andrea Reese, is primarily in charge of the Individual Development Account (IDA) program and credit enhancement loan product, which is a unique 2:1 savings match program for anyone enrolled in a federally recognized tribe. In addition to overseeing the IDA program, Andrea also teaches workshops and is a financial coach. Another team member, Nation Wright, oversees the micro entrepreneur training and one-on-one business success coaching, which is full of resources to help people start a small business.
And while Bii Gii Wiin's mission is to promote homeownership among Native American households in Minnesota, Andrea emphasized that most programs are open to everyone.
"Some people may be deterred because we're a Native-specific organization," Andrea said, "but if you're considering Bii Gii Wiin just know that we're open to everyone. We're very down to earth, and people feel welcome and comfortable here."
As Twin Cities Habitat designed the new financial coaching program, we recognized that there are many organizations, like Bii Gii Wiin, who were already doing phenomenal work in financial coaching and affordable homeownership preparation across the Twin Cities. That's a key component of why we're building relationships with our referral partners. The current wait time to begin financial coaching at Twin Cities Habitat is about a year, so we encourage prospective homebuyers to seek out a referral partner who can provide pre-purchase counseling or financial coaching. A prospective homebuyer can go to a referral partner like Bii Gii Wiin and receive the one-on-one financial coaching that will get them ready to purchase a Habitat home. After completing their preparation with a referral partner, they can be fast-tracked into one of the Habitat homeownership options.
That partnership has proven to be a benefit for both Bii Gii Wiin and Twin Cities Habitat, especially when it comes to sharing expertise.
"I've utilized some of Twin Cities Habitat's resources around credit," Andrea said. "Sharing resources is one of the strengths of working with a partner agency."
"Our ultimate goal is that when our clients go to apply for a mortgage, they are approved," said Andrea. Bii Gii Wiin even uses Twin Cities Habitat's homeownership application to make sure their clients are on track. They've already had one family who completed coaching and is now in the process of purchasing a home with Twin Cities Habitat, and there are more families in the coaching process. Financial coaching is a process that can take anywhere from a month to years, and it all depends on how much work the family is willing to put in and what financial barriers they need to overcome. But no matter how long it takes, the coaches at Bii Gii Wiin are in it for the long haul.
"The action steps are really up to the clients and their own timeline," Andrea added. "We're really client-driven, but we can't do everything for that client. But if someone is determined and takes on the responsibility of their own homeownership success, they might be able to get through quickly."

The staff at Bii Gii Wiin know firsthand the value of affordable, stable homeownership, and love when they can see clients achieve that dream.
"Owning a home is about having a stable family, a stable home, and investing into your community," Andrea said, "even if that community is just the people on your block."
Bii Gii Wiin's next homeownership workshop is coming up on Saturday, March 11. This is a full-day workshop that alternatives every month on the second Saturday with a financial education workshop. It outlines the entire home purchasing process, and gives first-time homebuyers the tools they need to ask the right questions and find the right resources for help. This workshop also provides a HomeStretch certificate of completion, which is one of the requirements for purchasing a Habitat home. To sign up, please call the Bii Gii Wiin office at (612) 354-2249.