"We're here to educate, empower, and protect."
That was one of the first things Susan Schroeder, Financial Empowerment Program Developer at Dakota County, says as we sit down for a conversation in her office. Together with her colleague, Russell Crissman, they're doing things differently at Dakota County—in a good way.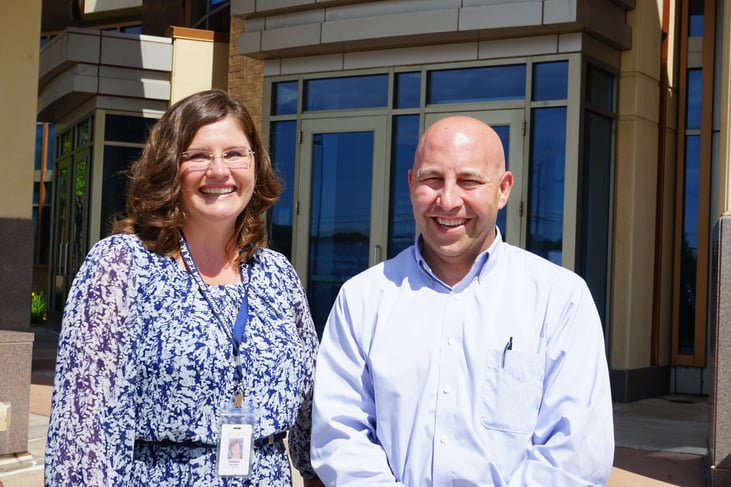 It's the only county in the Twin Cities that offers financial empowerment counseling free-of-charge to its residents (with scheduling preference for those facing a financial hardship). And Dakota County Financial Empowerment is a trusted Referral Partner of Twin Cities Habitat for Humanity, which means that potential Habitat homebuyers can go through Dakota County's one-on-one financial counseling to become mortgage-ready and get fast-tracked to Habitat homeownership.
This innovative program all started with the idea at Dakota County to have a "Financial Freedom Fair" to better serve residents in new, better ways—something supported and encouraged by leadership at Dakota County Community Services.
"We wanted to get people thinking about finances in different ways," Susan says.
With support across the board, Susan pulled together resources around financial health, housing, employment, predatory lending, etc. But she got creative, too—like having a dentist share about taking care of your teeth as a smart investment, or inviting stylists to create current fashions from thrift store finds. This out-of-the box thinking allowed staff at the county to dream big, and Dakota County Financial Empowerment Services was born.
Susan became an Accredited Financial Counselor® through the AFCPE®, Russell was brought on as an additional financial counselor, and the program has expanded beyond coaching to creating financial literacy curriculum for local schools and non-profits. They're always looking for the next best way to meet the needs of Dakota County residents.
What's the benefit of financial counseling with a county? "Integrated service delivery," Susan and Russell will tell you. They're keenly aware of all the other services offered by the county and its partners – down payment assistance, credit building, and health insurance, to name a few – and they work in tandem with their colleagues to meet all the needs of their clients. Also, Russell is a Veteran and is especially attuned to the financial needs of Service Members and their families.
When it comes to homeownership, Susan and Russell are more than ready to set their clients up for success.
"We really care about your desire to own a home," Susan says. "And there's no strings attached." They'll work with clients for as long as it takes for them to achieve their goals, whether that's months or years. Here's a glimpse of their path for homeownership:
Create a spending/savings plan
Obtain credit report and debt-to-income ratio
Fix credit/debt issues
Complete your guide to homeownership (go through lots of good resources and the Home Stretch course)
Get documents together
Choose your route—whether that's Twin Cities Habitat, Community Development Agency, or the open market
Welcome home!
Each of these steps might involve other financial goals, like attending school or opening your own business. No matter where your path takes you, the Dakota County Financial Empowerment team will be with you. If homeownership with Twin Cities Habitat looks like it's the path for you, they'll use our homeownership requirements to make sure you'll qualify for partnership. They'll send you back to Habitat only when they know you're completely ready.
"It's not a joyride—it's hard," Susan says, referring to the homeownership process. "But when you're done, you can paint your kitchen whatever color you want."
Susan and Russell think that we should think of financial health in the same way we think of physical health, with financial counselors as your care providers. They can help with acute problems, like getting the next big bill paid on time, but they can also help prevent potential missteps and set you up to reach whatever goals you have in life.
"You don't have to make a lot of money to have a good life," Russell says. "Most people want a secure home, peace in their household, and good health. The decimal point might not change, but we can help you have control, which makes all the difference."
"Everyone has a money story, not just low-income people," Susan adds. "A lot of people are up against a tide, and we offer strategies to help relieve that stress. Financial coaching and education is like lifting a veil for the client—it's really an honor."
If they could share only one piece of financial advice with everyone, whether you're preparing for homeownership or just trying to stay on top of your bills, it would be this:
Everyone should have the courage, strength and support to do a financial inventory to see exactly where you are. After all, you can't start a trip without the map. If you need the support, we can do that for you. Boom—burden shared!
If you or someone you know lives in Dakota County and is thinking about affordable homeownership options, check out Dakota County Financial Empowerment Services!