Fun DIY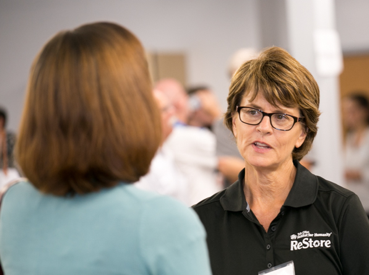 , staff highlights and being green. In case you missed it... here's what has been happening over on The ReStoration Corner blog!
Easily Transform Furniture with Chalk Paint
From ReStore Volunteer to ReStore Employee
Fun DIY Crafts: Glass Flower For Your Garden [Video]
The Green Side of Habitat's New ReStore
So how do you stay in-the-know with all things ReStore, but still get all of our great Habitat content delivered to your inbox? You have a few options:
Do Nothing.
If you're already a subscriber to the Building Community Blog, we will still feature a ReStore Recap each month, so you can still have an inside look at all the fun things happening at our ReStores!
Subscribe to The ReStoration Corner blog.
If you'd like to be notified the instant a new article or video goes up on The ReStoration Corner blog, you can update your subscription preferences.
If you have fun ideas or DIY questions for the ReStore team, be sure to add them in the comments below. We may feature your question (and an answer!) in a future ReStoration Corner blog post!