The ReStore Recap is back featuring some great news and, of course, tips and tricks! A special thanks to all our ReStore supporters who have shopped, donated, and volunteered this past fall—we appreciate you all so much!
---
Positive News from ReStore!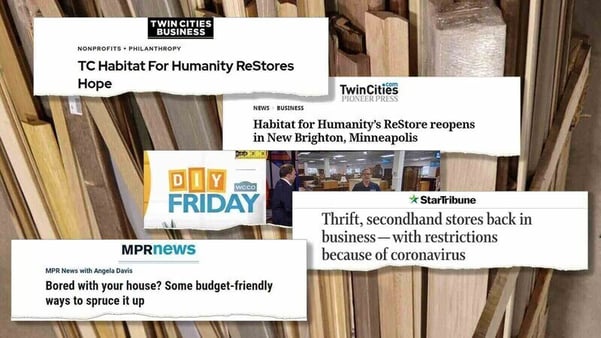 Thanks to our amazing ReStore shoppers, donors, and volunteers, the ReStore had a great fall while operating during COVID-19. We couldn't do it without our amazing supporters. See how we made headlines this past fall.
When we announced the Workspace Upcycle Challenge last month, we thought we had a winning idea. People were working from home a lot more and school was starting up again. The goal was simple, upgrade your workspace no matter what or where it might be. Meet our winner, Trish!
Painting Tips & Tricks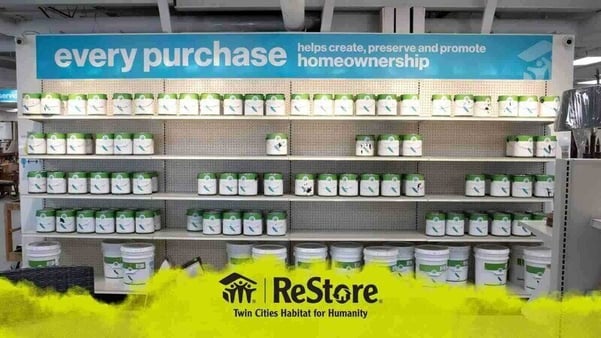 Paint is probably the easiest way to make a big transformation in any room, exterior, or DIY project. You can now easily make that transformation using Amazon Paint, which is available at ReStore. We have some pro tips to help you tackle that next project on a budget.
Scraping the "popcorn" from your ceiling is a lot of work – and it could even be dangerous. So consider giving your room a fresh look with a simple coat of paint.
Ready to Donate to ReStore?
Picture taken prior to COVID-19. Please wear a mask.
You've got some items to donate, and you know where you're going to donate them. Now what? Check out our blog on how to prepare your donation for ReStore.
Winter is here and it's time clean, organize, and donate items to get your garage back in order. Wouldn't you like to park your car inside again? Here are some tips on how to organize and get rid of unwanted items.
Important Reminders
Holiday closures: Both ReStore locations will be closed November 25-28, December 24-26, 31, January 1.
Keep our staff safe: It is required that you wear a mask. Please review the COVID-19 safety protocols before you visit. We are still hiring at the ReStore!
ReStore is Hiring: Join our Habitat team and view the career page for more information.