Fall is here and the ReStore team has so much to offer to our amazing customers. From our Anniversary sale to our dorm room tips and tricks, there is something for everyone at the Habitat for Humanity ReStore home improvement outlets!
Join us during our Anniversary Sale!
It's been exactly three years since our Minneapolis location opened and twelve years for our New Brighton outlet. We can't think of a better reason to celebrate and have a big SALE for our customers. Come celebrate with us!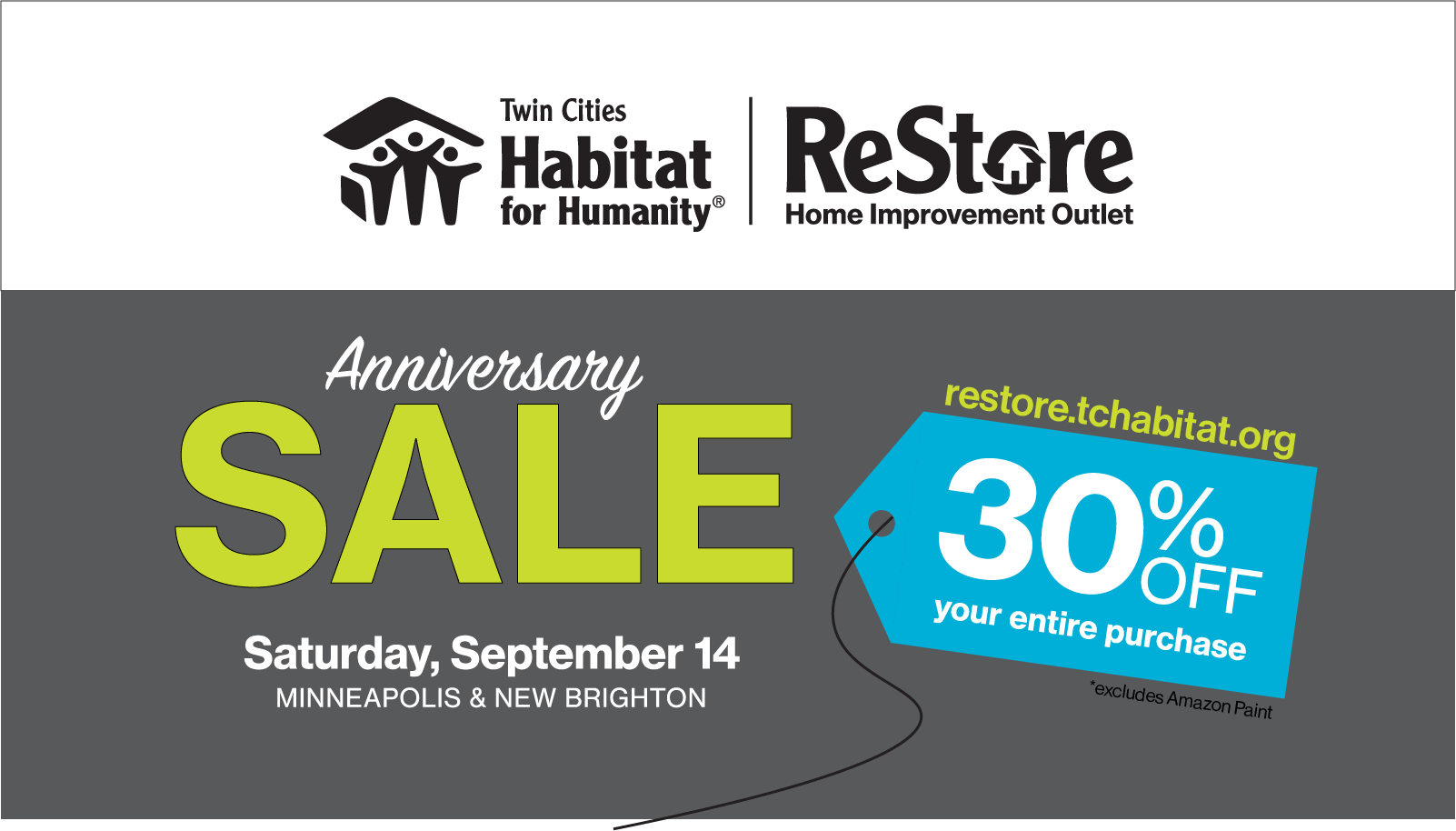 Shop Til You Drop! Just kidding, please don't drop.
It's back-to-school time and we know the perfect place to look for those dorm room essentials. We also have a few tips to finish the dorm room decorating. Check it out!
Find Affordable Furniture for College Students at the ReStore!
"My business is growing and ReStore is part of that." Chris is a contractor that's taking full advantage of what the ReStore has to offer to keep his business booming. Read about his shopping experience.
Why I Shop at ReStore: Contractor Chris Koch
We hope that you stop at the ReStore to find great second-hand furniture. But we wouldn't be doing everything we could to support our mission of minimizing waste if we didn't acknowledge that we're not the only place to find great values! Check out our list of great places to shop.
Where Can I Buy Second-Hand Furniture in Minneapolis?
It's important for your household to have a toolbox for those last minute fixes. When you think it's time to update your toolbox, check out the ReStore's donation guidelines and consider donating!
DIY for Days: UpCycle Challenge Spotlights
We wanted to follow up with our second-place winner of the Earth Day chair UpCycle Challenge. This memorable piece has quiet a story. Meet the good-natured and competitive man behind the "Nail Chair."
As a regular shopper at the ReStore, Linnea was ready to take on her first Upcycle challenge and the outcome will leaf you wanting more!
A Passion for Upcycling: Earth Day UpCycle Challenge Participant
When you look at an old chair, do you just see a chair? Or, are you like Lisa Jepsen and envision a beautiful wall shelf? Here is another DIYer that left us impressed!
DIY Spotlight: Lisa's Wall Shelf