Guest Blog by Pam Johnson and Blake MacKenzie
It takes a lot of motivation and dedication to be a runner—especially when you want to run a marathon or a 10-mile race. But it becomes a little bit easier when you're doing it all for a cause you're passionate about. And Pam Johnson is very passionate about the mission of Twin Cities Habitat for Humanity. It's what fuels her while she prepares to run the 10-mile race as part of "Team Habitat" in the Twin Cities Marathon this fall. Pam's passion is so contagious that her niece and brother are joining her this year, and family and friends are excited to chip in for her fundraising goal. I'm grateful that Pam's sharing some of her fundraising and running expertise with us today!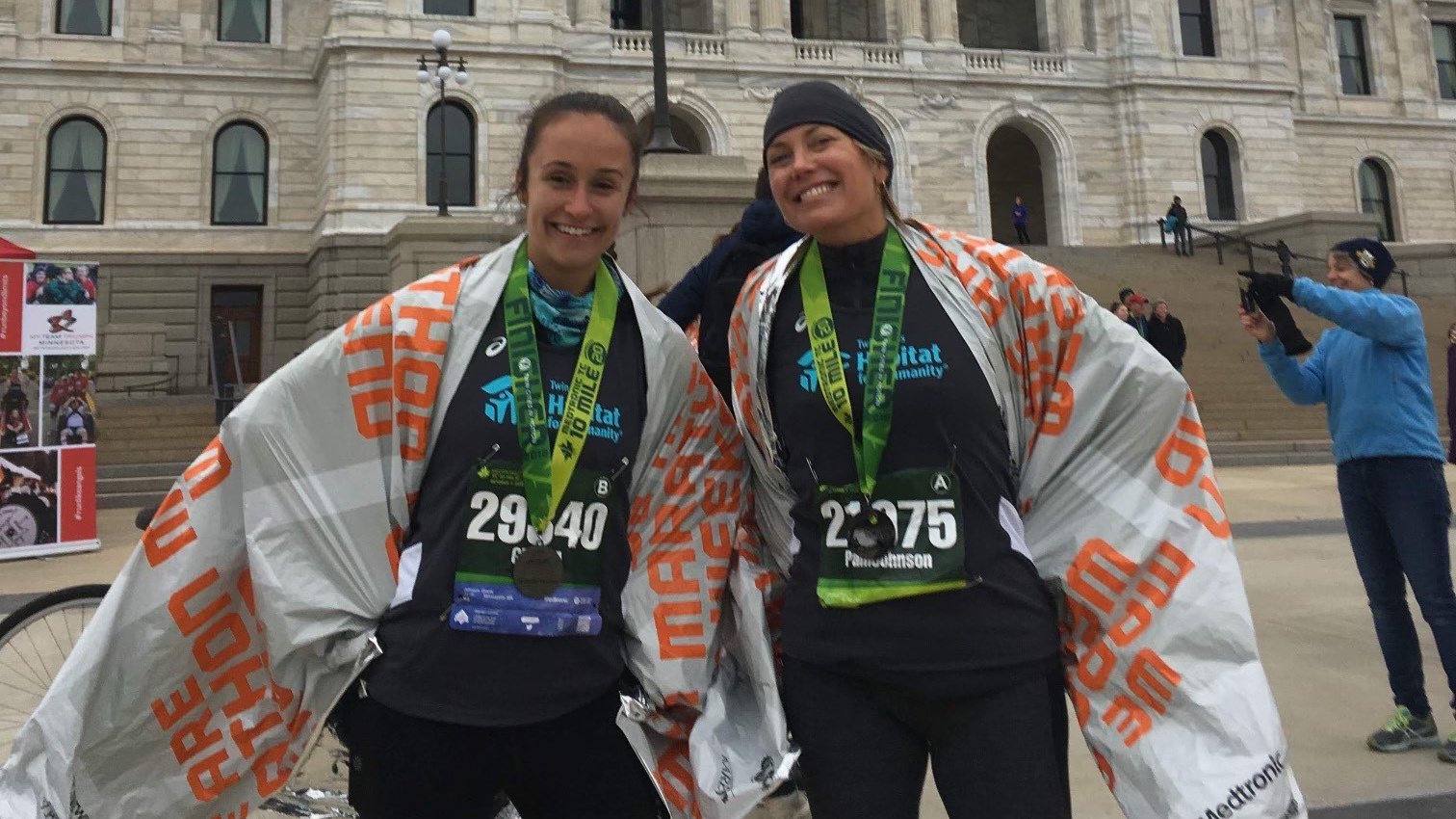 Pam and her niece, Gracia, ran the 10-mile for Team Habitat in the 2019 Twin Cities Marathon. They're excited to be participating again this year.
What is your first memory of Habitat for Humanity, and what is your connection today?
My connection to Habitat for Humanity stretches back to 1990 as a young staff member for a newly-launched Washington D.C. affiliate. I was deeply moved by the origins of Habitat for Humanity in Georgia at Koinonia Farm—its founders seeking to build homes alongside neighbors whose options for homeownership were unnecessarily limited due to their income, race, or gender. That inspiration remains with me today! I'm a Twin Cities Habitat team member with our Age Well at HomeTM Program. We partner with seniors by providing home modifications that support their goal to remain in their beloved homes for as long as they are able.
What's your experience with running races?
I ran track and cross-country in high school and college, running summer road races to keep in shape and have fun with family and teammates. My first marathon was the Twin Cities Marathon in the early 1990s, running with a group of college friends. I loved the experience and ran six others in Duluth, Boston, Pennsylvania, Washington DC, and Utah. The St. George Marathon was my favorite, which starts at dawn on a Pine Valley Mountaintop at an altitude of 5,200 feet. You get to watch the sun rise while descending through a spectacular gorge of white, pink, and red sandstone into Snow Canyon Park. I met a lot of wonderful folks during the race, including a runner who asked me what my time goal was, and proceeded to accompany me on pace to ensure I achieved it.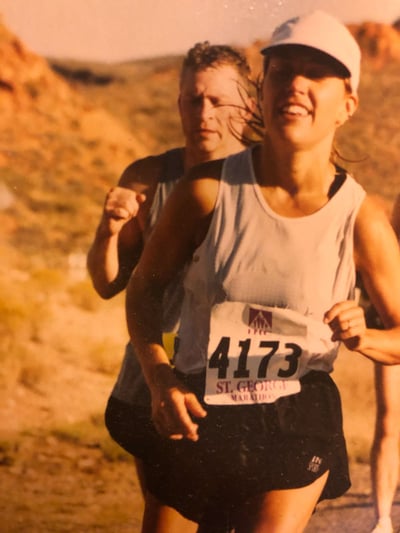 Pam running in the St. George marathon.
What inspired you to join Twin Cities Habitat's marathon/10-mile team—and what inspired your niece and brother to join you?
I love finding ways to connect with my amazing niece, Gracia, who does great work with Minnesota's Department of Human Rights and is an all-around fun gal to spend time with! We each had run the full Twin Cities Marathon separately in past years and wanted to run a race together. In 2019, we heard about the opportunity to run and fundraise for Habitat homeowners by joining the Twin Cities Habitat Marathon or 10-mile running team. We chose the 10-mile distance as a perfect first Pam/Gracia duo option! We had a blast in 2019, and after a year of COVID-induced time apart, decided to repeat in a spirit of gratitude for good health and community-building.
And this year we're very excited to have my brother, Fred, join us! Fred works for Thrivent and was also a track and cross-country runner. He has run marathons and has been on multiple Habitat builds—including an international build. We will continue the practice that Gracia and I began two years ago—each telling one (bad) joke per mile. Fred is an expert with puns, so the groan-factor will be amplified this year.
How is the race training and fundraising going? What's your strategy to meet your goals?
It is a gift to be able to share my love for the Habitat mission with friends and family. I have been very moved by the generosity of folks wanting to pitch in simply after hearing my Habitat story. Many people had not heard about my work with Age Well at Home. I love sharing that Twin Cities Habitat was one of five Habitat chapters nationwide selected for a new partnership with Johns Hopkins University, Habitat International, and healthcare providers to demonstrate improved senior safety and well-being by pairing home health with home modifications. It has been a treat to share stories about the life-changing experiences that these seniors and our Age Well at Home team experience together!
You can learn more (and chip in if you're moved to do so) on my personal fundraising page.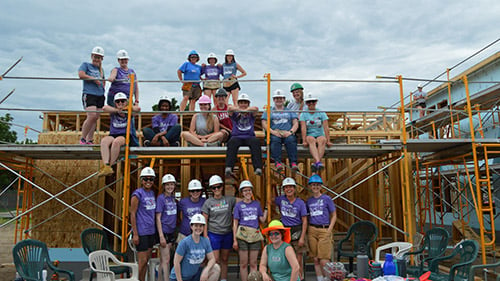 Pam (bottom row, second from right) at a Women Build day in 2019.
What are the best things about being on Team Habitat, and what are you most looking forward to?
I love teams— athletic, professional, and volunteer boards. Our Twin Cities Marathon team is special in that we are all passionate about partnering with other Minnesotans to ensure that more of our neighbors have a safe, healthy place to call home. We also share a love of running and being healthy. I am looking forward to doing some training runs with my fellow teammates—and, of course, the great pre-race carbo-loading dinner! It has been inspiring to hear the stories of my fellow teammates and what motivates them to race.
You can see what motivates my fellow teammates too by checking out their personal pages!
What would you say to someone who's on the fence about fundraising for Twin Cities Habitat through events like the marathon or build days?
I have found the fundraising experience to be very uplifting and people are so generous. People like to hear about your personal connection to a cause, and this one is such an easy one to wrap your head around due to such visible and impactful outcomes. It's a win-win opportunity.
Finally—what does home mean to you?
Having traveled a lot, home is that safe, comfortable place that I can return to at the end of a journey and through the ups and downs of life. It is a place filled with memories of special times with family and friends. It is the space where I can make art and music. And during this past year of isolation, it was a gift to be able to work from home—spending hours on the phone with seniors through Age Well at Home. It was also the setting for countless creative Zoom gatherings that kept us all connected and prompted creativity, patience, and gratitude.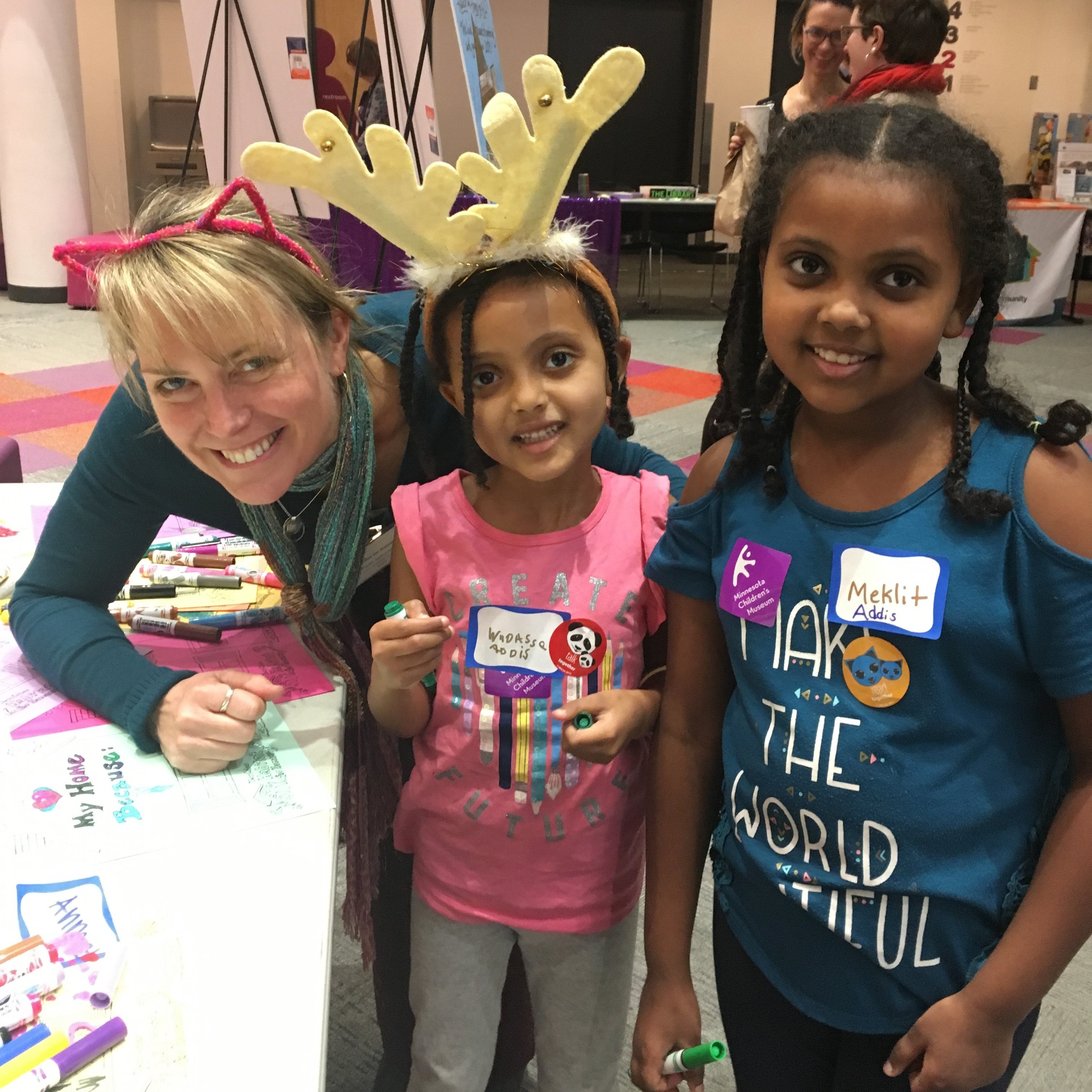 In addition to running, Pam has a passion for art. She enjoys making art with kids at the annual Habitat Homeowner Networking event at the Children's Museum.
---
Thanks to Pam for sharing her experiences with us! Feeling inspired to become a Twin Cities Habitat fundraiser? You've got so many options—fundraising for an event like the Twin Cities Marathon, starting a birthday fundraiser, organizing your own build day, and more! We've got everything you need to get started.