At long last…spring has arrived! At Twin Cities Habitat for Humanity, we know a thing or two about building quality homes and keeping them well maintained. We're sharing a few DIY maintenance tips and tricks to keep up with your home as the snow melts and the flowers bloom.
Let's take a look at three essential "systems" within your home's internal structure and how to keep them properly maintained, as well as some other areas around the house that may need some fixing or cleaning.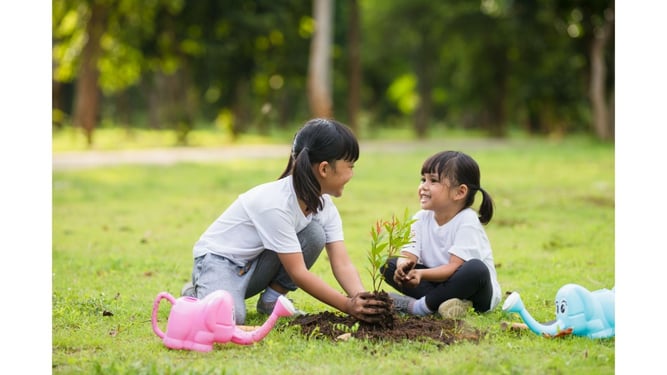 HVAC
One of the most important areas in the "internal structure" of your home is your Heating, Ventilation, and Air Conditioning (HVAC) system. This is the internal temperature system gauge to keep your home comfortable year-round.
Thus, as part of your spring prep this year, it is important to maintain this essential aspect of your home. Your HVAC system requires unrestricted airflow and the best way to maintain its clean air circulation is by changing the furnace filter.
How Your HVAC System Works:
Plumbing
The next area on your home's "internal structure" is the plumbing system. This is the internal water supply and waste removal pipeline within your home.
Every year especially in spring, it is important to check your sump pump (if your home has one) as well as to make sure your shower and sinks are draining properly. Ensuring that your sump pump works and your drains are running smoothly can prevent basement flooding when the snow melts and the spring showers come.
An Easy Sump Pump Check:
Locate your sump pump in the basement
Remove cover
Pour bucket(s) of water into the hole
Watch it fill, drain, and turn off on its own


At Home Sink and Shower Draining
Remove any hair or visible gunk with tweezers (Use a "drain snake" as needed – available now at ReStore)
Create a solution for each drain of ½ cup baking soda and ½ cup salt
Mix this solution with hot or boiling water
Pour each hot solution down the drain
Repeat steps as needed
How Your Plumbing System Works:
Electric
The third and final area of maintenance within the "internal structure" of your home is your electrical system. First and foremost for new homeowners, it is important to know where your circuit breaker box is located within your home. Once this is located, make sure all necessary switches are turned to "on." Each switch should be labeled such as "Water heater," "Living Room," "Bedroom 1," etc. Next, check each room and change any dead light bulbs and switch the batteries on any dead smoke and carbon monoxide detectors.
For exposed wires, electrical installations, or power outages please contact an electrician near you.
Painting
Spring is a great time to do touch-ups. It's a good idea to always keep spare cans of paint for each room or section of the house. This could also be the time of year when you may want that new color of "lemon drop yellow" or "pale peach" for your kitchen.
Make sure you have the proper equipment (brushes, rollers, and paint – all of which you can find at ReStore!) to do some freshening up on your walls this spring.
DIY Painting Projects At Home WCCOTV
Landscaping
Our long Minnesota winters cause our home's exterior and yard to go through a lot of water runoff. Because of the harsh elements for these many months, the house siding accumulates debris, mud, and excess water.
As part of spring cleaning this year, you may want to give your home a wash. Don't have a power washer to give your siding that clean it really needs? Don't worry, you can borrow one from the Minnesota Tool Library. You can also use your garden hose. This works especially well if your hose has a nozzle or sprayer. Just turn the water on and give your house siding a quick rinse.
Other Outdoor Maintenance Checks:
Add soil around the foundation of your home to create a grade away from your house
Clean any debris out of your gutters and window wells
Check your window screens for any damage


Organization and Cleaning
Finally, the spring season is a great time to get some organizing and spring cleaning done so you're ready for the year ahead. Here is a shortlist of areas that could use some cleaning or organizing around your home:
Fridge and Freezer
Cupboards and Cabinet
Closets
Garage or Shed

Check out ReStore DIY Headquarters and ReStore Donations Guide for more ideas on how to make your home organized and ready for the warm months ahead!