Co-authored and compiled by Blake MacKenzie and Kaitlyn Dormer.
We (Blake and Kaitlyn) both work to tell the stories of Twin Cities Habitat for Humanity. And every time we ask Habitat homeowners about what their home means to them, we hear joyful stories of self-expression. Like Deborah, who has filled her walls with photos of family and friends and welcomes everyone in with open arms. Or Angel, whose daughter painted her room with glitter paint just because she loved it. Or Kathy and David, who blasted their favorite music on the first night in their new home because they no longer had to worry about noise complaints.
At Twin Cities Habitat for Humanity, we believe homes should be oases of hope and joy for all people. Home should be the place where we can be our truest selves, where we can feel most supported, and where we can feel surrounded by love, joy, and comfort. And that's especially important for marginalized communities like the LGBTQ+ community. It becomes easier to bear the burden of discrimination outside when you can come back to a place of your own where you can rest, recharge, and experience joy.
We're only halfway through 2022 and we've already seen more anti-LGBTQ legislation (most of it being anti-trans legislation) proposed this year than any other year on record. So this Pride Month, we wanted to hear from Twin Cities Habitat staff about QUEER JOY AT HOME. We asked our LGBTQ+ staff and allies: what's bringing you joy at home? How do you make your home a joyful, comforting space? What people, pets, music, movies, art, shows, books, podcasts are helping you find joy at home?
Check out the queer joy at home below!
Anne, she/her, Donor & Volunteer Development
"Taking care of my gardens and watching all the flowers come up has brought me a lot of joy this summer. Also, I've been listening to a lot of Lizzo, Lil Nas X, and Brandi Carlile.
The other day at the office, I walked past Jessa and she said "Happy Pride" to me. I've never had anyone say that to me except maybe at the Pride festival, and it was really comforting and validating to hear that. It definitely brought me joy this month!"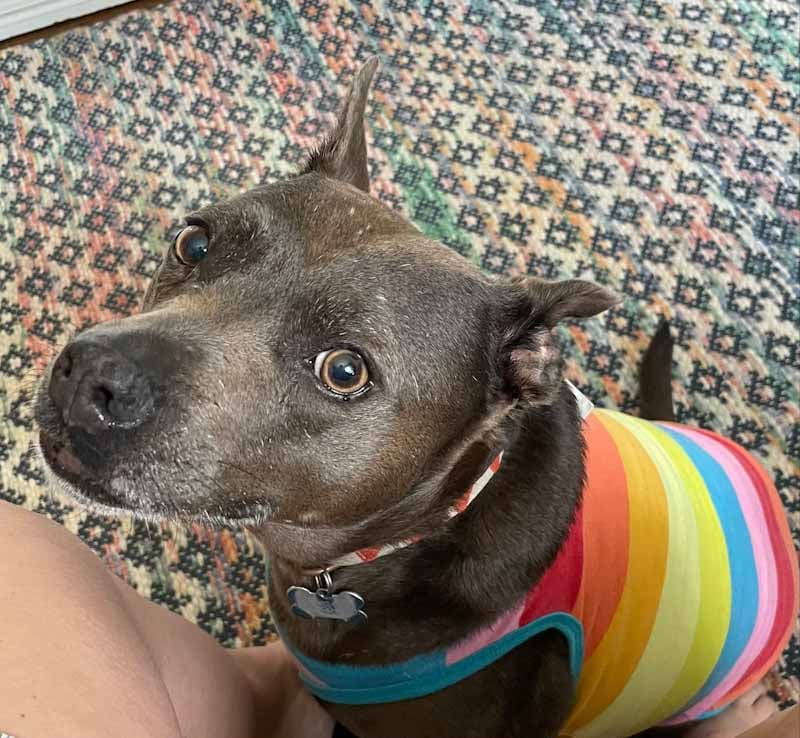 Anne's dog Abby in a pride outfit.
---
Teresa, she/her, A Brush with Kindness Home Repair Program
This is Tink—he is the bringer of Queer Joy in the Bintner household 💗 His mom (my 16-year-old daughter, Lucia) is a proud lesbian who engages in LGBTQ+ club at school. We share our pride by flying the progression flag and all are welcome flag on the front of our home. One day we received a letter from an "anonymous teen" who rides the bus past our house each morning—letting us know how much it meant to them that they felt represented and "not so alone in the community." ❤🧡💛💚💙💜 Reminding us how important it is to show our pride all year long!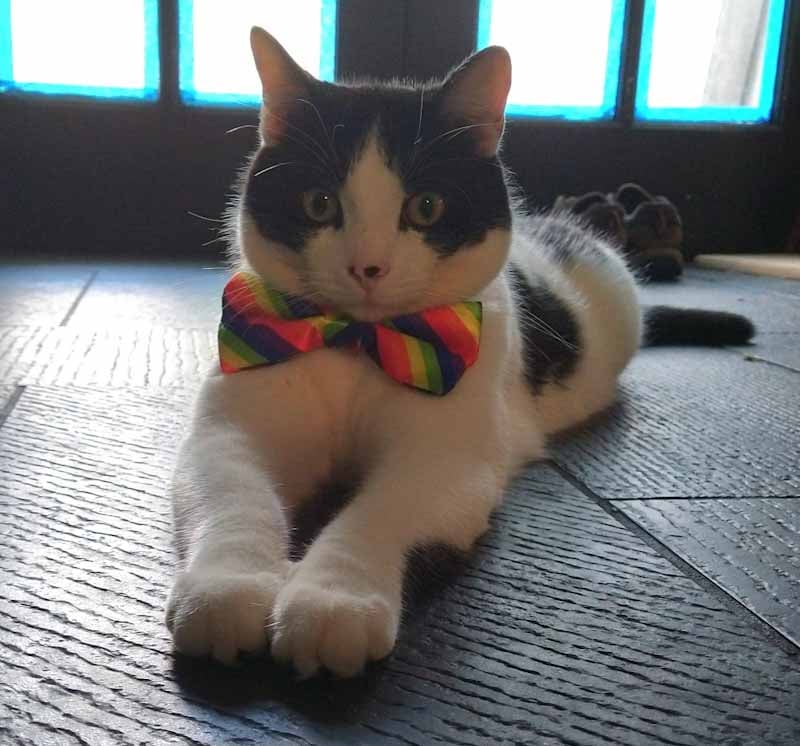 The Bintner family's cat, Tink, brings queer joy to their home.
---
Liz, she/her, Programs & Services
"For me, queer joy at home is about creating a space where I can be fully, authentically myself. I strive to be my whole self out in the world, and I am privileged that it is accepted most places I go, but there are inevitably times when that is not the case. At home, the art I hang on the walls, the plants I surround myself with and pour love (and water) into, the food I cook to take care of my body, and the books I read each evening…all of them cocoon me. In this cocoon, I'm practicing being gentle with myself."
---
Kaitlyn, she/her, Marketing & Communications


"My home is my comfort place. My walls and shelves and floors are covered with queer joy—plants, art, candles, cookbooks, cozy thrifted furniture (thanks ReStore!), photos of given and chosen family, and our new pet hamster, Ginger. My partner and I also work to make our home a comfort place for everyone who visits. We love hosting people, sharing good food, and bringing together new and old friends.
This Pride month, I'm also finding queer joy in revisiting Madison Gies' Pride Project—a beautiful compilation of stories and photos about what it means to be proud. I encourage you to browse all the stories online and/or visit the art gallery at Saint Mark's Episcopal Cathedral in Minneapolis to see the Pride Project in person through the end of July."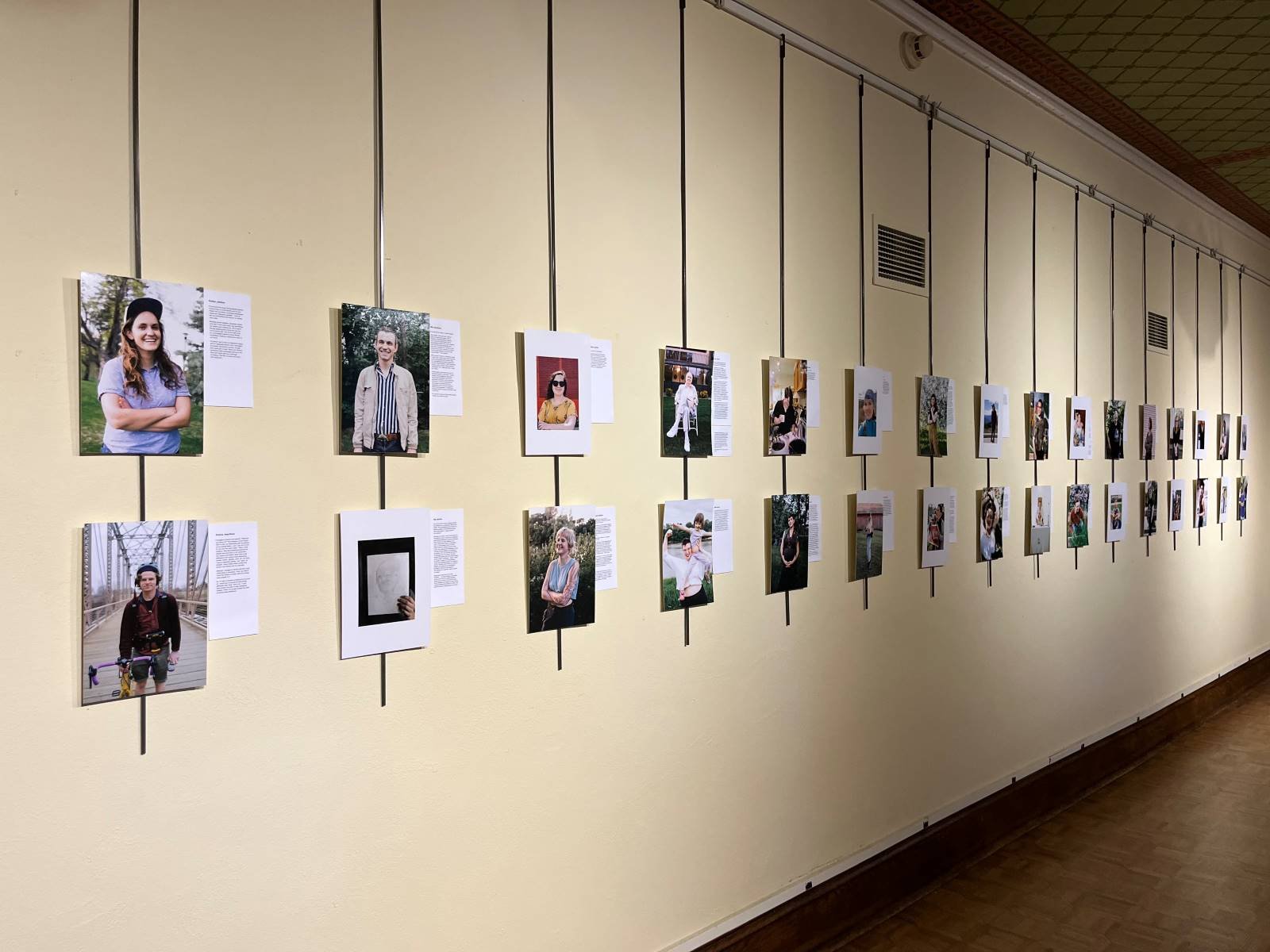 Madison Gies' Pride Project on exhibit at Saint Mark's Episcopal Cathedral in Minneapolis
---
Blake, he/him, Marketing & Communications
"My husband and I met at Habitat eight years ago, fell in love, got married, and bought a house together (we're so grateful to work at a supportive place where we can be our queer selves!). While I've been out and proud for well over a decade, I still struggle with internalized homophobia and sharing affection with my husband in public. I can't put my arm around him, hold hands, hug, or share a quick kiss without my brain calculating "am I safe here? Will this lead to a glare, a slur, or worse?"
So our home is truly a sanctuary—one of very few places where that psychic weight just goes out the window and I can truly practice queer joy—whether that's cuddling on the couch with my husband and dog while we watch a movie, or painting my nails, or dancing with abandon. This month I've focused on queer joy in what I watch and read. Some of my favorites have been Heartstopper (show), RuPaul's Drag Race (show), Schitt's Creek (show), Fire Island (movie), The Birdcage (movie), and Bloom and Camp (books)."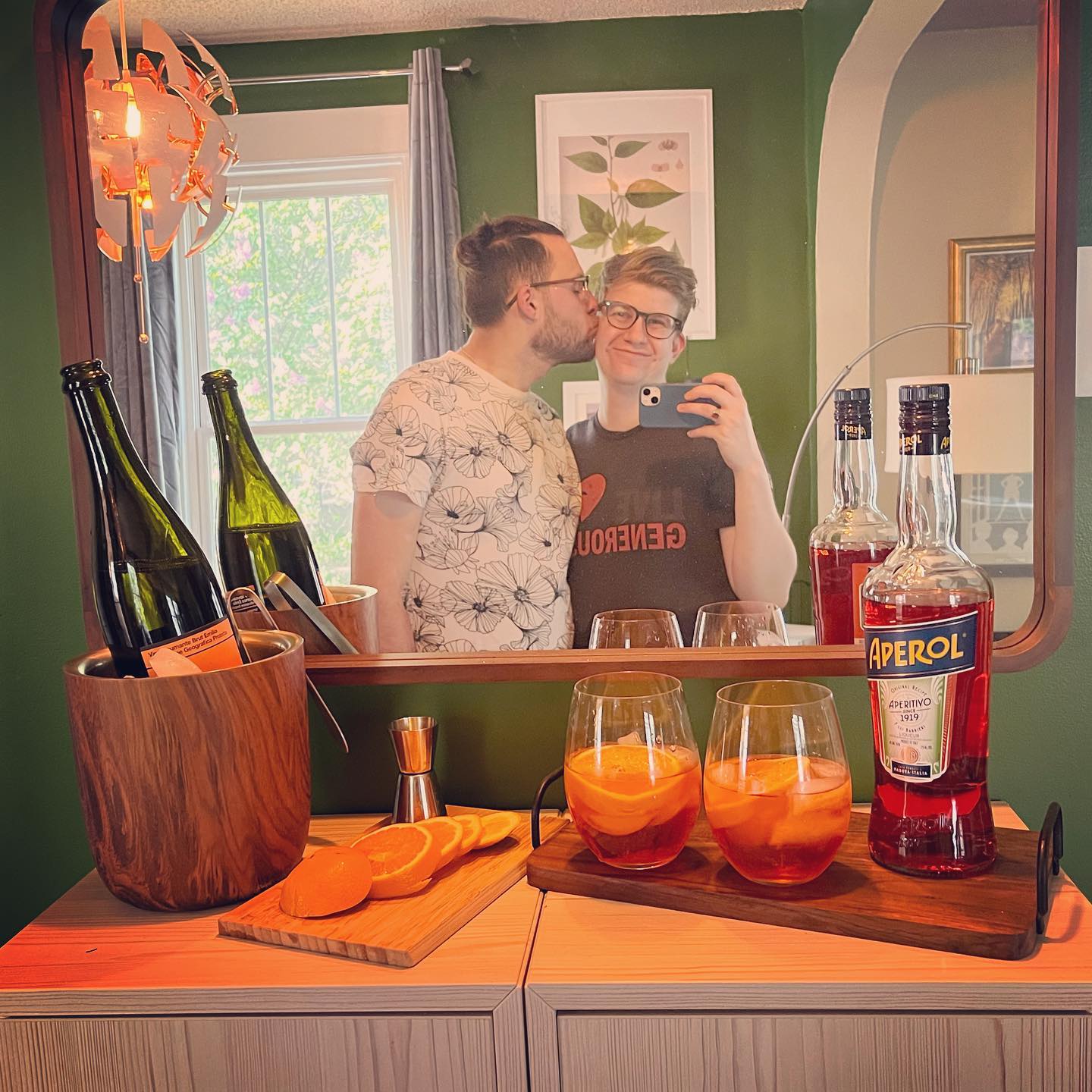 Blake and Greg celebrating their wedding anniversary at home.
---
Greg, he/him, Project Management
"This is Greg—Blake's husband! What's giving me queer joy this Pride is seeing so much more positive representation of LGBTQ+ folks in shows, movies, and books than when I was growing up, and knowing that there are so many younger queer people that are comfortable being themselves. An example of this is the new show Heartstopper on Netflix. Not only is it one of the most joyful shows I've ever seen, but it's really the first time I've seen a bisexual coming-out story that resonates with my own experience as a bisexual man."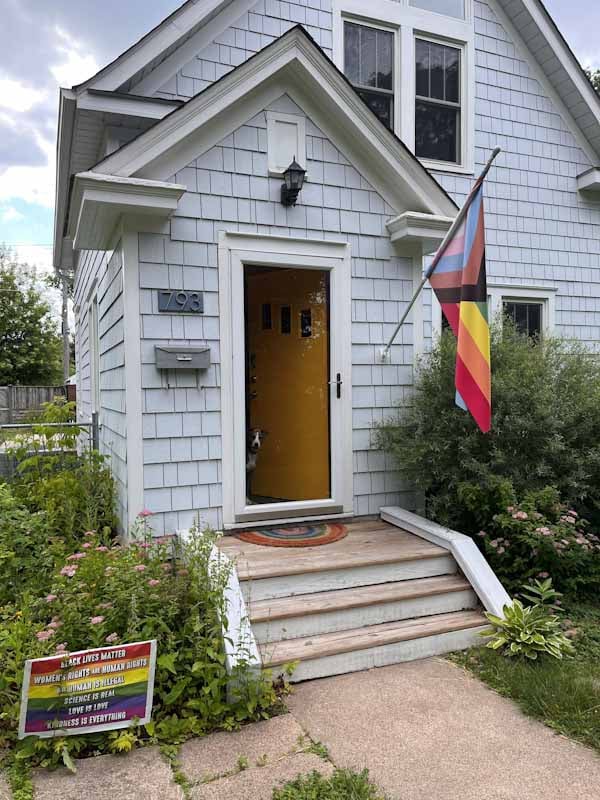 Greg and Blake's home with their Progress Pride flag, rainbow doormat, inclusivity sign, and dog Thomas.
---
Terra, she/her, Construction
Terra (bottom right) shared a photo of her wife and kids with her as they celebrated marriage equality in Minnesota in 2013.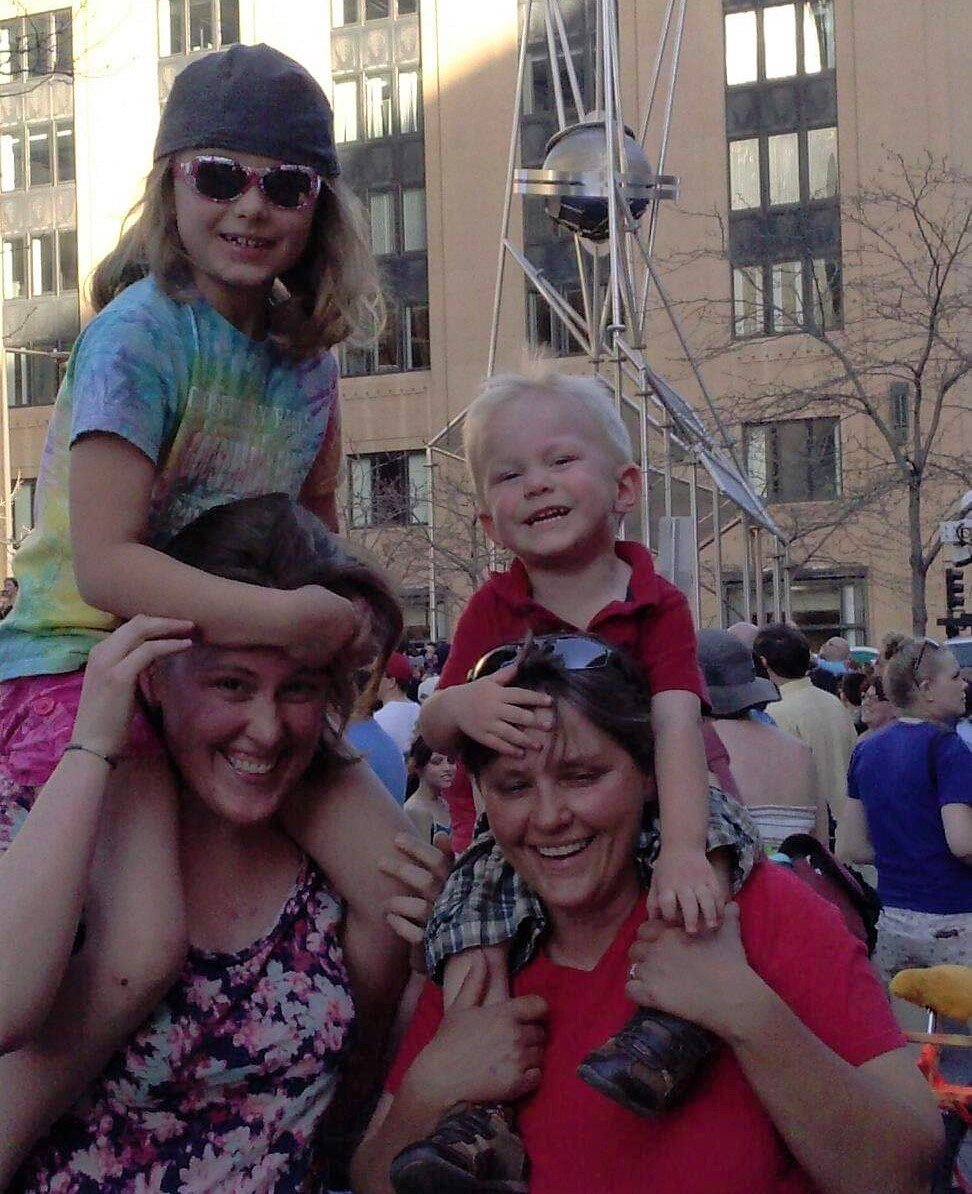 ---
Amanda, she/her, AmeriCorps
"Growing up as the "tom boy" of the family, others practically figured out that I was part of the queer community before I did. More often then not, I was given a repose of "I know" when I was coming out. My family includes Saundra, her son (I very much consider him my own) and myself. I consider my entire neighborhood my home. The most comforting thing about my neighborhood is that we feel safe walking around holding hands and being a family together. The song "My Boy" by Elvie Shane describes how I feel about helping raise a son who is not biologically mine.
Our home is our safe space decorated with photos of us as a family and assorted word art (millennial household requirement). We enjoy going to Pride events as a family, kayaking, yoga, joyriding with the jeep doors and top off and spending time at the Arboretum. The book Twas the Night Before Pride does a great job explaining to our son what Pride is what he can expect at Pride events."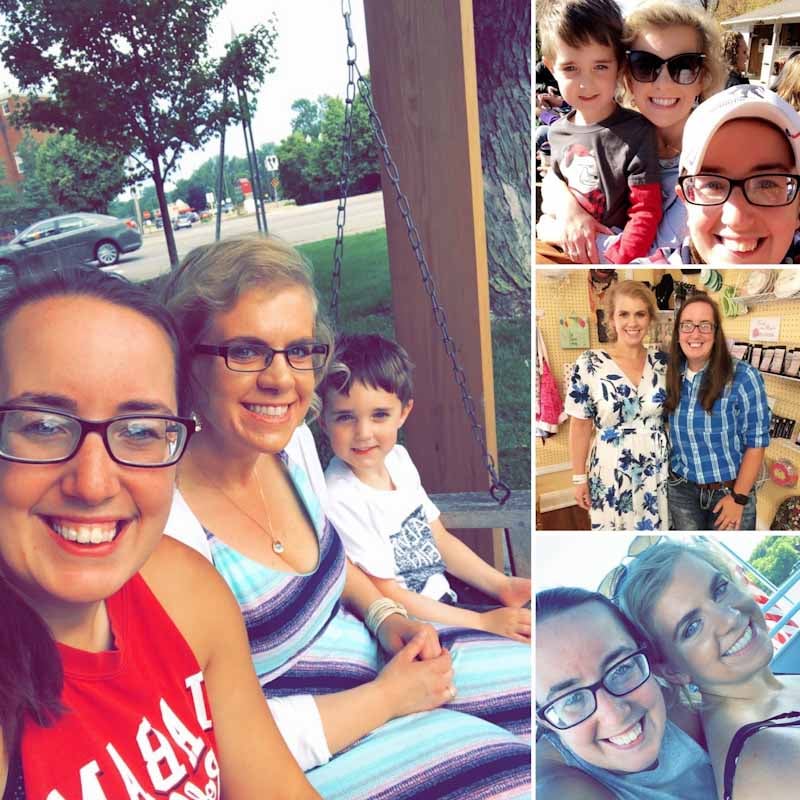 Amanda (left) and her partner, Saundra, with their son.
Amanda and Saundra's son wanted to be included too! He said:
"I love my Mommy and Manda!"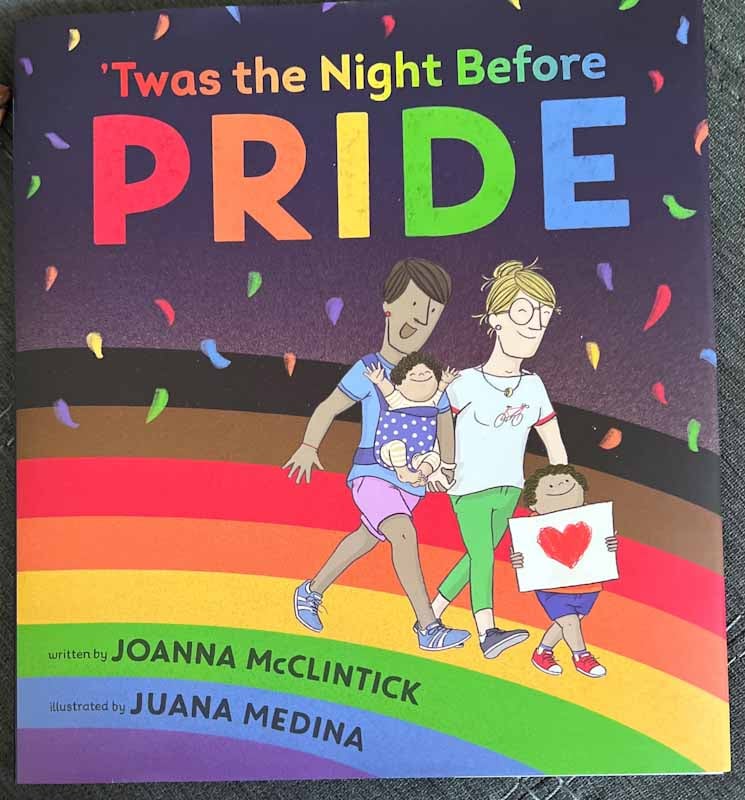 Amanda and Saundra read 'Twas the Night Before Pride to help their son understand Pride events!
Happy Pride!