In early October the Youth Engagement team at Habitat was presented with an opportunity to work with four University of MN students to do a Habitat Awareness demonstration on campus. The four students (Seneca Thornley, Nick Tassoni, Justin Dessel, and John Turner), are all in a project management class where their assignment for the semester is to pick a project and implement it. The students chose to do one of our Hands-on Workshops in the middle of campus to raise awareness for Habitat on October 29th.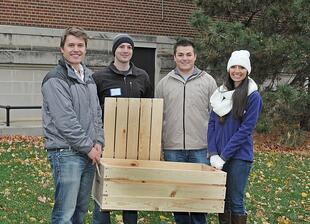 Hands-on Workshops are a new youth program that Twin Cities Habitat for Humanity has to offer. They were started within the last year, but have become very popular with local youth groups. Hands-on Workshops are where local youth groups build Adirondack Chairs or storage boxes to be given to Habitat homebuyers when they move into their new homes, or sold at our ReStore where 100% of the profit goes back towards supporting Habitat's mission. Youth under 16 are not able to volunteer on our active construction sites due to safety regulations; the Hands-on Workshops give youth an opportunity to build something with Habitat that supports our mission, but is still safe. Often times youth learn some new building skills as well! Twin Cities Habitat has a few skilled youth workshop leaders who come and host the workshops where they follow step by step instructions to complete the projects.
As you can imagine building 5 of these boxes in the middle of the U of M campus took a lot of planning beforehand, and sparked lots of interest from passersby during the workshop. This led to many students stopping by to see what we were up to. When people found out we were building the boxes to support Habitat's mission they were eager to join!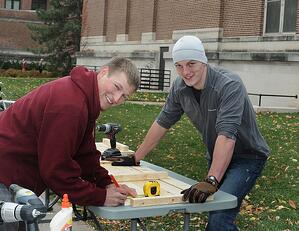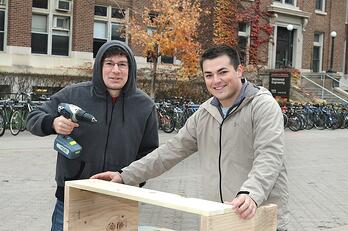 One student said, "When I woke up this morning I had no idea I would be using power tools on campus during passing time. This is so great!"
The workshop took place on Church Street right outside the Mechanical Engineering building, which was where we got the majority of our volunteers. Surprisingly we had multiple people stop by and try to purchase the storage boxes right there onChurch Street; we told them about our ReStore in New Brighton and the boxes would be sold there!
Here are some of the students who stopped by during their passing time to help build!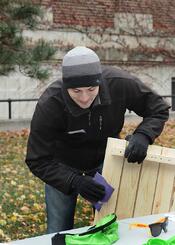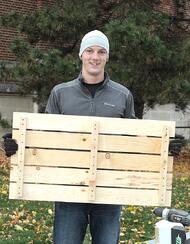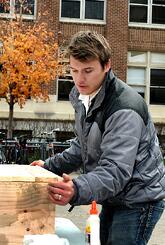 All in all with help from many student volunteers the U of M students managed to create five boxes in a few short hours, and raise a lot of awareness for Twin Cities Habitat! It's easy to host a Hands-on Workshop with local youth groups. Please contact sarah.harris@tchabitat.org for more information.