How do we build wealth in communities we haven't invested in for generations?
"It's got to be sustainable," says Sammy, the namesake of Sammy's Avenue Eatery on Broadway Avenue in North Minneapolis. "We shouldn't have to be doing food drives on an everyday basis. The handout isn't success. Can we build a community that can sustain itself?"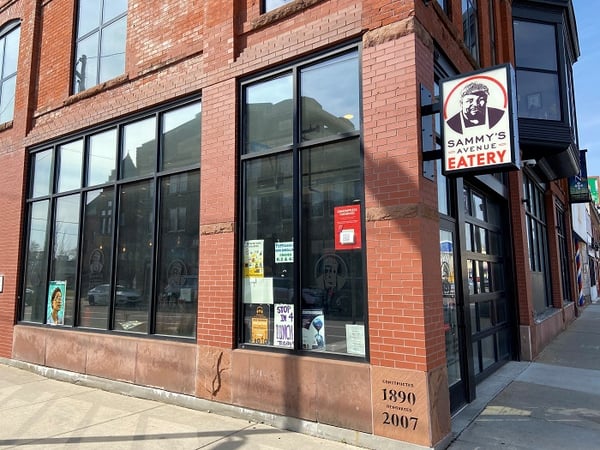 It isn't just talk for Sammy. He is all about building the community around him as he builds his own business. In early 2020 things were going really well for Sammy. He'd just opened a second location, Sammy's Avenue Eatery 2, in Northeast Minneapolis. Then COVID-19 hit, and no one was eating out.
"The pandemic has taught us a lot," says Sammy. "We had to think about how to do everything different. Now we're a host kitchen when we're not open. Caterers come in on Sundays, when we're normally closed, and rent the space so they can keep their overhead low."
This smart business decision fits with Sammy's mentality of mentorship and supporting entrepreneurs in the food industry. "I've got 20 to 30 years of experience running restaurants. People need to see people in their community who look like them who are succeeding. They need to see it's possible. A lot of people from underserved communities don't have experience starting a small business, knowing how to get legit."
The work towards justice in Minnesota must include economic justice. The treaties that were made (and broken) throughout the 19th century transferred tens of millions of acres of land from the Dakota people to White settlers. Those settlers' farms built Minneapolis into the Flour Milling Capital of the World by 1880 and it stayed that way for fifty years—creating huge fortunes and global corporations. During this time, racist practices in education, jobs, housing, and access to capital divided our growing region (read more from our Race and Housing Series). These scars are deep and continue to haunt us today.
Twin Cities Habitat's mission is racial equity in housing, but to live out our value of being an anti-racist organization requires we take a more holistic approach to economic justice. We need partners in this work.
Republic Services, a leader in the environmental services industry, was one partner that stepped up during the pandemic. As a part of the company's Committed to Serve initiative, the Republic Services Charitable Foundation provided grants to nonprofits to support small business revitalization projects. Twin Cities Habitat received one of the Committed to Serve grants and leveraged those funds to support local businesses that have suffered as a result of the pandemic.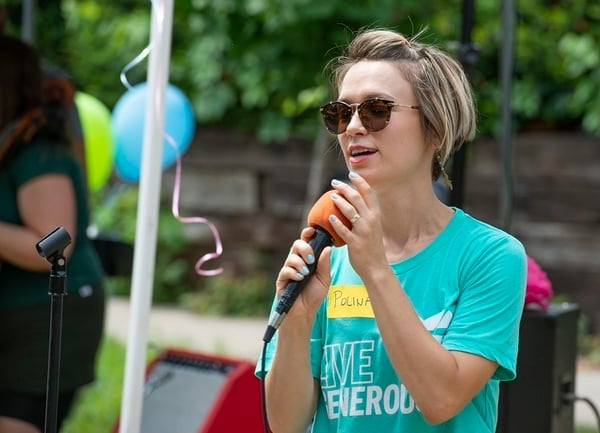 Polina Montes de Oca, the Community Relations Manager at Twin Cities Habitat, identified eight small businesses, including Sammy's Avenue Eatery, that could benefit from the Republic Services Charitable Foundation's support.
"We got a lot done with the grant," says Sammy. "We kept people on our staff, we even hired people, we upgraded our online ordering system, and put equipment in our new space."
Previously, the Republic Services Charitable Foundation had contributed to Twin Cities Habitat's neighborhood revitalization projects in North Minneapolis, but direct support for businesses is a new development.
Tyler Kraft, the General Manager for Republic Services in the Twin Cities, says "We want to be a long-term partner with community businesses. If they don't have a business, we don't have a business."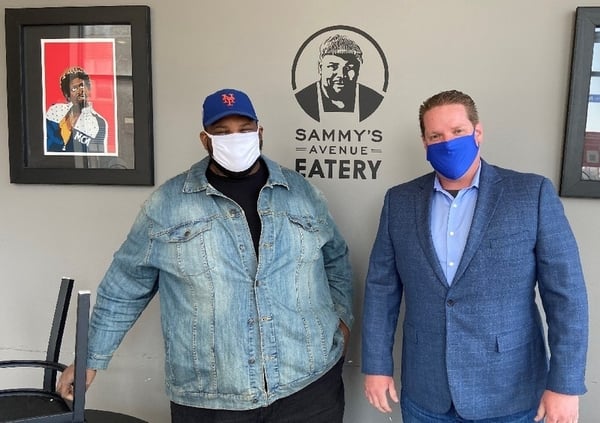 Republic Services' core values – Respectful, Responsible, Reliable, Resourceful and Relentless – are values that Sammy shares.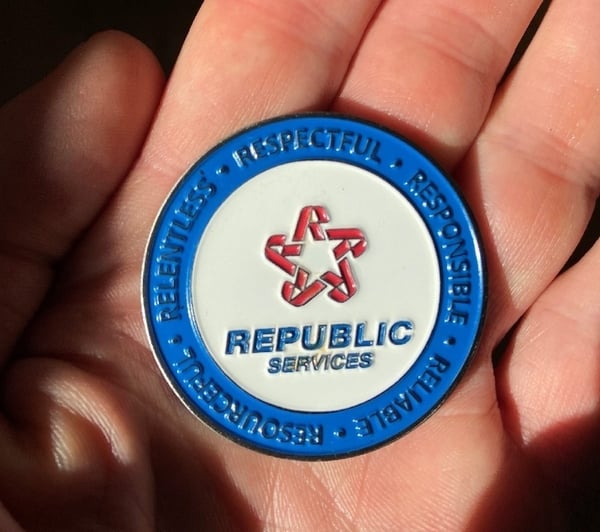 Sammy has already opened a new food truck that operates at Social Cider Werks. He's also working on a new food hall concept that'll be on the first floor of the Penn Avenue Union building at 2200 Golden Valley Road in Minneapolis. Devean George, who developed the property, reached out to Sammy. "It'll have 3 or 4 food stalls so entrepreneurs can share the overhead costs and some of the labor. We can change them out every few years too so others can get a start. I hope we develop something that becomes part of the Minnesota food culture."
Sammy is always looking for ways to pay his success forward and his community knows that. It's why when students at North High School wanted to start a pizza business, they contacted him. "They're going to have one of the stalls in the new food hall. The kids are going to learn what it takes to run a business and we needed a pizza place of course."
Sammy has met with Steve Grove, Commissioner of Minnesota's Department of Employment and Economic Development, and similar representatives from the City of Minneapolis. "We need to do things differently than we've done in the past. We need to hit the refresh button and help more entrepreneurs succeed."
Twin Cities Habitat, Republic Services, and Sammy share a vision for North Minneapolis as a sustainable community. Partners who share this vision are always welcome in this work.