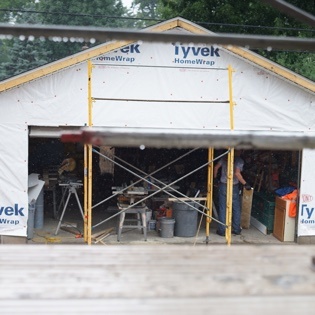 It was pouring rain when I arrived at the Twin Cities Habitat build site in Richfield, MN. I'd been asked to shoot some video of a group of volunteers from Ergodyne, a company that builds professional quality work gear, but it was raining so hard I wasn't sure there would be any work going on. It didn't take long to discover there was definitely work going on...a lot of work.
Ergodyne is a big benefactor of Habitat, donating tool bags, belts, and safety gear that the Habitat construction staff and volunteers use on build sites and A Brush With Kindness projects. It's heavy-duty construction helps keep our staff and volunteers safe and comfortable no matter what the weather brings, and that makes the gear very popular with Site Supervisors.
Some of the gear also lands at the Habitat ReStore in New Brighton, including canvas tool bags and belts, fleece vests, safety vests, and workshirts. The quality of the products means they get snapped up quickly by shoppers whenever they are available. That's great for Habitat because all sales at the ReStore go to support the construction of more Habitat homes for hard-working, low-income families.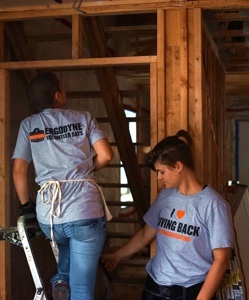 I wasn't sure I wanted to take our good camera gear out in heavy rain to video volunteers on a work site, but when somebody at the Habitat office mentioned that one of Ergodyne's slogans is "Be Tenacious," I knew I had my hook for the story and that I was going to get wet. After all, anybody willing to volunteer and work in the pouring rain is defining the work by their actions.
I found Ergodyne employees Nate Brown and Michael P. in the garage cutting trim pieces to install around vents and faucets around the home's exterior. Once the pieces were cut, the duo ventured into the rain to install them. Within a matter of minutes they were both thoroughly soaked.
Inside the house I found Jessica Wagner and and Monica Gratzler, along with a group of other Ergodyne employees, installing sheetrock. It was chilly, dark and damp, but at least this group was dry as they worked. They were focused on the job and making fast progress, but the lively chatter between the volunteers showed they were enjoying the day, whatever the weather.
Habitat Site Supervisor Skip Schmall was part conductor and part bird as he seemed to be everywhere at once. He'd check in with Nate and Michael, giving them suggestions and checking their work one minute, then be inside giving tips to volunteers for properly fitting sheetrock, and supervising its installation the next. He was wet, but smiling, and happy to have a group of tenacious volunteers willing to show up and work hard, despite the rain.
This group was proof that a little tenacity goes a long way.