We've compiled a list of tips for those in search of their first home, and a few suggestions for once you've purchased your very first home!
Tips for finding and purchasing your first home:
Ditch Your Preconceived Notions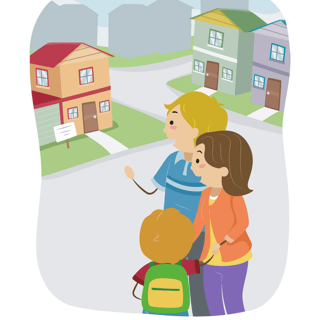 It's your first home, you're going to have plenty of preconceived notions of what this place is going to look/feel like. From the neighborhood to the architectural style to the wallpaper in the bathroom, you may already have it all mapped out. That's awesome, but it's also pretty limiting. Feel free to explore a little bit; to look at something a little different and to see the potential. You may surprise yourself!
As a first-time homebuyer, your first house might not be perfect – but find one that's perfect for you! Once your budget is set, sit down and brainstorm what is most important to you. Commute time to work? Green space? Number of bedrooms? Neighborhood? Opportunities for future development? Think about where you see yourself and your family in 5 years, 10 years, and 30 years. There are a ton of factors to consider when buying your first home and there will likely need to be some compromise along the way.
Don't get hung up on the house minutiae but stay with the big picture! A paint color, wall paper or bad outlet covers are changeable. An old fridge? Just realize you will need to replace it. Look at the structure, bones and fundamentals of the house.
Figure out what you are willing to compromise, what you are not, and stick to your guns. This a big investment and you want to make sure you are happy in the long term!
Get a feel for the neighborhood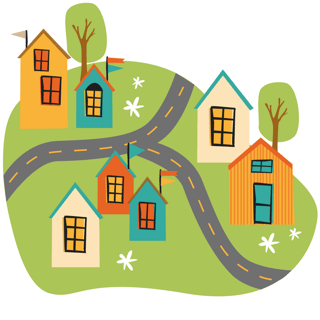 When buying a home, you're also joining a community. Take a walk around the neighborhood at different times of the day to get a feel for what it might be like to live in the area. Check out grocery stores, restaurants, cafes, and parks to see whether it feels like home. While you're at it, test out the drive or commute to work to see make sure it's doable multiple times per week. You don't just need to see yourself in the house but also as a member of the community! Listen to your gut. You'll know whether or not it's the right fit.
Take a walk around the property and look at any trees on or around you. Will they cause problems as they grow? Would they cause problems if a storm took one down?
Don't be afraid to talk to your potential new neighbors to see what they think about living in the neighborhood!
Starting the hunt for your home
Do a lot of research. Use Zillow or some other online portal to get a sense for what's out there and what homes cost.

Before you start looking, know what your strongest offer looks like, and decide what you're comfortable with negotiating on. This will save you a lot of anxiety and prevent you from getting "swept up in the moment" once you actually put the offer together!

Ask a lot of questions—especially about the terms of your mortgage. Look at how small fluctuations in your interest rate will affect how much you spend over the life of the loan. If at all possible, try to avoid paying private mortgage insurance.

Don't spend more than three times your annual household income on a home.

Know how much the property taxes are going to be each month.

Know if there are any association fees.

Know if there is (or has been) any special assessments for the property.

Think about how much you'll be driving based on where your job is and your kids go to school. Every 10 miles away from work adds an estimated $90,000 to a mortgage in terms of car costs over 30 years.

Avoid homes that have had water damage in the past from flooding—that's only going to get worse in the future.

In negotiating, ask the seller to cover part of the closing costs rather than lowering the price. Then use any saving you get from that to increase your down payment. This can help you either avoid private mortgage insurance or allow you to borrow less to start with.

Ask for, and look at, energy bills. Older homes can have horrible insulation.

Always get an inspection if it is not needed, so that you know what you are working with. When finding an inspector, don't rely on who the realtor suggests. Check with friends or other homebuyers who they used and how good a job the inspector did.
Check out these home inspection deal breakers.
Bring with you someone you trust who can be objective so you don't get swept up in the excitement and miss something obvious.

Clean and paint before you move in so that you don't have to work around furniture and can get those projects done pretty quickly and with ease of movement.
Other tips:
Don't mentally move into the home before your offer is accepted. It can be easy to fall in love with a property and be crushed if the seller selects another buyer. Know that there are many fish in the sea (or homes in the market) so be patient, flexible, and don't get discouraged along the way!
Once you make a decision, get an offer accepted, and go through the inspection/closing process, quit looking at other available properties. There are always going to be great looking houses that come up in great parts of town. Don't second guess your decision - just be excited about your first home! It might be quirky or not as polished as others that you see on the market, but just remember that you chose it for a reason. You will have a lot of great memories in your first home, so quit looking at other properties and simply enjoy the next chapter!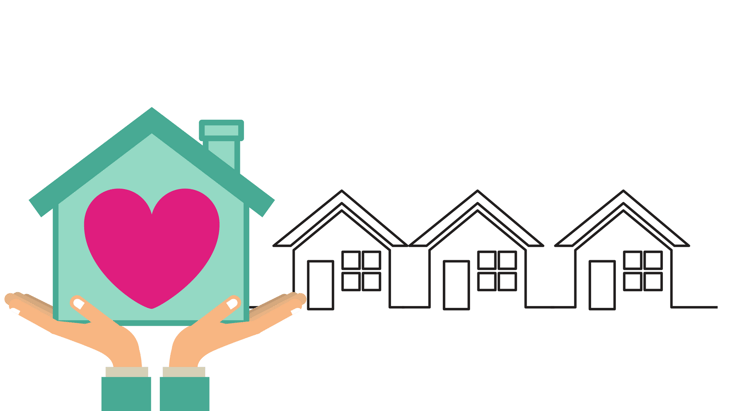 Tips for your first few years of homeownership:
It takes a lot more time and money to fix cosmetic things with your home, so learn to be content until the time comes when you can update them. Other necessary fixes take priority and cost a lot too.
Be sure to look up what a "Sump Pump" is. It's a thing MN basements require in many areas. You'll buy 3 in the first 2 years, so you might as well get used to it now ;) You'll never guess how much ladders cost! Plan on spending about 1% of the home's cost on maintenance each year. Make a budget and stick to it. There are very good apps out there to help with this!

If you don't water your grass for a summer month, you'll regret it.

Homestead your home immediately so you save on taxes.

Let your Landscaping rotate through every season before making changes so you can see what springs up and where the holes are. In the spring, wait to pull 'weeds'…they may be flowers!

After you do all your fall clean up using your lawnmower to mulch and pick up leaves, be sure to fill the gas tank and add gasoline stabilizer (The product is called "Stable" and is sold at most gas stations). Stored gasoline will get thick over the winter months and can clog the engine and ruin your lawnmower. Get rid of any extra gas you have in your red can by putting it in your car's gas tank.

If possible, set up autopayment plans for all of your bills and utilities immediately. There are a lot of new expenses to keep track of, and it helps to know that you don't have to keep track of all the different due dates.

Make goodies for your neighbors to get to know them! You should also plan on attending your community's "National Neighborhood Night Out" celebrations to get to know everyone and learn about local resources. You should also find your city's online hubs (websites, Facebook pages, etc.) and follow them for news, important announcements, upcoming events, and ways to get connected.
Have a tip we should add to our list? Let us know in the comments below!
Special thanks to all of our staff members who contributed tips: Ryan, Kristal, Matt, Lisa, Marjorie, Riley, Becky, Casey, Terry, Allie, and Anne.