Editor's note:
Interviews for this forecast were conducted with Adade Amenounve and David Arbit. Adade is a REALTOR, a broker, and a member of the Minneapolis Area REALTORS (MAR) Board of Trustees. He's been working in real estate in the Twin Cities since 2005 and has a passion for helping buyers from populations who have historically been denied access to homebuying. David has a Master's in Urban Planning from the University of Minnesota and has been the Director of Research and Economics at MAR since 2015.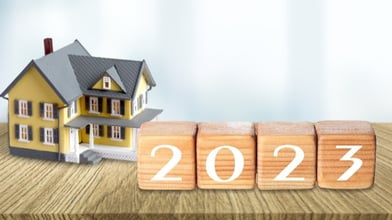 The Twin Cities housing market, like markets across the country, shifted dramatically in the second half of 2022 as interest rate hikes took effect.
"We have 38% fewer contracts to buy a home right now [as of December 2022] than at this time last year," says David Arbit. However, as he points out, this did not lead to a huge drop in home prices over the past six months.
"The worry was, as buyer activity went down, seller interest would increase but that didn't really happen," says David. "They both went down in tandem, which has kept the market's balance relatively tight."
Some people are wondering if we will see home prices tumble as they did during the housing market collapse in 2008. David points to some structural differences in today's market that make that scenario unlikely.
First, buyers were much better qualified to buy their homes over the past decade than in the run-up to the housing collapse. So far owners have shown they are able to make their payments on their mortgages (many of which are at pretty low interest rates).
Second, people have more equity in their homes now. "Even if prices drop like 5%," says David, "people may still be in situations where they go from having $150,000 in equity to $135,000. That's not great but that's not devastating."
Resource: Data on recent home sales across the Twin Cities
Watch Interest Rate Changes in 2023
As buyers and sellers wait to see what will happen with interest rates in 2023, David has this analysis for how some homeowners see themselves currently: "Today's owners feel married to their interest rates."
He explains that a person who has a mortgage with a rate in the 3-4% range is unlikely to consider moving right now because not only will they have to pay a higher price for a similar home, but their interest rate will be significantly higher as well. This "double whammy" has a lot of owners sitting tight.
Another piece of this is that older homeowners who are looking to downsize do not have enough viable housing options. There is growing demand for this group. The housing sales data reflects this, too. During the pandemic, there was a huge demand for single-family homes, and sales of condos dropped off (due to people wanting more room and being hesitant to buy units with shared common spaces).
Sales of all types of homes in the Twin Cities may be down from 2021 to 2022; however, condo sales decreased the least (single-family sales are down 39%, townhomes down 35%, and condos down 30%). Condos were the only segment of the market that sold more quickly in November 2022 than the previous year.
Sellers Making Concessions
Builders don't just need to be creating more housing that seniors are interested in—there is high demand for starter homes, as well. But higher interest rates are creating challenges for builders, because buyers can't qualify for large mortgages as easily. Builders are stuck paying the taxes, heating bills, and other expenses on finished homes. This has created something we haven't seen in a long time: incentives being offered by builders toward buyers.
"Builders are sometimes buying points on mortgages to get buyers a lower rate on their loans," says David.
"I've heard of builders offering thousands of dollars to buyers," says Adade Amenounve. Something he has not seen in quite some time.
Adade says sellers of existing homes are also much more flexible and willing to negotiate with buyers than in the past few years. He's been able to get price reductions for some of his clients, and sellers are also offering to help with closing costs. "They're willing to throw in a little money to get deals done."
Smart House Hunting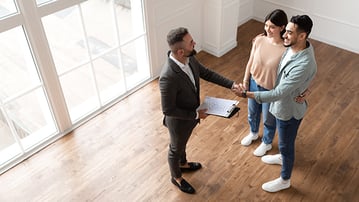 Adade's advice for people looking to buy their first home right now is to do two things right away: get pre-approved for a loan, and find a real estate agent you can trust and who is knowledgeable about incentive programs.
"There are a lot of cities and communities that have great incentives for first-time homebuyers," says Adade, "and the nice thing is that you can stack these programs together. So you could get money from both the county and the state toward your purchase."
Minnesota Housing offers down payment and closing cost assistance for buyers with annual household incomes up to $134,800.
Resource: Options for down payment assistance in Minnesota
Adade used to work at Twin Cities Habitat for Humanity, and he recommends families also check out their programs for first-time homebuyers, which can generally be stacked on top of other incentives programs.
"I like that structure because the affordability comes from that additional subsidy that Habitat puts on top," says Adade. "The one thing, though, is how do you get the word out? Because every time I talk to Realtors, Habitat's program is news to them, and it can really help buyers."
Resource: Twin Cities Habitat's TruePath Mortgage
Both Adade and David agree that there is uncertainty about what home prices will do in 2023. They also agree that the right time to buy a home is when the time is right for your family's situation, and not to try and game the market.
"Run away from anyone who tells you they know what is going to happen," says David.
"I've got an exercise I do with buyers once they are pre-approved for a mortgage amount," says Adade. "We look at their needs versus their wants in a home and what they can afford. That is really important, and it can help people decide whether or not now is the time for them to be buying a home."