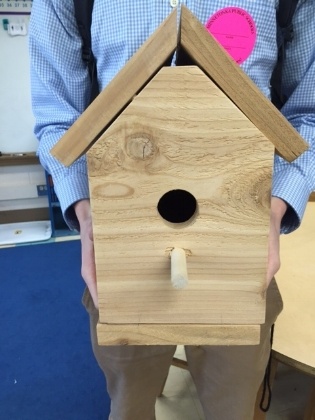 This semester, Minnetonka Vantage students are partnering with Avalon Charter School students to develop a youth engagement project that we can take out to elementary schools and complete with students. Minnetonka Vantage is program where high school students partner with businesses to complete real life business projects. Avalon is a project-based charter school in Saint Paul; the project based learning style empowers students, teaches time-management, and gives the students freedom to work on something they are passionate about. This is the first project that Minnetonka and Avalon have partnered together on.
The Minnetonka and Avalon students are collaborating this semester to develop a birdhouse that is easy enough for elementary- aged students to configure, but also a nice home for blue jays and cardinals. The students from Avalon have developed a design for birdhouses that use no power tools, and the pieces fit together somewhat like a puzzle. Before they got started, they had to research different types of birdhouses, and put together step-by-step instructions. The students from Minnetonka tackled the business side of things, developing the cost analysis and secondary research on youth projects with nonprofits.
On Friday April 22nd, students from both schools came together, alongside 3rd graders from Clear Springs Elementary School in Minnetonka, to try out a prototype of bird houses. The 3rd grade teacher was one of the Vantage student's teachers in elementary school. It was great to see how quickly the groups of students managed to put together the bird house – one group finished in 8 minutes, while others took nearly 30 minutes. We were all very impressed with the teamwork, and building skills of the 3rd graders. Look for these birdhouses on sale at the ReStore this summer!