How would you finish this sentence?
Home is _________.
That's what we're asking this year for Give to the Max, Minnesota's annual celebration and gift-generating event for local schools and nonprofits.
Maybe home is where you stay warm during snowstorms. Maybe home is where you make memories with your family. Maybe home is where you can be yourself.
Lynnisha grew up in a Habitat home, and for her, home is stability. Before her mom bought their Habitat home, they would move every couple months, starting new schools and living in new neighborhoods. Once they were in their Habitat home, there was no more moving, no more new schools. And that stability was a launching pad for success.
Now, Lynnisha can: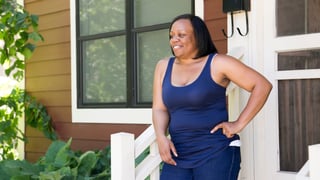 Excel in an IT career she loves
Afford therapy for her son who has a rare form of Down syndrome
Support her daughter in whatever activity she pursues—even if it's tackle football
Be a safe haven for someone in the community who's run into a hard time
For Give to the Max, home is where your gift makes a difference. Your gift is the key that will unlock home for more local families. Give a gift today.
When you give between November 1—16, your gifts will be matched dollar-for-dollar, thanks to generous anonymous donors (including Twin Cities Habitat staff and board members). Help us take advantage of this matching gift by giving today.
Become a Habitat Builder & win prizes
You can have an even bigger impact for Give to the Max. Become a Habitat Builder by creating your own fundraising page in one simple step. Then, share your page with your friends and family to recruit more people to join Habitat's mission.
It's a win-win—you'll unlock home for more families, and have the chance to win these prizes:
The two fundraisers that recruit the most donors to give on their fundraising pages will receive a $350 Apple gift card
If you get 10 or more unique donors you will win a Habitat coffee tumbler