By Bethany Clarke
Twin Cities Habitat AmeriCorps Member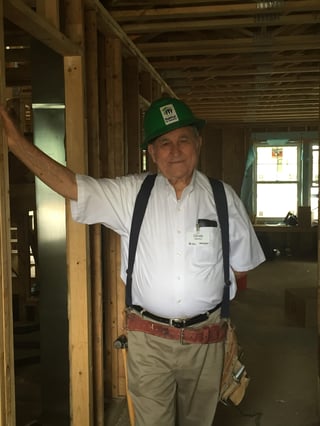 Olindo Verrico is a Twin Cities Habitat hidden gem. He is an 82- year-old construction volunteer who has been working with site supervisor Ashley Rose and me for the past ten months. Volunteering three to five days a week, Olindo is a consistent and bubbling fountain of construction knowledge. He approaches each of his projects with a meticulous attention to detail and infectious energy.
On the busy days, we are most likely to find Olindo at the center of a crowd of work camp volunteers offering advice, punchy sayings, and telling stories. Olindo most loves to talk about his childhood spent in Italy, his previous work as a general contractor, and the love of his life, his wife Rosemary (if you get lucky, he'll show you a picture of her when she was young). He's a big fan of lattes if and only if they're prepared with the perfect amount of foam. He's also a coffee fairy and enjoys treating other volunteers too.
Rosemary is important to Olindo's service with Habitat because it was her death last spring which spurred him to begin volunteering. Olindo remembers dark days when he had no reason to get out of bed in the morning and he comes to site every day because it gives him a reason to live. I am inspired every day by this rare and special commitment to our work.
Olindo's background is in a whole variety of trades including masonry, developing, and general contracting. What Olindo doesn't always mention is his work as an artist. His phone holds many photos of his colorful landscape paintings. Most recently, Olindo traveled to Italy for a month to visit relatives and some places of personal significance. He was welcomed back with open arms and a request to please fix our door hardware!
Olindo says his favorite thing about volunteering is the positive attitudes of other volunteers and Habitat staff. He also enjoys working with other fine and intelligent "energizer bunnies" on the regular crews. What a blessing to have such fabulous volunteers on site with us!