Generally, on the 2nd Monday of the month the Women Build steering committee gets together to plan and discuss Women Build. The steering committee is made up of women from all walks of life who all come together to with one common goal – to empower women!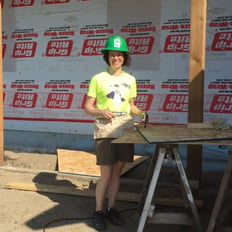 This past Tuesday, members of the Women Build steering committee traded in their pens and paper for hammers and nails and volunteered on this year's Women Build experience in Blaine alongside Habitat site supervisor Terra. Blaine is a new location for the 2016 Women Build program.
Committee member CJ stated," It was exciting being a part of putting our WB planning into building action!"
Since the Steering Committee started over 10 years ago they have been the backbone of the Women Build program – helping to recruit over 1,100 women volunteers each year and fundraise to help fund the homes. This group of committed women work diligently on outreach, communications and recognition throughout the year.
We thank the dedicated members of the steering committee who help make Women Build in the Twin Cities a reality each year!
Interested in getting involved with Women Build? Click below for upcoming opportunities.