Guest blog by Caitlin Magistad,
Local & Regional Policy Coordinator
Housing costs continue to increase across Minnesota, while incomes have not kept pace. According to a recent report from the Minnesota Housing Partnership, a full-time minimum wage earner can't afford a one-bedroom apartment in any of Minnesota's 87 counties, and at $18.82, Minnesota ranks #22 in the nation for the highest hourly wages required to afford a modest two-bedroom apartment. Low vacancy rates, limited housing stock, and rising housing costs put pressure on low and moderate-income renters and home buyers alike, impacting families and communities across the state. Too many Minnesotans do not have access to safe, stable, affordable housing—together we can change that!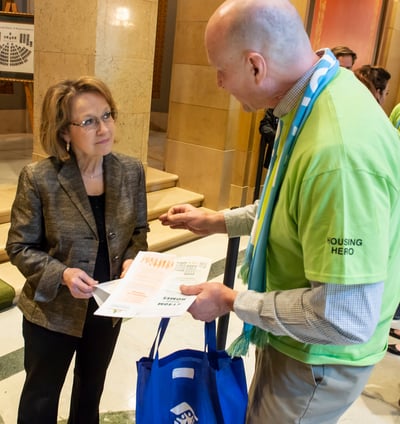 Solving our housing challenges requires public and private partners, including our local, state and federal elected officials who make important decisions that impact our everyday lives—including where we live. Ensuring that everyone has a safe, stable, and affordable place to call home is a bipartisan, statewide issue: workers earn, children learn, seniors thrive, and communities prosper when there is housing that meets everyone's needs. In 2018, Minnesota voters will elect a new Governor, 2 US Senators, and 8 US House Representatives. All 134 Minnesota House Representative offices are up for election in 2018 as well. With these important statewide and local races on the ballot, it is critical that community voices continue to raise housing as priority across Minnesota.
As Minnesota voters prepare for primary elections on August 14, and Election Day on Tuesday, November 6, your voice can help shape housing decisions in our community. Through your advocacy with candidates and elected officials, you can raise housing as an election issue. Candidates can be future Housing Heroes that help create the policies and partnerships that are necessary for our community—but they need to hear from you!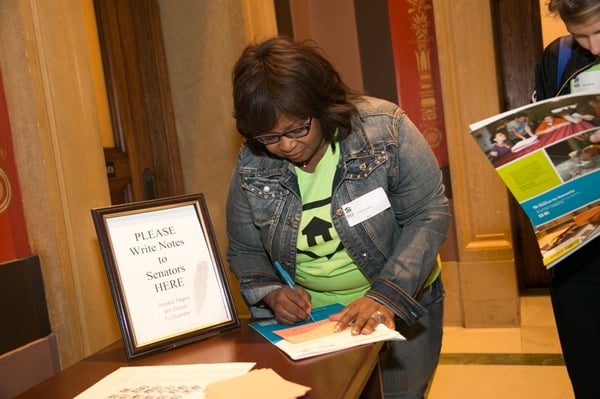 Visit mnvotes.org to register to vote, check/update your voter registration and view your sample ballot. And, when candidates reach out to as for your vote, here are some questions to ask to highlight affordable housing as an election issue:
More than 1 in 4 Minnesotans-nearly 550,000 families-spend more than 30% of their income on housing.

ASK: What will you do to increase affordable housing options so that families can focus on work, school, and health?
Statewide, there is a deficit of 92,439 affordable housing units available for Minnesotans at the lowest incomes.
ASK: What local, state, or federal resources will you target to address Minnesota's affordable housing shortage?
I believe safe, stable, and affordable housing is important in my community because… Share why housing matters to you!
From working to end homelessness, to investing in affordable rental and homeownership opportunities, Minnesota will thrive with sound housing policies and smart investments. Thanks for all you do to make housing a priority in our community!