Almost everyone has heard of Habitat for Humanity. And that's awesome! But sometimes we discover misconceptions about what we do, how we work, and who buys homes with Habitat. So, we've put together this list to help set the facts straight.
Of course, if you have any questions, we'd love to talk with you. Just give us a call.
Fact #1: People buy homes with Twin Cities Habitat for Humanity...they're not free
Households partner with Twin Cities Habitat to buy a home they love with a mortgage they can afford. Our mortgage* is available to households who may otherwise be unable to obtain conventional mortgage financing. All buyers must meet our income guidelines—roughly between 30% and 80% of the Twin Cities median income, depending on family size. For a family of five in 2019, that's between $36,949 and $77,700.
Every family pays an affordable mortgage, originated by our wholly-owned nonprofit mortgage company, TCHFH Lending, Inc. Monthly mortgage payments are set at no more than 30% of homebuyers' monthly income. The 30% cap ensures that families can afford decent healthcare, nutritious food, transportation, and education.
Homeowners are responsible for their monthly mortgage payment, which includes the principal and interest, property tax, homeowners insurance escrow, and a monthly maintenance fund contribution.
Every Habitat homebuyer contributes sweat equity hours toward buying their Habitat home. Those hours can be completed through financial coaching, homebuyer education, the lending process, and through construction on a renovated or newly-built Habitat home or other volunteer opportunities.

Fact #2: Households can use Habitat's mortgage to buy homes for sale on the open market or homes developed by Habitat
Households who partner with Twin Cities Habitat have options. After they qualify for our Homeownership Program, they have the option to buy a home built or rehabbed by Twin Cities Habitat, or they can work with a realtor to find a home they love that's for sale on the open market.
No matter which path they take, all Habitat homebuyers must meet Habitat's financial criteria, complete our homeownership education, and apply for a mortgage through our wholly-owned mortgage company, TCHFH Lending, Inc.
Fact #3: Affordable housing has no adverse effect on neighborhood property values
Research shows conclusively that affordable housing has no negative impact on home prices, or on the speed or frequency of sale of neighboring homes. Trulia has done extensive research on this across the country. They examined the nation's 20 least affordable markets, analyzing over 3,000 projects with units for low-income earners over a 10-year period. As a whole, there was no significant effect on home values located near a low-income unit.
In fact, Twin Cities Habitat homes tend to have a positive effect in neighborhoods. As an example, several Twin Cities Habitat homes were built in the Hawthorne EcoVillage in North Minneapolis during the housing crisis. A five-year report on that neighborhood shows Habitat's work coincided with significant decreases in foreclosures, vacant properties, and drug arrests. The report also shows a jump in owner-occupied homes and the number of new trees planted.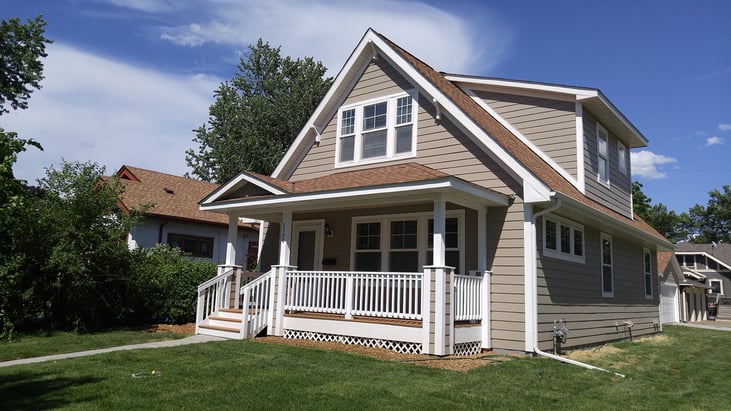 Fact #4: Twin Cities Habitat builds quality, energy-efficient homes
Twin Cities Habitat develops quality, attractive, simple, modern homes. All homes built or rehabbed by Habitat meet or surpass every building code in the communities where we build. On top of that, we aim to match the size and quality of surrounding homes. You could drive through a few townhome developments throughout the metro and have no way of knowing which were Habitat townhomes and which were market-rate.
All homes must pass stringent inspections by city or county inspectors. While most work is done by volunteers, all volunteers are trained and supervised by Habitat staff. In addition, plumbing, electrical, roofing, and other skilled work is done by licensed professionals.
Twin Cities Habitat builds every one of its new construction homes to meet LEED certification standards and is the #1 builder of ENERGY STAR rated homes in Minnesota. We install active radon mitigation and continuous vent systems, and use low VOC paints. This means that Habitat homes are more cost-efficient for homeowners and are better for our planet.
Fact #5: People of all backgrounds, races, religions, etc. can partner with Habitat
Twin Cities Habitat for Humanity is an Equal Opportunity Lender and a Fair Housing organization. We follow all Equal Opportunity Lending and Fair Housing laws, and we do not discriminate based on race, religion, nation of origin, gender, sexual orientation, family status, marital status or any other protected classes.
Our staff is prepared to work with households at various levels of preparedness for homeownership. We encourage anyone who fits in our eligibility criteria to find out if buying with Habitat might be right for you. Even if you might not be ready for Habitat's homeownership program, we can refer you to another organization in our referral partner network, some of which have specific geographic or community focuses.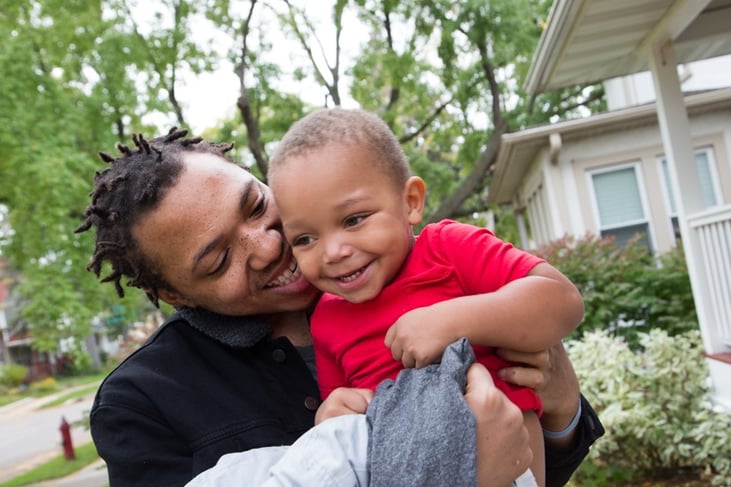 Fact #6: Habitat homeowners helps taxpayers and builds stronger, more vibrant communities
It's simple math: the more housings costs eat up your income, the less you have to invest elsewhere. For folks who need to spend more than a third of their income on housing, things like healthcare, nutritious food, education, transportation, saving for the future, and investing in the local economy get harder to pay for. When you have a home that's affordable for you, all those other areas of your community benefit as well.
Additionally, more often than not, affordable housing enhances local tax revenues by improving substandard housing stock. Instead of low or no payment of taxes by distressed properties, affordable homeowners and renters contribute to the community. For example, Twin Cities Habitat homeowners contribute millions in property taxes each year.
Whether you rent or own, if your housing is affordable you can stop moving as frequently and put roots down in your community. And that's a win for everyone.
Fact #7: Habitat mortgage payments are often less than the average rent in the Twin Cities
There is not one county in the United States where a full-time minimum wage worker can afford to rent a two-bedroom apartment (spending 30% or less of their take-home income). In most counties, minimum wage workers would have to work almost 80 hours per week to afford a one-bedroom apartment. When 40%, 50%, or even more of your money is spent on housing, there isn't enough left over to pay for adequate healthcare, decent nutrition, or the educational needs of children.
Habitat homeowners are much better off financially than those who rent. With Habitat mortgages* structured to cap monthly payments at 30% of household income, Habitat homeowners can pay their monthly housing payment and still have money left for other necessities and savings.
When homeownership rates go up, it lifts the entire community. Habitat homebuyers tend to be active in their communities, and they've reported that their kids' academic performance improves after becoming homeowners (read the full study from Wilder Research). And that positive impact multiplies for generations.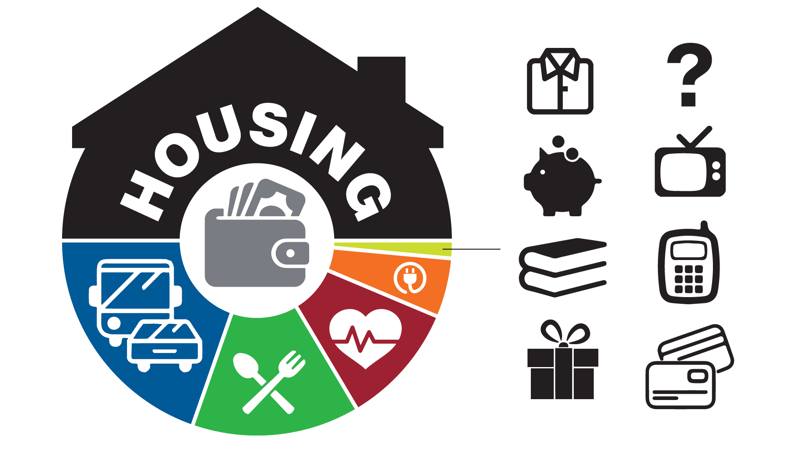 When too much of your income is spent on housing, it leaves less for everything else.
Fact #8: Twin Cities Habitat for Humanity guides its own policies and practices, largely independent of Habitat for Humanity International
Local Habitat for Humanity affiliates are independent, nonprofit organizations that operate within specific service areas and abide by the framework of the Habitat Affiliate Covenant. Each affiliate focuses its building, repair, mortgage lending, and fundraising efforts within their service area. Habitat for Humanity International shares branding, marketing, and research with local affiliates to help us achieve our goals, but it exercises no direct authority over local affiliate programming.
We're grateful to be part of a network of 1,300+ Habitat affiliates worldwide and are proud to participate in Habitat's global mission through our global engagement work. We're also proud to be a leader among Habitat affiliates—we were recognized by Habitat for Humanity International as an Affiliate of Distinction, one of just five affiliates of our size to receive the honor.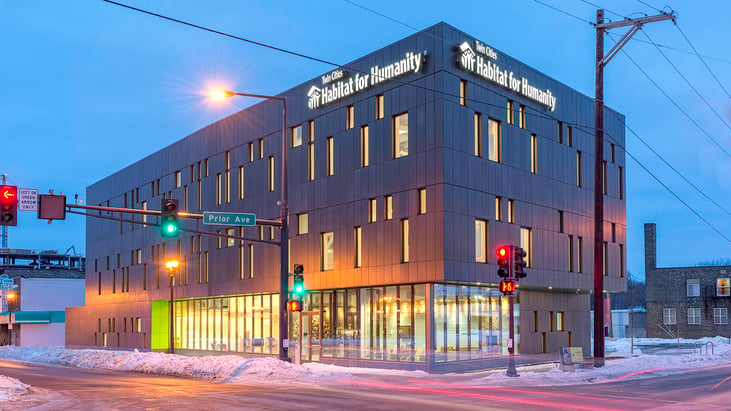 Fact #9: Habitat for Humanity is a non-governmental organization
Both Habitat for Humanity International and Twin Cities Habitat for Humanity are independent, nonprofit organizations and are not part of the government.
We do accept some government funds, grants, and property to advance our mission and our neighborhood revitalization efforts. To access these funds, we must meet certain criteria and be good stewards of those resources.
Fact #10: Habitat for Humanity was founded by Millard and Linda Fuller—not President Jimmy Carter
Habitat for Humanity was started in 1976 in Americus, Georgia by the late Millard Fuller and his wife, Linda. The idea for the 'fund for humanity' was based on Reverend Clarence Jordan's work at Koinonia Farm. He wrote, "What the poor need is not charity but capital, not case workers but co-workers." It's this basic philosophy of 'co-working' that continues to guide our work today.
But what about former President Jimmy Carter? You've probably heard about his affiliation with Habitat for Humanity, but let's be clear: Jimmy Carter is not the founder of Habitat.
However, President Carter and his wife, Rosalynn, are longtime supporters and dedicated volunteers. Their home in Plains, Georgia is eight miles from Americus and they've been connected to Habitat's mission since 1984.
Each year, they lead the Jimmy and Rosalynn Carter Work Project to help build houses and raise awareness of the need for affordable housing. In October of 2010, the Carter Work Project spent a week in Minneapolis and St. Paul building and repairing homes.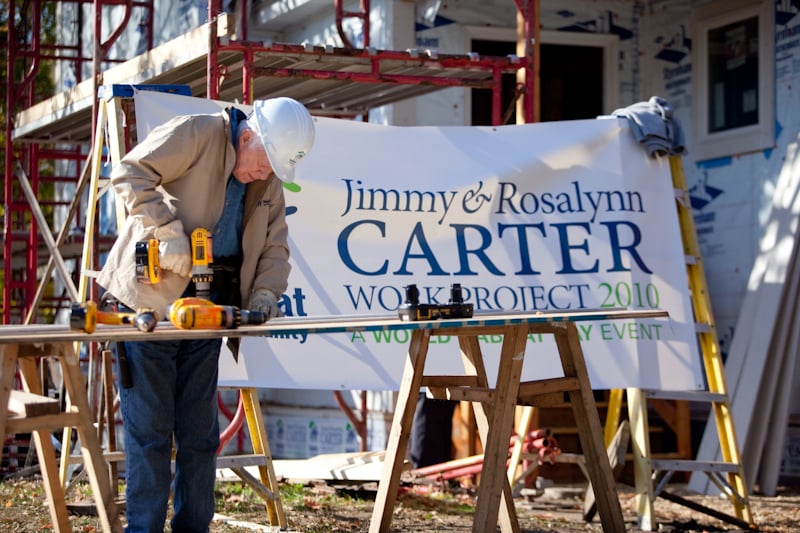 *All Habitat mortgages are originated by TCHFH Lending, Inc., a wholly-owned subsidiary of Twin Cities Habitat for Humanity, Inc.
Want to learn more?
Below are some great sources for information about poverty and housing issues: