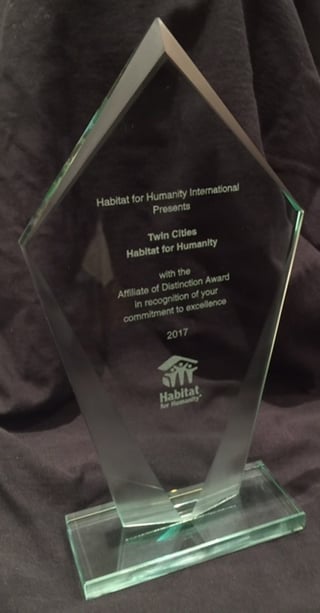 At this week's Habitat for Humanity International Conference, Twin Cities Habitat for Humanity received a genuine honor: we were selected as one of 23 organizations recognized by Habitat for Humanity International as an "Affiliate of Distinction." Out of over 1,300 Habitat affiliates nation-wide, Twin Cities Habitat is the only affiliate recognized from Minnesota, and one of only three affiliates recognized of comparable size.
The Affiliates of Distinction program was established by Habitat for Humanity to honor local Habitat organizations that meet or exceed best-practice standards and to uphold their work across the Habitat network.
"It's truly an honor to be recognized as an Affiliate of Distinction among our peers," said Sue Haigh, President and CEO of Twin Cities Habitat, who was presented the Affiliate of Distinction award at the conference. "What makes Twin Cities Habitat an Affiliate of Distinction is the passion and dedication of thousands of Habitat partners across the Twin Cities – homebuyers, volunteers, donors, staff, and the board of directors – who believe that everyone deserves a safe, affordable place to live and are willing to innovate and work their hearts out to make that dream a reality."
Habitat for Humanity's rigorous selection process examined affiliates through four criteria: Building a Sustainable Organization, Building Community Impact, Building Sector Impact, and Building Societal Impact. Twin Cities Habitat, a leading innovator among Habitat affiliates, excelled in all four categories.
Here are a few of Twin Cities Habitat's accomplishments that set us apart as an Affiliate of Distinction:
Innovated with our Impact 2020 Strategic Plan, which will more than double the size of the homeownership program and the number of Twin Cities families who can purchase a home with Habitat
Secured capital from Bremer Bank and other Minnesota lenders to fund 500 affordable mortgages in four years, which is likely the largest banking partnership of any affiliate in Habitat for Humanity's history
Helped over 1,100 homebuyer families into affordable homeownership, completed over 1,800 paint and critical repair projects that allow homeowners to stay in their home, and organized over 27,000 volunteer days annually in Twin Cities Habitat's 30+ year history
Began piloting an Age in Place program which will partner with others in the community to ensure homeowners can safely stay in their homes as they age
Advocated for affordable housing with thousands of advocacy actions annually, achieving successes for local and state-wide housing policies like helping to secure $100 million investment for Minnesota housing
Raised $1 million in annual sales at Twin Cities Habitat's original ReStore, and successfully opened a second ReStore location in 2016
Congratulations to Twin Cities Habitat volunteers, homebuyers, donors, and the entire community for making this special award possible.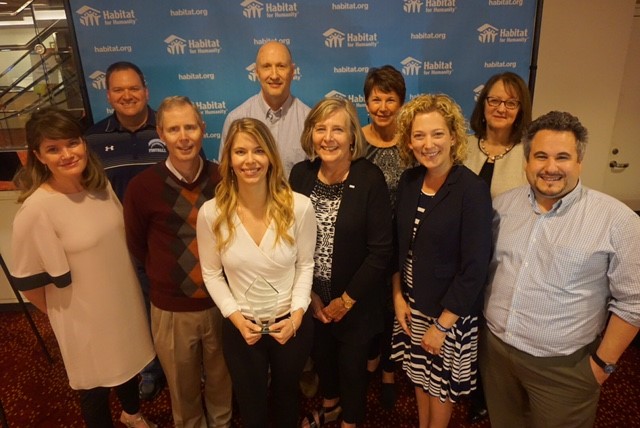 Twin Cities Habitat staff members with the Affiliate of Distinction Award at the Habitat International Conference.