Great ideas catch fire and grow huge. A Brush with Kindness (ABWK) is one such great idea. In 1998, Twin Cities Habitat for Humanity and Valspar joined forces to create a program where volunteers delivered paint and repair help to low-income homeowners.
Pat Lund was Twin Cities Habitat's point person on starting ABWK at the time, and he still runs the program today. Pat quickly saw how fixing a home not only stabilizes that family, but gives new energy and optimism to the entire block. Habitat for Humanity International's (HFHI) leaders took note of this pilot program going on up in Minnesota and Pat and Valspar were soon explaining to affiliates around the country how to start similar programs of their own.
Fast forward 17 years...
On Saturday, September 19, Twin Cities Habitat hosted the kickoff of Habitat for Humanity's first National A Brush with Kindness Week.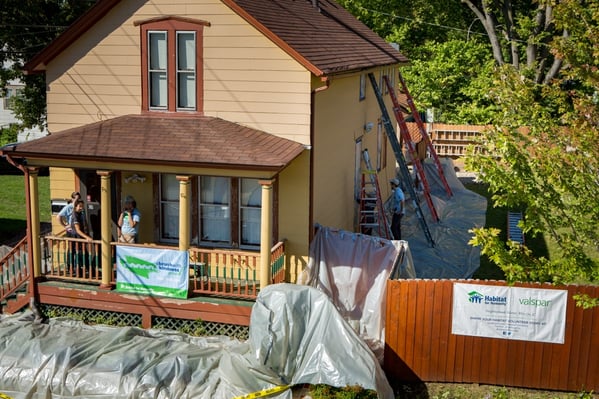 It was a day of special moments, symbolism, and real work on the home of a much-deserving woman named Nancy Finch (see pictures from that day). Nancy, a substitute teacher in St. Paul, has owned her home since 1981 and has worked very hard to keep it nice - but the full-house paint job now needed was beyond what she could afford or do on her own. Nancy's home is one of 153 ABWK projects that Habitat volunteers around the country worked on during the week.
Today, approximately 400 U.S. Habitat affiliates are involved with paint and repair work, and nearly 13,000 low-income families have received help since national statistics began being tracked in 2008. The success of the program is due in large part to the ongoing support of Valspar which is the national paint supplier to Habitat. To date, the company has donated 2.2 million gallons of paint and is in the midst of a $36 million dollar commitment to supporing Habitat through 2019. Valspar even made a special gift of $25,000 directly to Twin Cities Habitat to support the work done during National ABWK Week.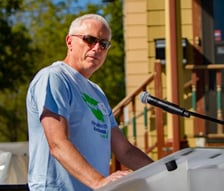 Valspar President and CEO Gary Hendrickson spoke enthusiastically to the volunteers gathered for the kickoff event. "I know together we are making communities like this one and the ones across the nation better places for kids to grow, for families to thrive and seniors to age with the dignity and respect they deserve."
Echoing Gary's enthusiasm was Nancy Schuelke, a Twin Cities Habitat Board Member and Business Market Segment Manager at Wells Fargo. Wells Fargo joined Valspar in helping sponsor the ABWK projects around the country during this national week of work. "Since 1993, Wells Fargo Housing Foundation has mobilized its team members to build and rehabilitate 5,500 homes and counting... investing more than $150 million to such efforts."
Nancy Finch, the homeowner getting her home painted, then read a touching thank you message she'd written to all the volunteers and sponsors who were coming together to paint.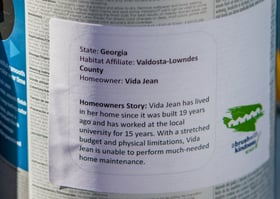 Following the speakers on the stage, 153 volunteers (many of them Valspar employees who'd brought their families out to participate) painted 24 states on a giant U.S. map. Each volunteer had a paint can that told the story of one homeowner being helped around the country. (Don't worry - we weren't wasteful. After a few ounces of paint were used from each can, they were re-sealed Valspar donated them to the Habitat ReStore in New Brighton so they could be sold to support more Habitat projects.)
When Gary told the volunteers to start painting it was a bit of controlled chaos (Colorado got a little paint on it from one overzealots volunteer - so Habitat Denver better do some painting projects during next year's national ABWK week). When all of the 24 states participating were painted, every stepped back and a scissorlift raised the map into the air to the cheers of many.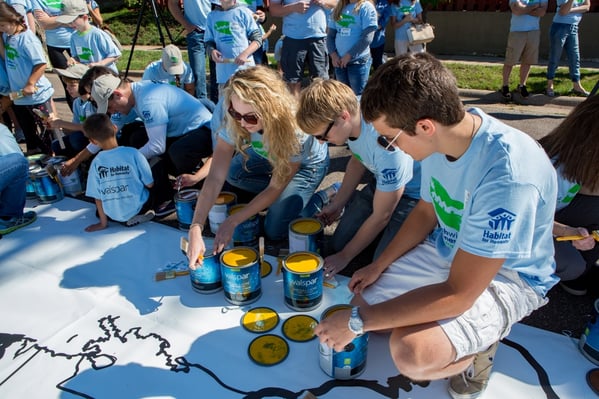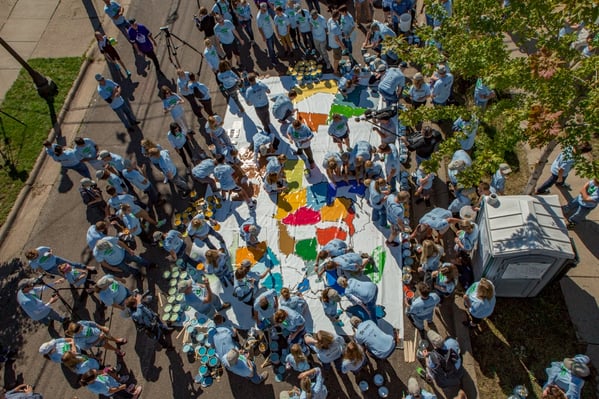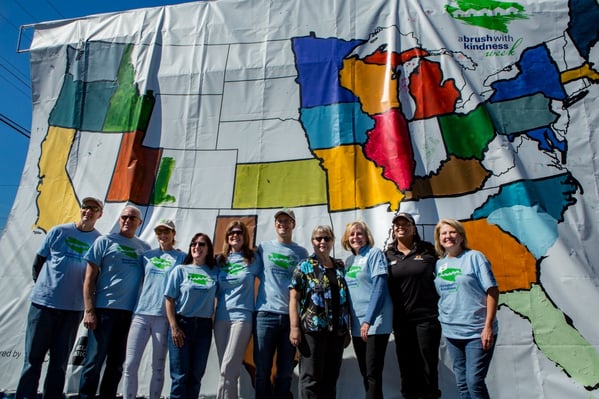 Pictured above from left to right are: Pat Lund, Program Manager for ABWK at TCHFH; Gary Hendrickson, CEO & Pres. of Valspar; Vanessa Hendrickson, Kim Welch, VP of Communications at Valspar; Lynda Smith, Snr. Dir. of Corporate Relations at HFHI, Justin Hergesheimer, Corporate Dev. Officer at HFHI; Nancy Finch, Susan Haigh, CEO & Pres. of TCHFH; Kimberly Smith-Moore, VP at Wells Fargo Home Mortgagage; Nancy Schuelke, Business Market Segment Manager at Wells Fargo.
"I'm so proud that this idea — to bring Habitat volunteers together to give a homeowner stability through paint and repair help — started right here in Minnesota with Valspar," said Susan Haigh, President and CEO at Twin Cities Habitat.
Despite some rainy hours during the National ABWK Week, Twin Cities Habitat staff and volunteers were able to work on 8 projects around the metro. And, just like Habitat starting paint and repair work in the first place back in 1998, we think the National ABWK Week is a great idea and hope that it can spread and grow just as much in the future.