An affordable home must be an efficient home. Otherwise, a family ends up throwing away too much money keeping the lights on, the water running, and staying warm during a cold Minnesota winter. That's why Twin Cities Habitat for Humanity builds greenness into every new home by making sure it meets at least the LEED Silver standard for design and efficiency.
LEED, which stands for Leadership in Energy and Environmental Design, is a national program overseen by the Green Building Certification Institute in Washington, D.C. LEED certification recognizes projects that meet stringent green building requirements. The highest level is Platinum, then Gold, then Silver. Although every new Twin Cities home is built to meet these standards, only a few projects are selected to go through the long process of certification.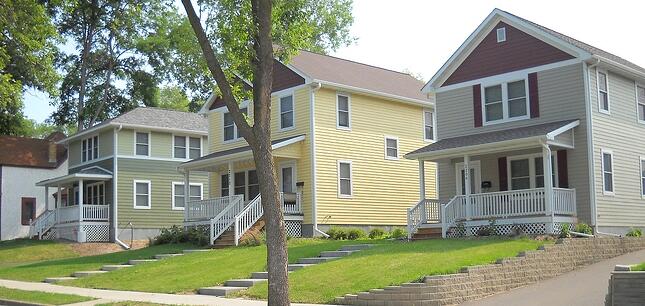 The latest Twin Cities Habitat home to earn certification is on Irving Avenue North in Minneapolis. That home came back meeting the LEED Gold level in March. This home marks three LEED certified homes in a row on that one block in North Minneapolis (pictured above). Minnesota-based Carlson, a global leader in the hospitality world, sponsored and helped build the three homes between 2011 and 2013. In 2014, Carlson sponsored and helped build another green home a little further north in Minneapolis. That one is also slated to go through the LEED certification process over the coming years.
LEED homes earn points for various efficiency building techniques. The more points, the higher the certification level. The latest home on Irving Avenue received points for many things done on every new Twin Cities Habitat home. Those include efficient framing techniques that rely on off-site fabrication at the wall panel plant that Twin Cities Habitat operates in Northeast Minneapolis, high-efficiency fixtures and fittings throughout the home, construction waste reduction practices, and planting drought tolerant plants that don't require a lot of water. The Irving home also scored points because it was built on an infill lot, close to transit options, with insulated piping, and using environmentally preferable products. The home got great marks for indoor environmental quality (a.k.a. it's a healthy place to breathe) because the garage is detached which keeps toxic fumes and chemicals away from the living space, it has an active radon mitigation system (just like every new Twin Cities Habitat home), and the air circulation system in the home is top-notch. It also has things like ENERGY STAR appliances, low-flow shower heads, low flow toilets, and super-efficient light bulbs.
Going through LEED certification is something that has to be considered during the planning and design stages of a home build. LEED awards points during the construction process if builders are able to minimize waste, get materials from local sources, and work efficiently on the job site. The homes on Irving Avenue in North Minneapolis earned points for the use of reclaimed building materials, cement board siding, energy recovery ventilation systems, and thermal break construction processes.
During construction of the third home on Irving, a large tree had to be removed to make way for the foundation. In keeping with the green building idea, the tree was milled and turned into a large (and beautiful) desk for the front lobby of Twin Cities Habitat's new offices (which is also a LEED certified building).
Building LEED is nothing new for Twin Cities Habitat. The first home built for certification was finished in 2009 in Crystal. One special feature of that house is the radiant floor heating in the lower level which increases comfort and reduces energy costs. During construction the crew utilized advanced wall framing techniques including recycled finger jointed lumber and a strapped wall system. The lumber was also locally sourced, thus cutting down on its carbon footprint and upping its LEED certification value. ENERGY STAR appliances were installed and low VOC paint was used on the home as well. Other features include insulated concrete form foundation, fiber cement siding, and concrete with recycled flyash. Another LEED project that's dear to us are the
three townhomes on Case Avenue
in St. Paul.
Thanks for reading about Twin Cities Habitat's green building work. By being informed you can help dispel the myth that affordable housing can't be built to high standards for efficiency, design, and environmentalism.