As Millennials begin to climb corporate ladders and shakeup the world with fast-growing startups, they're taking on leadership roles in the realm of nonprofits, philanthropy, and volunteerism.
We at Twin Cities Habitat for Humanity are thrilled about this. After all, building or repairing a home is easier with plenty of young muscle around. Plus, improving housing policies will require a scale of advocacy outcry that these super-socially-connected Millennials are uniquely qualified to help with.
Although there's some evidence nationally that Millennials are volunteering at a lower rate than older generations, this isn't what we are seeing here at Twin Cities Habitat. In fact, more than 6,000 people age 34 or younger volunteered on one of our construction sites in the past year. These young volunteers often get connected to Habitat's work through their jobs, their churches, or their universities.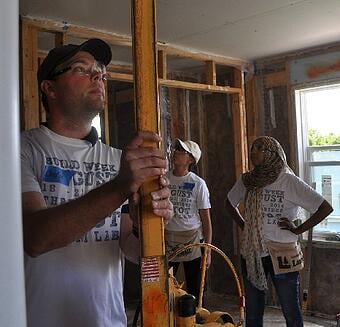 "It's easy to do and it's really fun," says Charlie Anderson (pictured) about volunteering on a Habitat site. Charlie is the founder of Boom Lab, a firm that specializes in training Millennials to be highly-effective business consultants. Employees from Boom Lab, and two of its close partner firms Keyot and Three Bridge, volunteered this past summer on Habitat townhomes going up in Woodbury.
Charlie, who's put up sheetrock as a Habitat volunteer, says Millennials thrive on seeing the impact of their work. "You get to the end of the day and you know what you've done… I remember walking through the house and seeing all the smiles from everyone on our team." Charlie says Millennials expect to be able to blend the important aspects of their lives together, even if they've traditionally been seen as separate (i.e. going to work and volunteering).
Cultivating relationships with these future leaders is what Riley Moynihan does at Twin Cities Habitat every day. He helps run the Habitat Young Professionals Network, the Women Build program, Entrepreneurs House, and coordinates with several local college chapters of Habitat for Humanity.
"We develop future leaders by being an organization that says "yes," says Riley. "With the way the job market, economy, etc. has been in recent years, Millennials have grown accustomed to feeling limited professionally -- grounded, really. Habitat utilizes that potential. Our programs benefit from innovative, creative ideas from members of that generation. Most of those individuals don't even work here, but they're drawn in by the welcoming environment, the opportunity to take action and the satisfaction they get from serving their community. I've seen a number of individuals grow professionally at Habitat, and there are a number of different avenues to do so."
Although Twin Cities Habitat has been building and selling home since 1985, longer than most Millennials have been alive, we are an organization that is constantly working on being innovative. Right now we've begun the process of developing a new Strategic Plan that'll be implemented starting in 2016. The overarching goal for the new plan will be to expand our work to help more people in the Twin Cities enjoy the benefits of a safe, decent, affordable place to call home. Tapping into the passions of Millennials will be critical if this goal is going to be attained.
Many Millennials rode out the recession either renting with roommates or living at home with parents. They watched the precipitous drop in home values (keenly aware of the college debt following them around) and were slow to sign onto the idea of taking out a mortgage and buying a home. It'd be easy to draw the conclusion that Millennials don't believe in homeownership.
But as the economy slowly recovers, and Millennials begin to enter that 'next phase in life,' it looks like their views on homeownership are changing. A report from the Demand Institute found 80% of Millennials plan to one day own their own home, and more than a third said they hope to do it in the next five years. This shows young people still see value in owning a home, putting down roots in a community, and building wealth one step at a time through mortgage payments.
For Millennials, and specifically for those in the bottom half of the income bracket, entering the world of homeownership is going to be a challenge. For today's buyers, large down payments and strict credit requirements, which are meant to prevent another housing crisis, are going to prove major challenges. The Millennials face a triple-whammy right now: wage stagnation, record levels of college debt, and rising home costs.
Where do you start addressing this challenge? The first step is awareness, and that's part of the beauty of the Millennial generation. They're great at sharing information and they see their voice and their social network as assets that they can provide to the causes they champion.
So we call on you Millennials! Get informed about housing, share your knowledge, get involved (come volunteer with us), and help move the needle on housing affordability.