At the Habitat Campus Kickoff Monday night, officers from the Habitat for Humanity chapters at Twin Cities colleges and universities gathered to discuss the upcoming school year.
During the meeting, Twin Cities Habitat got a preview of the exciting plans these chapters already have for the fall semester.
Macalester College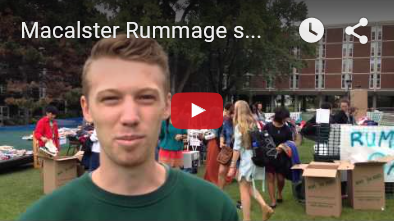 Only a few weeks into the school year, the Habitat chapter at Macalester College has already held a major fundraising event.
The Habitat chapter and the Bonner Scholars hold their annual rummage sale at the beginning of the fall semester selling items collected during move-out at the end of the spring semester.
Popular items at the rummage sale are books, clothing, mini-fridges, and bundles of hangers.
The rummage sale raises money to support Habitat and keeps unwanted items out of landfills.
This year the rummage sale raised over $4,000 and the Habitat campus chapter will use the half of the proceeds it receives to make a donation to Twin Cities Habitat for Humanity!
Macalester also has monthly Habitat
build days
and is busy preparing for Hunger and Homelessness Awareness Month in November, during which they will hold multiple educational events to raise awareness on campus.
University of Minnesota
On August 16th, the University of Minnesota Habitat chapter had nine teams participate in Muddy Sunday, their annual mud volleyball tournament. They raised over $2,000 and everyone had a blast!
The campus chapter is now getting ready for Shantytown.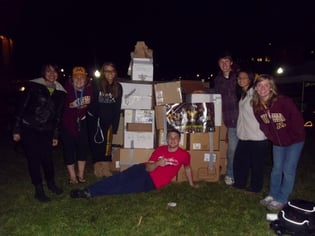 From 5:00pm until 7:00am participants will sleep in cardboard shanties outside of the Coffman Memorial Union building.
This advocacy event is a favorite for many members and helps raise awareness about homelessness and the need for affordable housing.
They are also organizing a Mega-Build in late October, a volunteer day when dozens of students will work on several build sites in Hugo and Blaine.
Hamline University
The campus chapter of Habitat at Hamline University is preparing for a busy semester with events such as blanket-making, a clothing swap, and a gingerbread housebuilding contest.
The chapter will reach out to businesses to donate materials for the blanket-making event and have students help make blankets which, once they are complete, will be donated to shelters.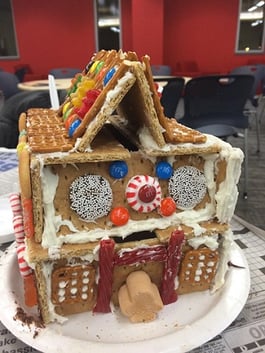 Students bring unwanted clothing to the clothing swap and are given a token that they can use to take a piece of clothing they like that someone else brought to the swap.
The unclaimed clothes are donated to a women's shelter instead of being thrown out.
Later in the semester, Hamline hosts a gingerbread housebuilding contest, an on-campus event that has students make donations to build a gingerbread house.
After the construction of these houses is finished, people will vote for their favorite and the winner will receive a prize.
The proceeds from this event will go towards funding their spring break trip. Last year they went to the greater Sacramento area to build for Habitat.
We are excited to see the great things these three chapters will accomplish this year! Their creativity and passion have generated fun and memorable events and show that there are many ways for youth groups to get involved in volunteering, fundraising, and advocacy.