This blog was originally published in 2018. We're re-sharing it for Valentine's Day with an update from Kathleen and Kyle. Read to the end to see how they're doing today!
It was a summer Kathleen and Kyle will never forget. Without knowing each other, they had joined a regular volunteer crew working on a Habitat home repair project. They met at the top of a roof while ripping out shingles. They went on a date. They fell in love. Eight years later, in the fall of 2017, they were married.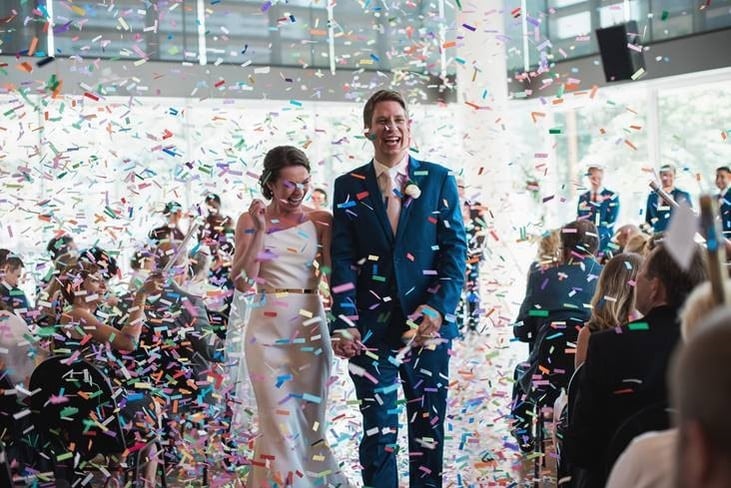 Doing some good over the summer
It was 2009—Kathleen had just graduated college, and knew the job search could take a while. So she took the opportunity to give back to her community while she searched.
"I wanted to do something hands-on and learn new skills while giving my time," Kathleen says, "so Habitat seemed like a natural fit."
She signed up to volunteer, and was placed with a regular crew that met on Thursdays and would be repairing a home through the A Brush with Kindness program.
Kyle was entering the final year of his Master of Architecture program at the University of Minnesota. Knowing he'd have a busy life as an architect, he wanted to spend the summer doing some good in the community.
"I chose Habitat because it was a hands-on opportunity to learn construction techniques and volunteer with people who had the same interests I did," says Kyle. He signed up and was placed on the same crew as Kathleen.
A rooftop experience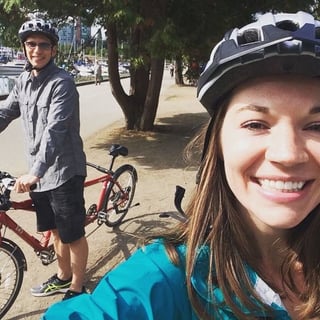 Their crew, the St. Paul Regulars, was a group of mostly retirees. The regulars warmly welcomed Kathleen and Kyle to the crew, and they enjoyed getting to know everyone over the summer. They were particularly impressed when one of the volunteers, Ed, celebrated his 90th birthday and still made a point to come out every week and help wherever he could.
Their first project was to repair and replace a damaged roof. The home was owned by a young man who was taking care of his younger siblings after both of their parents passed away. His story moved the volunteers, and everyone was glad to be helping him stay in his home while he was working hard to provide for his siblings.
Kathleen and Kyle both volunteered to go up on the roof and rip out the old shingles—and that's where they met. They bonded over the grueling shingling process, getting to know each other through the snippets of conversation that come naturally with hard work.
They were having a lot of fun volunteering together, and Kyle found himself wanting to see Kathleen more than once a week. After three weeks of volunteering, he asked her out to breakfast at the Copper Dome. Even then, he could tell what they had was special, and he wanted to make a connection before summer unfurled and life got in the way. Kathleen happily said yes, and they began dating.
They wanted to remain professional on site, so they were discrete and didn't inform their new friends on the St. Paul Regulars about their relationship. Although, looking back, Kathleen thinks they knew.
"We probably thought we were being super quiet about it," Kathleen says, "but I remember having a good laugh when one of the homeowners came out on one of our jobs, looked at the two of us and said, 'Hey! Are you two a couple?' So it was probably fairly obvious."
Vows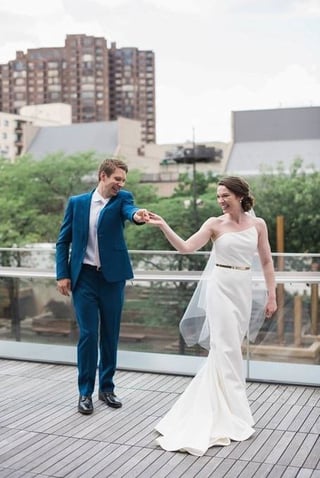 After their summer volunteering with Habitat was over, Kathleen and Kyle kept seeing each other. Eight years after that first date (almost to the day), they found themselves in Orchestra Hall, surrounded by their friends and families, saying their wedding vows to each other.
Here's part of what Kathleen said:
The moment I knew Kyle was the one for me was when he first asked me out after a volunteer day with Habitat. Not because it was some sort of love at first sight thing, but because when Kyle asked me to go on a date, I was sticky with sweat and SPF 100, covered in roofing grit, dust, and dirt (and probably a few dead bugs to be honest). But that didn't matter to Kyle. He asked me out that day because he liked me exactly the way I was. That was just the first of many moments that he loved and accepted me as I am, but it truly speaks to his character and it's the reason I felt so excited to say "I do" when we got married eight years later.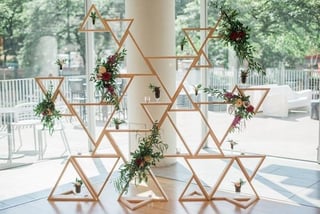 Kyle's now working as an architect and has put his construction skills to good use: he built the backdrop for their wedding ceremony and the centerpieces, and enjoys woodworking in his spare time. Kathleen is a communications strategist in the nonprofit sector, and after volunteering that summer she continued as a "cookie baker" volunteer, creating treats for teams of volunteers completing projects just like she had.
They're currently looking for their first house together, and joke that even if it's a "fixer-upper," they'll at least know how to repair the roof.
One of Habitat's core values is community, because when you're working alongside someone you don't know, united in your mission, you can't help but form a bond with each other. Sometimes it's a connection across cultures or generations. And sometimes, it's love.
...Four years later
We reached out for an update from Kathleen and Kyle, who are coming up on their fifth wedding anniversary! Here's what Kathleen had to say:
Since we last spoke to you we bought a house in the Twin Cities and adopted a dog - two big dreams of ours! Our house didn't need a new roof (thankfully), but we've had plenty of other house projects to keep us busy and put our Habitat skills to good use. We were out walking in our neighborhood this fall and saw a house with an A Brush with Kindness sign outside, and it made us smile knowing Habitat is still here doing great work in our community.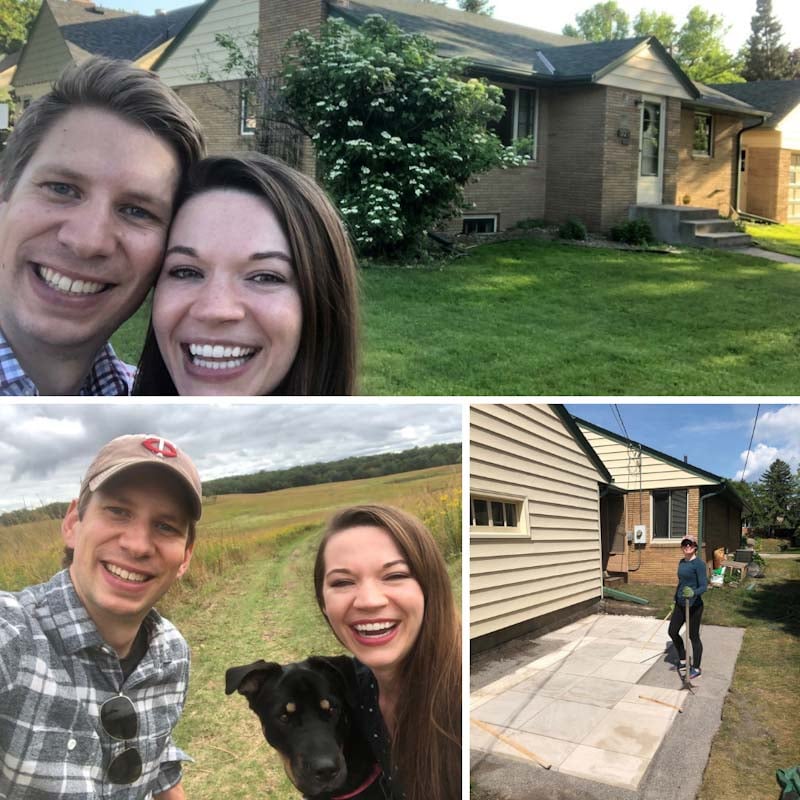 Top: Kathleen and Kyle with their new house! Bottom left: in addition to becoming homeowners, the couple adopted a dog. Bottom right: Kathleen working on the patio at their new home.