Earlier this year, a group of volunteers with Twin Cities Habitat for Humanity's A Brush with Kindness (ABWK) program received a very special note from the owner of the home: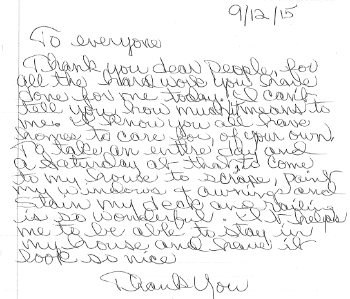 "Thank you dear people, for all the hard work you have done for me today. I can't tell you how much it means to me. I know you all have homes to care for, of your own. To take an entire day and, a Saturday at that, to come to my house to scrape, paint my windows and awnings and stain my deck and railing is so wonderful. It helps me to be able to stay in my house and have it look so nice. Thank you!"
A Brush with Kindness staff and volunteers work with homeowners to complete necessary home repairs that allow families to stay in their homes. Common projects include:
Painting interior and exterior
Fixing broken windows and doors
Replacing loose siding, rotting soffits, broken fascia, missing shingles
Removing overgrown landscaping
Safety and home accessibility upgrades like wheelchair ramps
Help us help more families this winter - volunteer or donate today!