Guest Post by Maggie Zody
AmeriCorps
Being from Kansas, I often get the question from volunteers or generally everyone I meet, how I ended up in Minnesota for the summer. My answer is usually along the lines of "I didn't choose Minnesota, it chose me."
For about two years now, I knew I wanted to participate in AmeriCorps and after volunteering with Santa Fe Habitat for Humanity, the choice was clear to me in what area I wanted to serve. Because I am still attending college full-time, I was limited to serving a summer term with AmeriCorps, and Twin Cities Habitat was the only option in the nation for such a service length.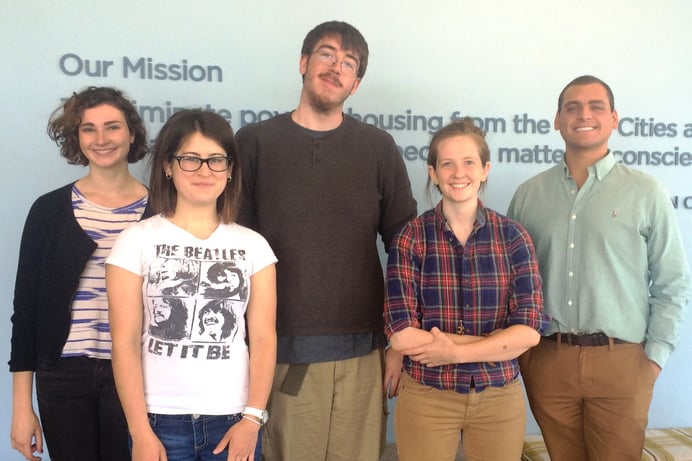 Summer AmeriCorps Members
Although my time as a construction facilitator was limited at Twin Cities Habitat, I feel like I had sufficient exposure to many Habitat programs and field staff members. I had the opportunity to serve on not just one new home build site, but a total of five. Many of these were single-family houses, however, I got to witness the construction in Hugo working on two fourplex units. As well as seeing the differences in how Habitat houses are altered, I had the joy of building with many different site supervisors and family members during my two-month commitment.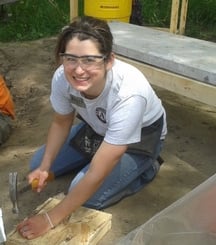 Although after two months I still lack some house building skills, I feel as if I got great exposure to Habitat, and the amazingly driven people that make it great. I can't explain engineering details of a house, but I do know how numerous supervisors take their coffee in the morning. I still struggle with framing, but know several home-buying families and their children's names.
One of my favorite memories this summer was during my last week on a site. The homebuyer of the house stopped by with her two daughters who had never seen the house before. I feel so grateful that I was then able to say I had met all members of the family who would be living in the house. Building with the many different homebuyers was one of the most rewarding experiences of serving at Twin Cities Habitat this summer. The homebuyers I served beside were incredibly hard working and joyous people. This impression was shared with the supervisors I served under as well. Although I'll return to Kansas at the end of my term, it's good to know there are amazing people working so hard for others in the Twin Cities area.
To explore AmeriCorps service opportunities at Twin Cities Habitat, visit http://www.tchabitat.org/get-involved/americorps.