This year, Twin Cities Habitat hosted 29 AmeriCorps members who dedicated themselves to a term of service supporting volunteers, homebuyers, and staff. Beginning in September, the crew served in a full-time, 40-hour per week capacity, and helped to build 50 new homes, complete 80+ projects through our A Brush With Kindness home repair program, organize community events, and coordinate 16,000+ volunteers.
As the AmeriCorps calendar year comes to a close, we wanted to celebrate the wonderful accomplishments of the 2017-18 AmeriCorps cohort in Twin Cities communities all across the metro.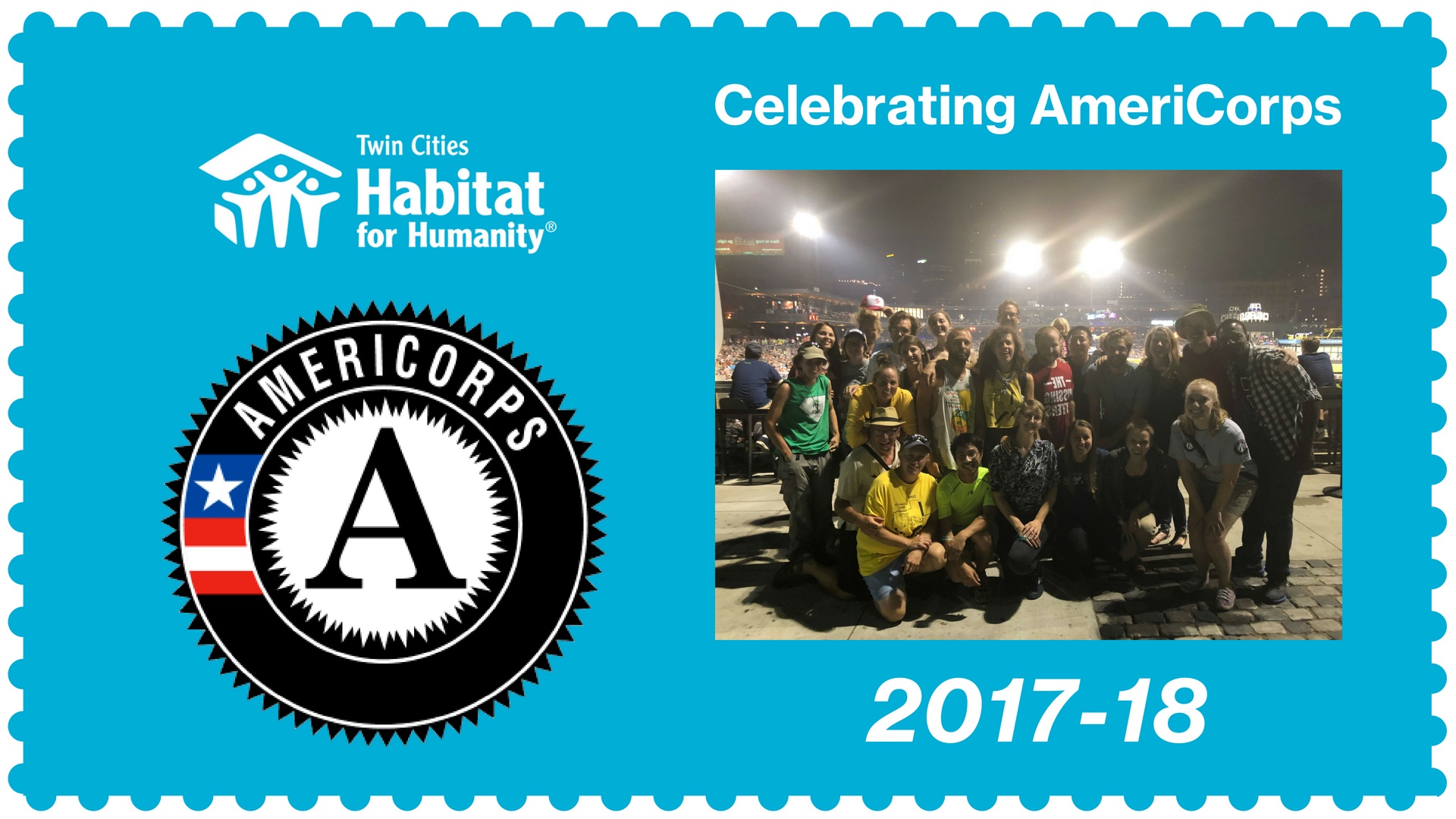 Let's dig in to the journey our members went through this year!
Last September, 17 full-year members participated in a week-and-a-half long orientation.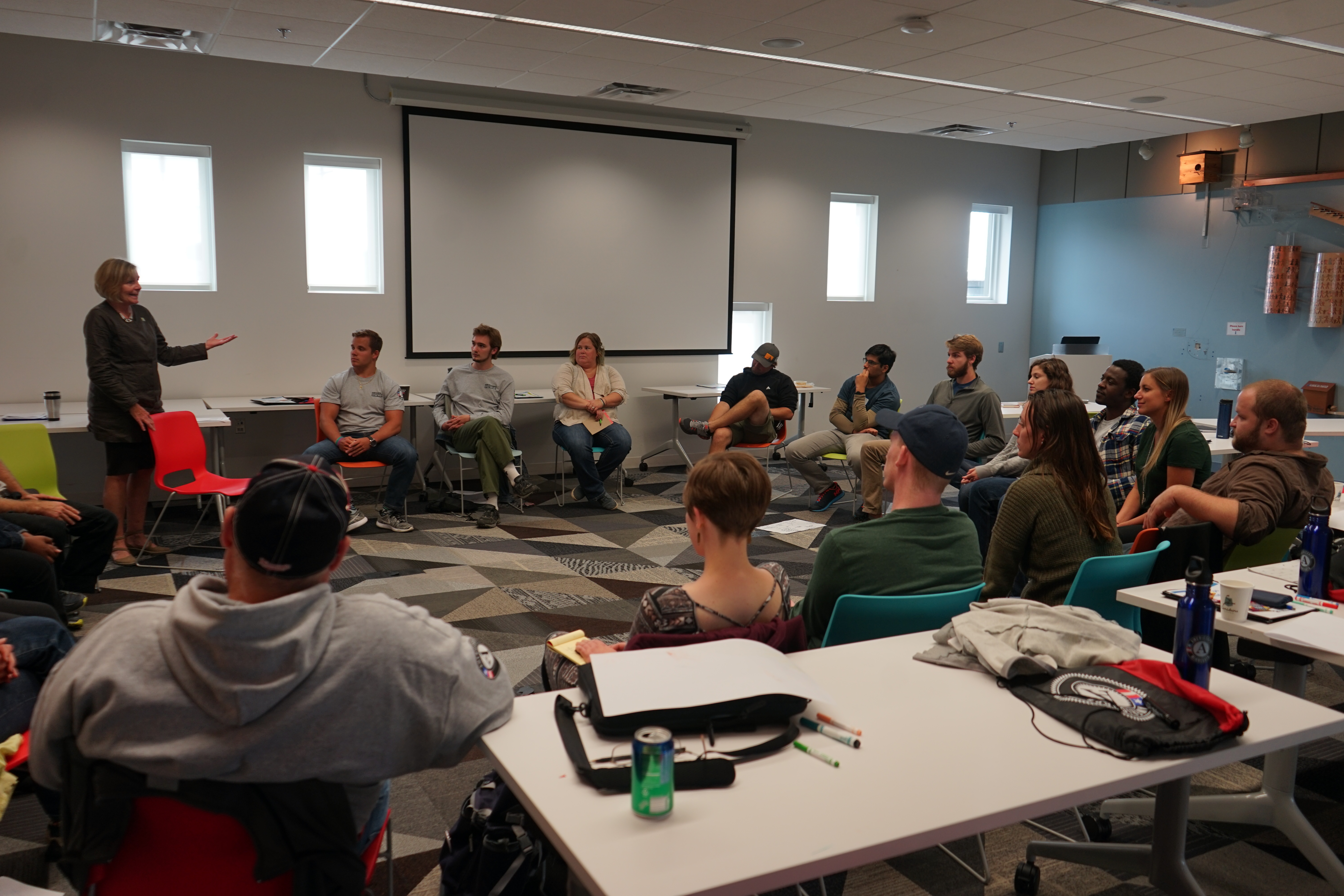 While it may sound like a load of work - between the massive learning curve (tool safety, truck training, and everyone's favorite Ariett accounting software training), CPR/First Aid certification, and paperwork - it was also fun too. Members got to travel to Camp Iduhapi for a high ropes course and team-building exercises. Can anyone say... icebreakers?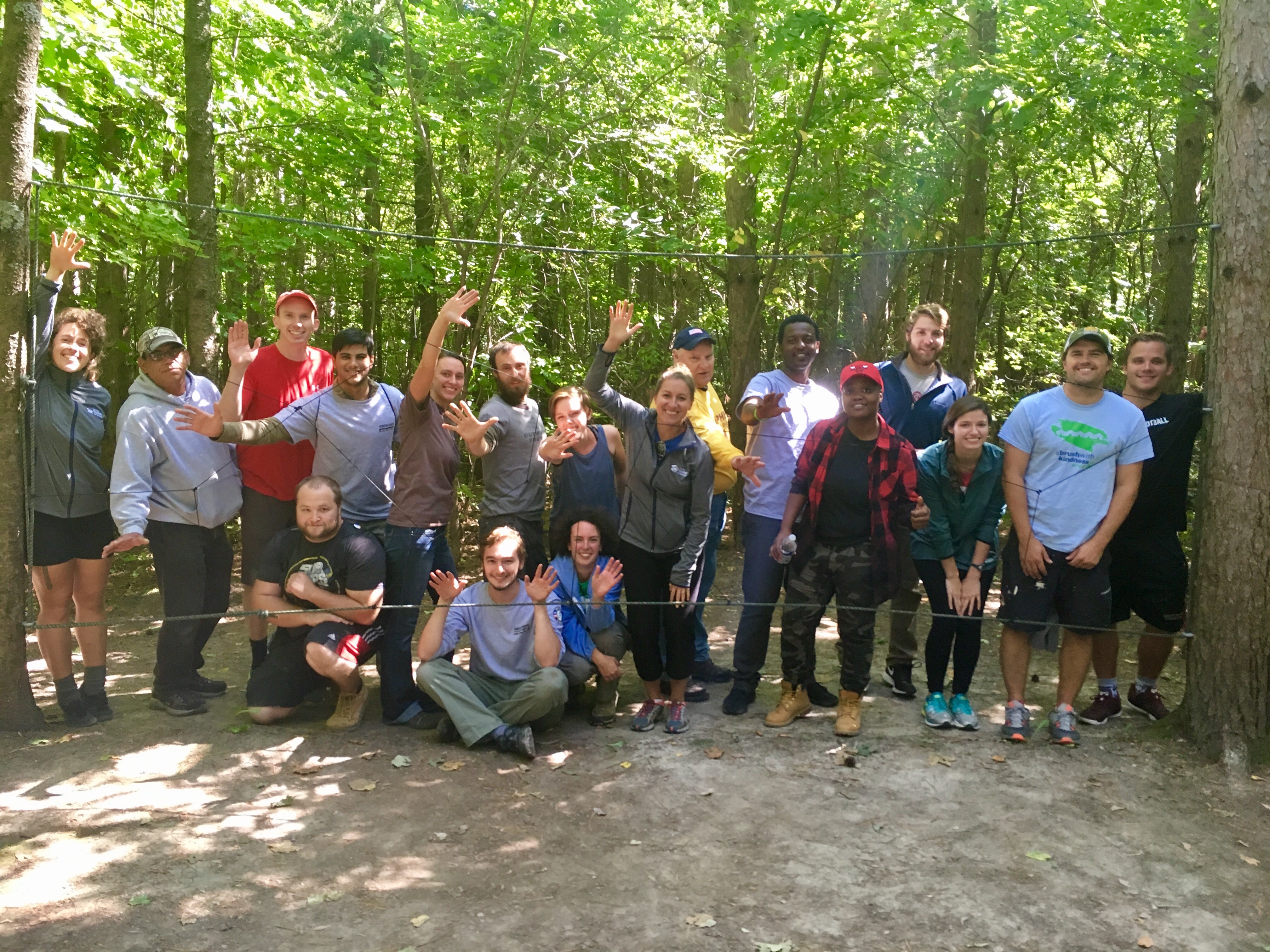 After completing orientation, everyone in the group was paired with their individual site supervisors and sworn in to start the beginning of the 2017-18 year.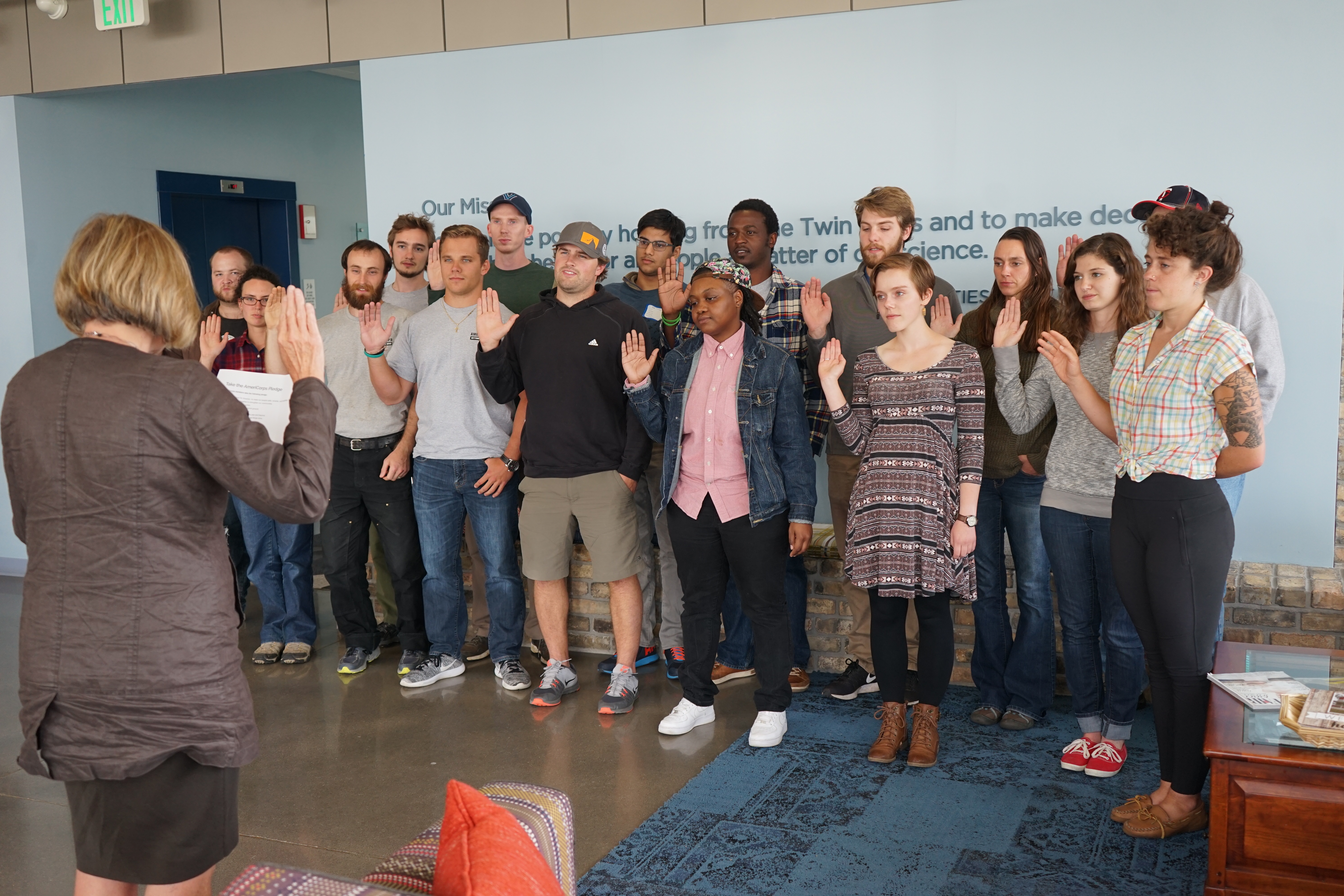 Between November and April, every Wednesday (dubbed by the full-year team as Winter Wednesdays or Friendsday Wednesday) our AmeriCorps members got together for job-specific training and monthly guest speakers.
Once the height of winter rolled around, though, it was time for the Retreat in Virginia, Minnesota. The AmeriCorps members got to learn about the North Saint Louis County Habitat for Humanity affiliate.
The group found that putting siding up in -15 degree weather can really bring a team together. It can even contribute to minor fame, such as being featured in the local newspaper. For more on the winter retreat, take a look at Lillie and Shannon's blog.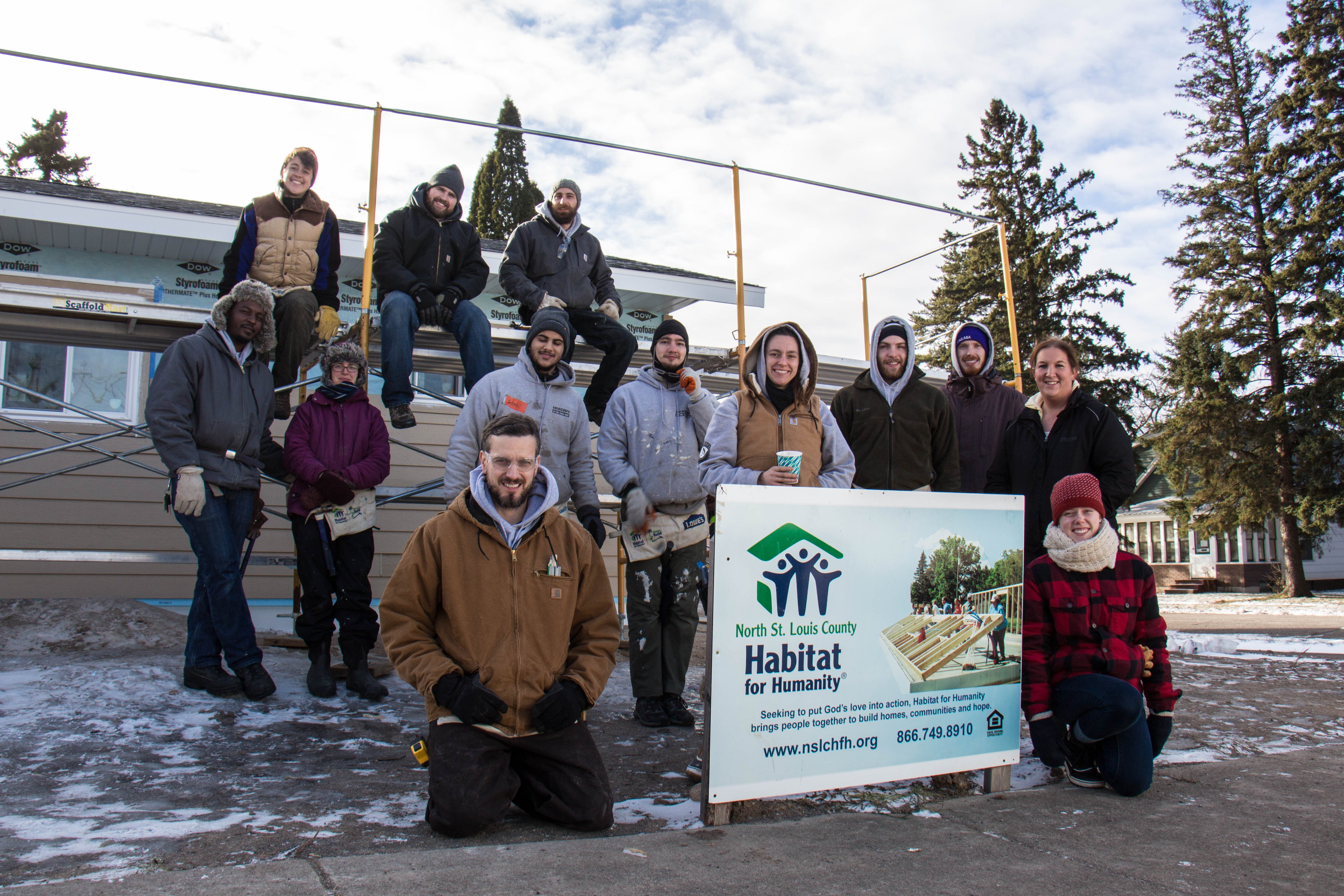 The group also volunteered some time at Feed My Starving Children for their first service project in January - and continuing toward the spring, they did two other projects regarding food donation and conservation. The variety of service projects really shows our members' diverse interests, as they chose what they wanted to volunteer time toward!
With April came the service trip to Beaumont, Texas and the group was ready to "get things done." The plan: to help the Jefferson County Habitat affiliate repair homes after hurricane Harvey destroyed 13,000 houses and displaced 30,000 people. After an astounding 1,160 mile (18.5 hour) trip with 15 AmeriCorps members and two staff scrunched into two 12-passenger vans - they began to help Jerry, a disabled veteran (who did three tours in Iraq), working on his house that had been flooded and needed to be completely gutted. The AmeriCorps group putting on the finishing touches by installing all new flooring.
When not serving on-site, adventuring was priority number one! The group went hiking, exploring, two-stepping, and even visited some alligators for play-time. Thankfully, everyone returned safe. As AmeriCorps member Nick put it,"we all made it back...unscathed. #Blessed." If you want to read about everything they got to see, take a look at the three blogs on the trip.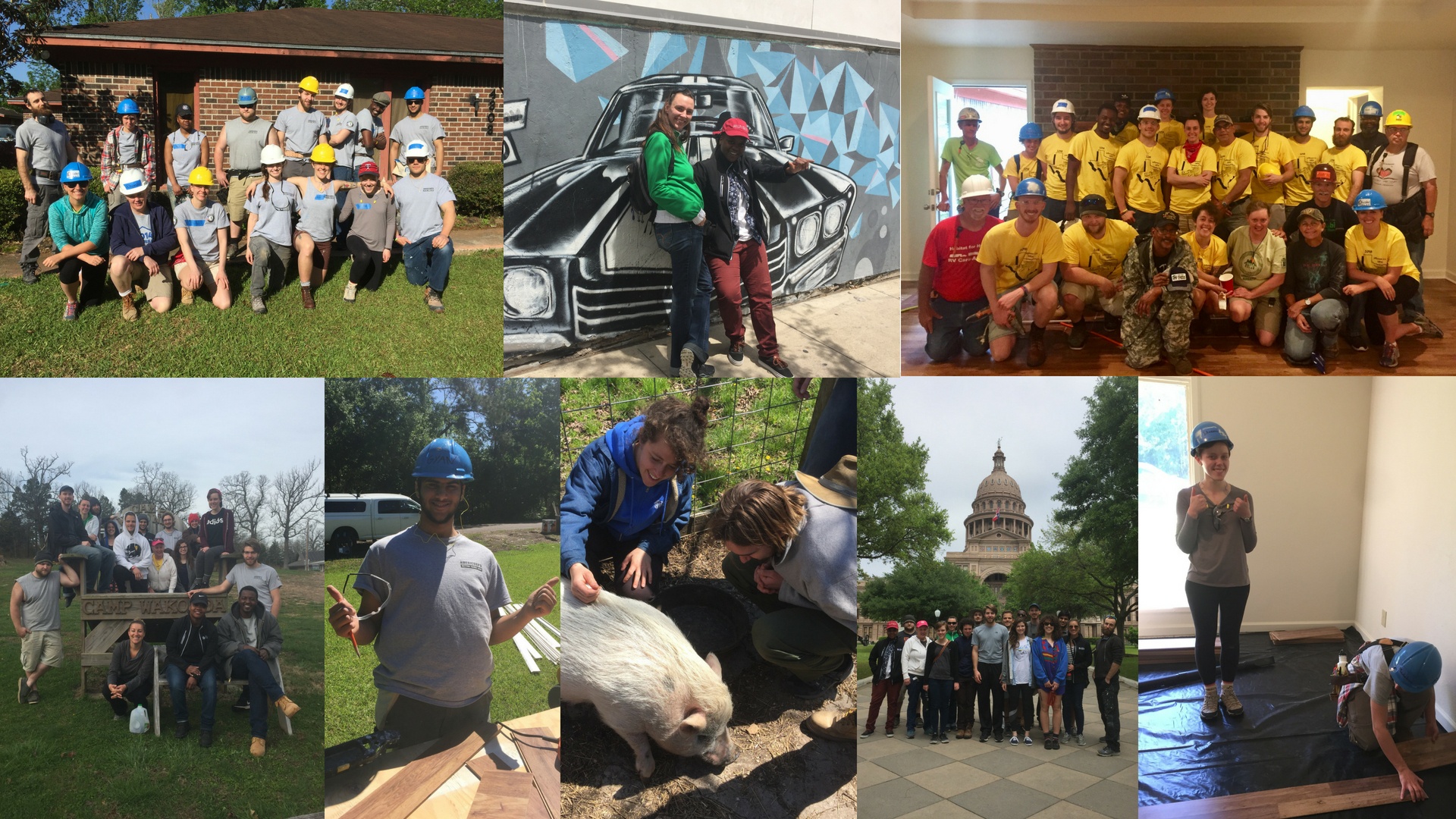 Next up for the group was to welcome 12 summer members in May. It was the new kids' turn for orientation, and we even had a little help from our senior members with tips and pointers during the #learningscavengerhunt.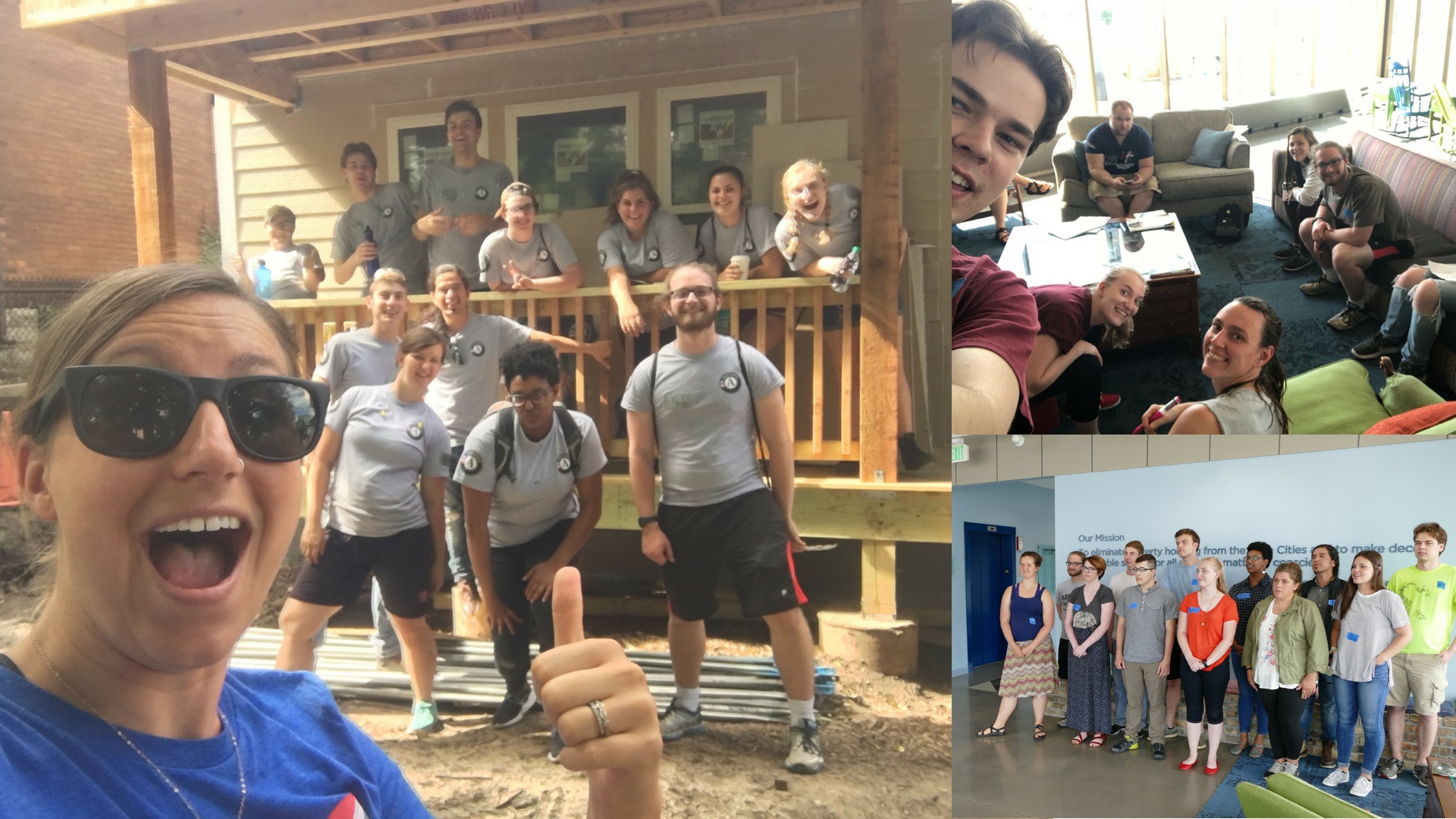 After a short, but extremely busy summer - it was time to say goodbye to the fleeting year for AmeriCorps. We want to thank both the team, and everyone who supported our amazing AmeriCorps members through their journey that brought people, communities, families, and homes together. It's been a fantastic year!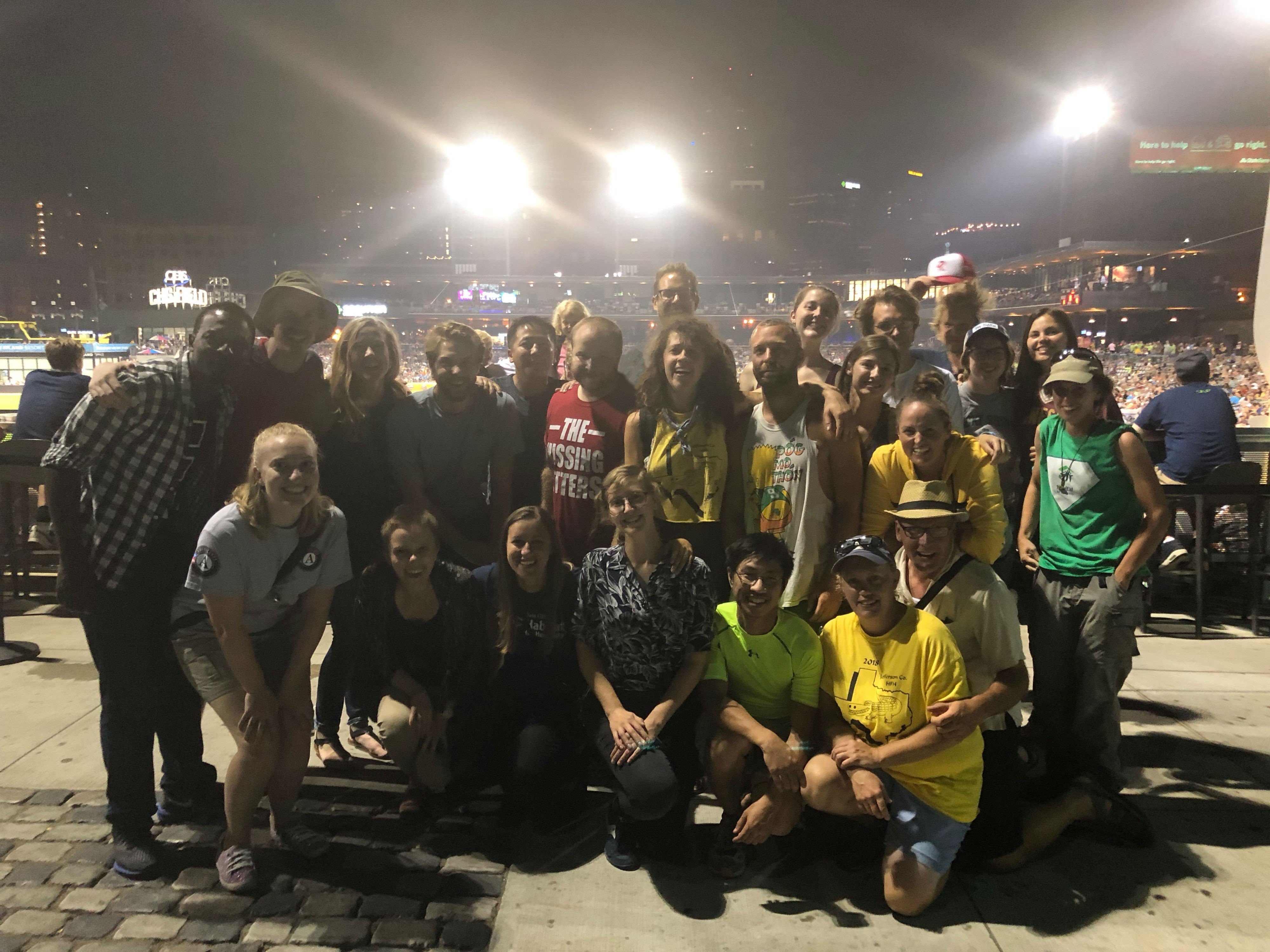 As the year came to a close, we asked some of our members to share some thoughts and what their future plans were - check it out:
Kenzie Lund: "What brought me to Habitat was my passion to help people and willingness to learn some new skills."
Kenzie is currently working toward positions at several for-profit construction firms in the Twin Cities to put everything he has learned to good use. His advice for incoming members is "not to be afraid of the job at hand, but to embrace the challenge and try to learn something new every day."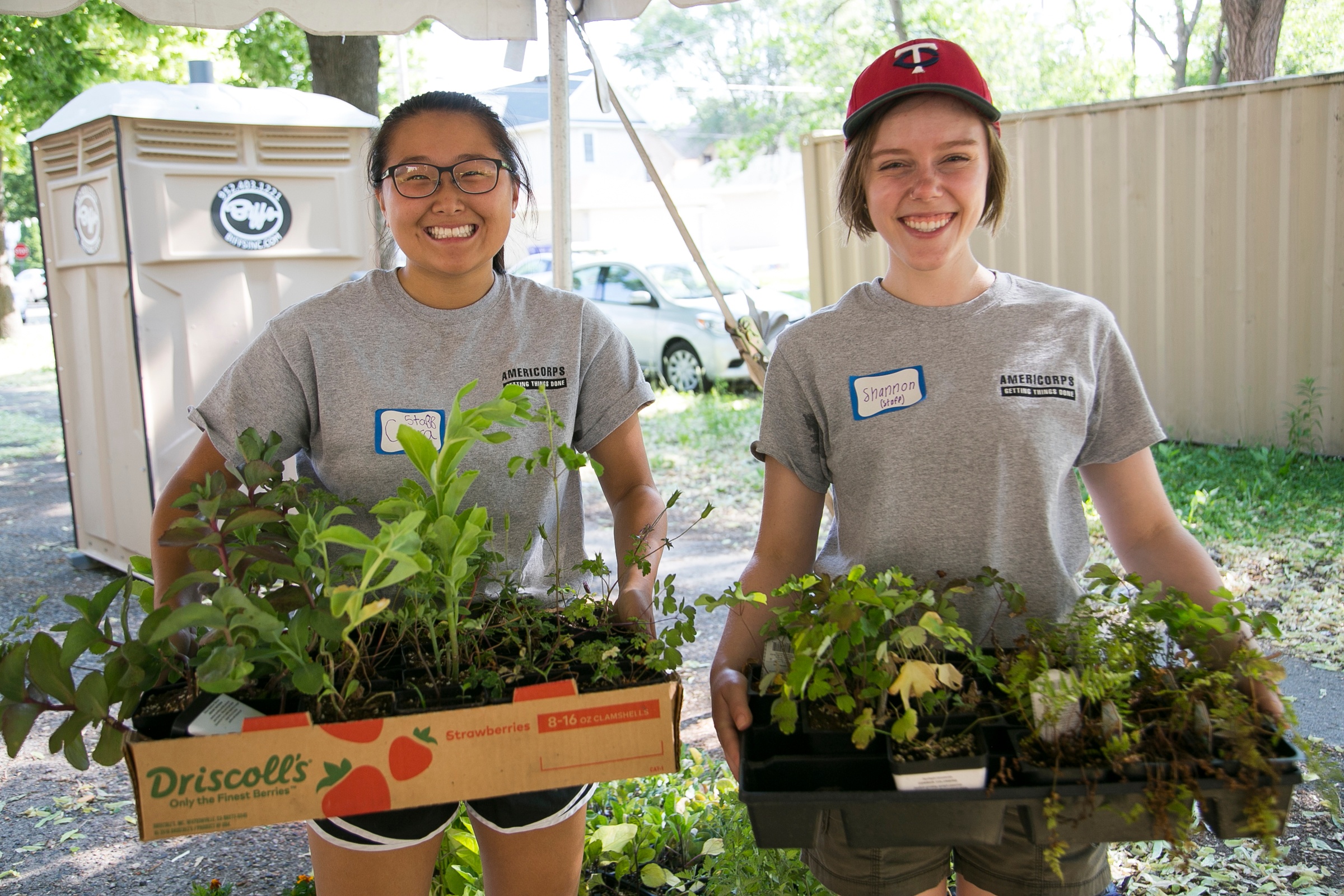 Shannon Twiss: "My biggest takeaway is the community we have the opportunity to build with our fellow AmeriCorps members, especially on our spring service trip. It was a great opportunity to connect with one another in a different context than our day-to-day work and routines."
Shannon's advice as a continuing member and incoming Team Leader is "strive to stay open to new and meaningful connections - whether that's with partner families, volunteers, Habitat staff, or other members."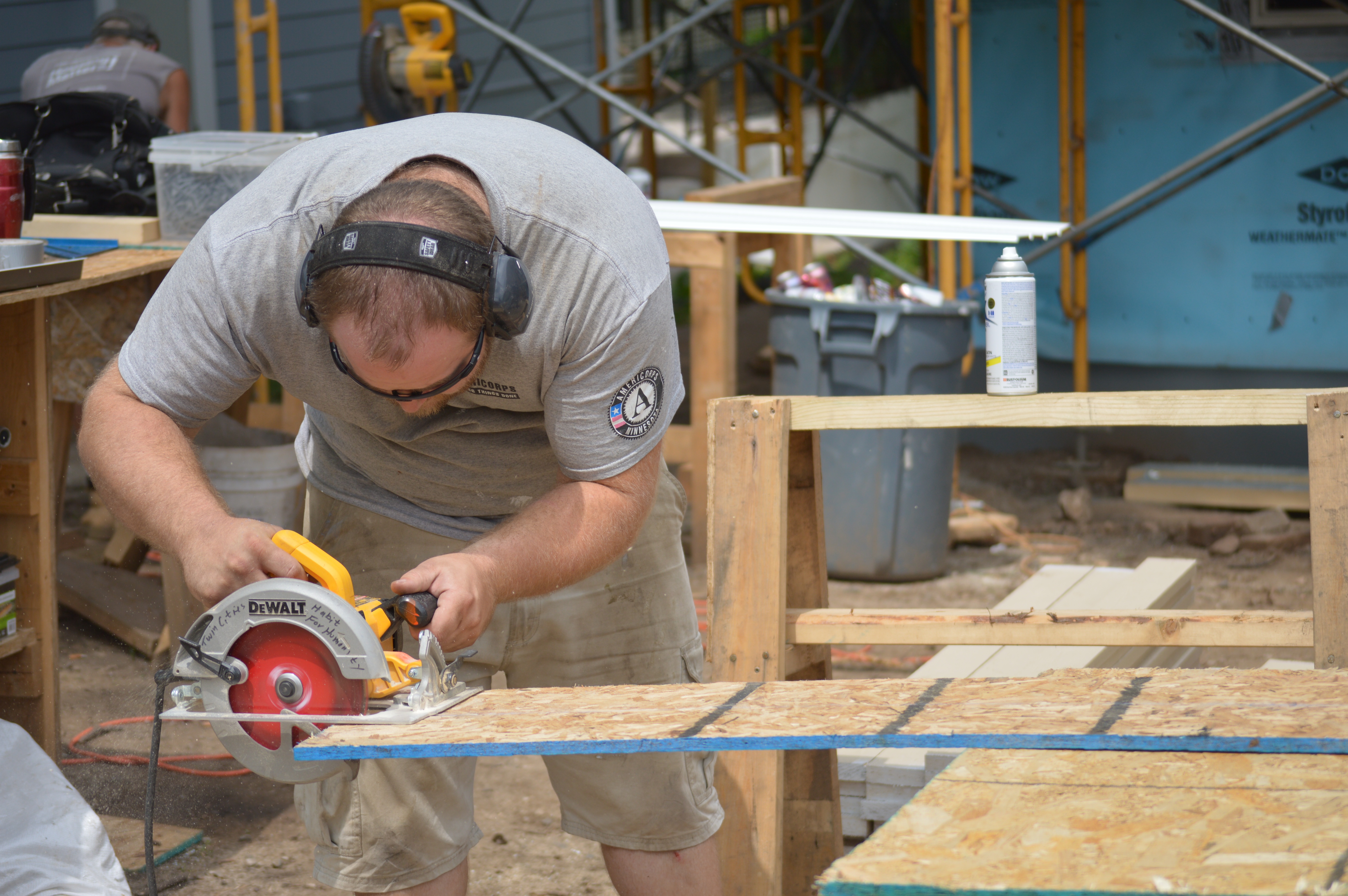 Matt Benson: "I think the most important role of AmeriCorps is helping people grow a sense of service or altruism in an organized way. I feel like it has taught me how to seek out more opportunities to serve in my community wherever I am."
Matt says his most memorable moment during his service was his first time putting up trusses with his site supervisor Dave Madzo. Going forward, he is going to be putting his skills to work doing remodeling in South Minneapolis. For new members, Matt's advice as an outgoing Team Leader is "patience and humility are essential for learning. Always ask questions."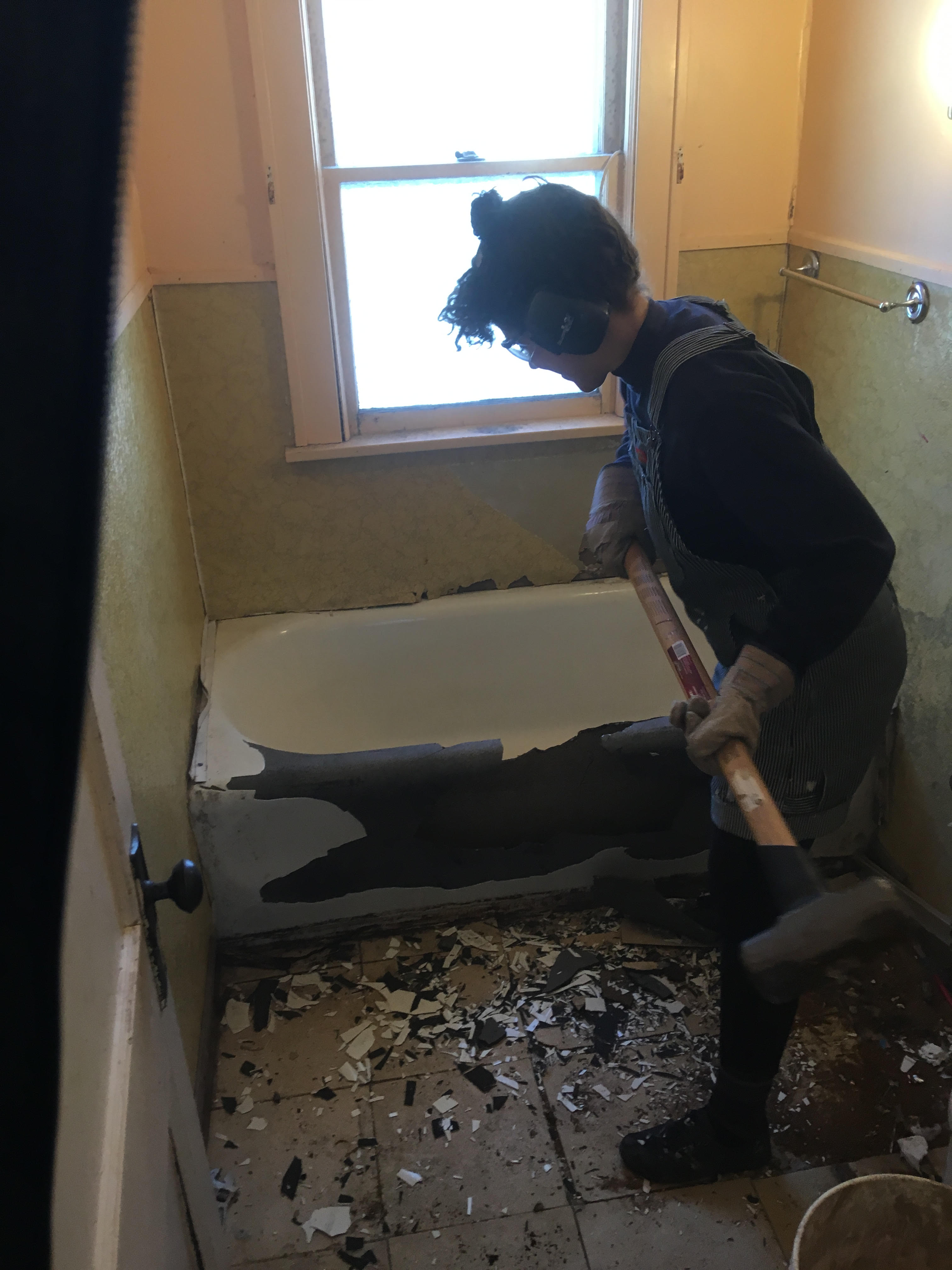 Lillie Taggart: "My year with AmeriCorps has been life-changing; being on the A Brush With Kindness team has been the best professional choice I've made thus far. I met co-workers, co-servers, volunteers, and homeowners that inspired and changed me, and I learned skills that fed a whole part of me that has been hungry for my whole life."
Lillie chose to continue for the coming year and says, "As someone with a mental illness, meeting homeowners who also struggle in similar ways has been the most important aspect of working with A Brush With Kindess. I have cherished the opportunity to share and empathize about a lifelong struggle in the context of support and compassion, change, and progress. That, to me, is what is most beautiful about A Brush With Kindness: we improve the physical living situation of people in need, but as people in need ourselves. We improve our own situations by interacting with everyone we meet and work with."