Guest blog by Lillie Taggart Sr.,
A Brush with Kindness Volunteer Facilitator & AmeriCorps Service Member
What happens when you describe your job to people?
Yesterday, in introducing my work I said, "I serve as an AmeriCorps member at Habitat for Humanity. Today we demolished a bathroom!" Blank and somewhat saddened eyes stared back. I realized the issue and relieved their worry: "I serve on the home repair side!" I explained. The home repair side that, all too often, people don't know about.
New Learning
Along with bathrooms, I'm out to demolish this lack of awareness about A Brush With Kindness (ABWK). Do you know about ABWK, dear reader?
This is my second year serving with the organization Twin Cities Habitat for Humanity and I still have a lot to learn, so no judgment if you don't know.
But let's change that. Rather than give you the nuts and bolts of our program, allow me to direct you here for that, and use this opportunity to take you on a wee journey into the world of ABWK in the winter.
If you know anything about A Brush With Kindness, you know that we paint houses in the summer. (Or rather we scrape, wash, prime, and paint houses; perform repairs and do small to medium construction projects in the summer with the help of corporate and individual volunteers.)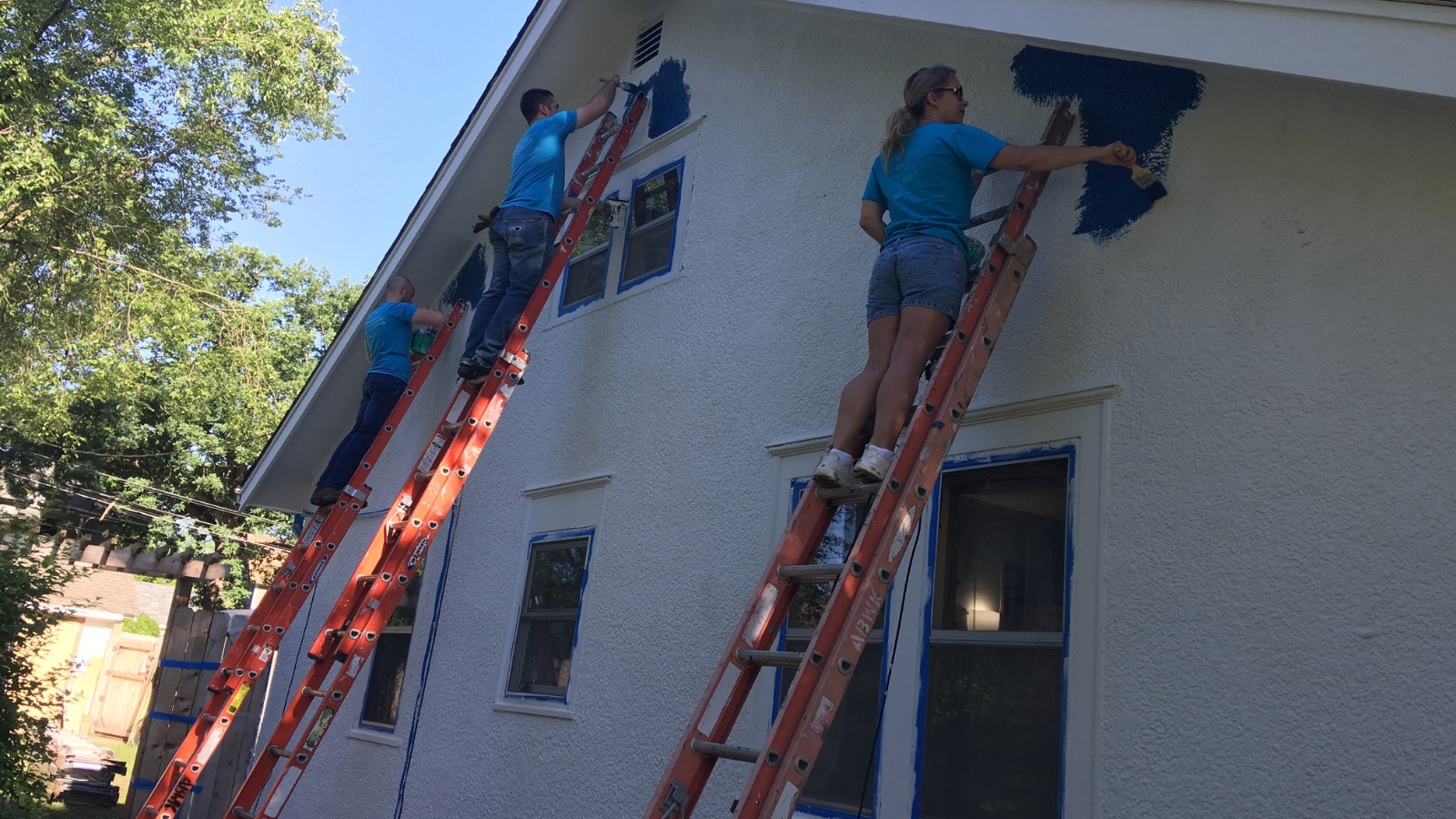 But if that's where your knowledge ends, let me tell you what! There are six whole other months of the year that we are working. You can't paint outdoors in the winter, so we move indoors, and we extend our reach quite a bit. We still work with low- and moderate-income homeowners to make their homes safer and more accessible.
Often, the homeowners are the same ones who we worked with during the summer months, but now we're paying attention to the needs in the interior. Interior jobs include plaster or drywall repair, replacing fixtures and appliances, putting in new flooring, hanging doors... the list goes on. The difference is, now that winter is here, we are in their space, not outside of it.
My journey with you today is to a sweet home in the Camden neighborhood of North Minneapolis. I will keep the homeowner's name out of this story, but she is a kind older woman. We did exterior work here this summer, and now the time has come to get working on this bathroom!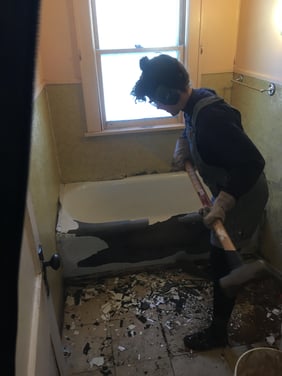 This is our homeowner's only bathroom in her house, so as we work we need to make her toilet accessible every evening before we leave. During the day, not only are we in her space making an incredible amount of noise (like the noise of demolishing a cast iron tub, for example), she's also required to use the Biff that's taking up space in her driveway, because we will be removing her toilet to give us room to work. Suffice to say, space is tight and time is of the essence.
This project will be fun because we will save an old tiled floor, replace said cast iron tub with a shower, replace her window trim with something made to be in a wet zone, and put up tiling on the walls in the wet zone. We will also work on bowed or swaying walls! (Note: bathroom in photograph is from a previous project.)
We will try to find fixtures that fit her style and preferences! Not leaving her with a totally new bathroom, but instead combining the new with the existing to hopefully make a space that is more usable for her but not too jarringly different from what she has been living with for decades.
That's just this month's project. The next will be something different with wild new challenges to approach and a whole new family to share space with while we work. We will eat lunch in their home, answer questions of their grandkids, and smell their dinner cooking. A Brush with Kindness is challenging in this way and yet, still so special.