This spring, Twin Cities Habitat hosted our first ever Virtual Hill Day to advocate for affordable homeownership at the state level. During our advocacy event, we shared two top priorities for the 2020 legislative session, including: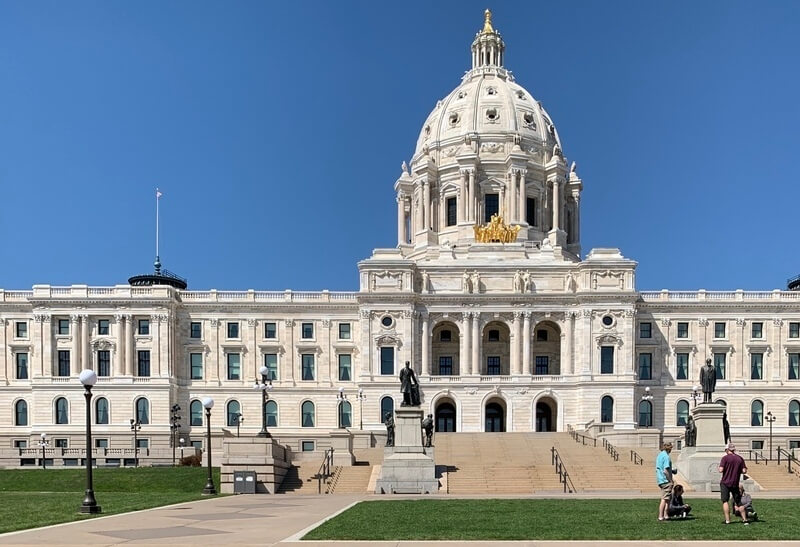 As the regular legislative session came to a close in May, funding for FHPAP and a bonding bill were both left unresolved. Since then, the legislature has returned for a special session every month. Habitat has continued to appeal to legislative leaders that there is work to do to stabilize housing for families across Minnesota.
When FHPAP did not receive funding from the legislature, Governor Walz announced that $100 million of federal dollars would be used from the Coronavirus Relief Fund to create a new housing assistance program specifically designed to maintain housing stability for families affected by COVID-19. The COVID-19 Housing Assistance Program (CHAP) will help low-income homeowners and renters with a range of expenses including mortgage, rent, and utility payments. We expect that program administrators will be identified and will begin serving households in need in mid-August.
Despite this movement on housing assistance, our state leaders have still not come to an agreement on a bonding bill. Within the bonding bill, Twin Cities Habitat is primarily advocating for HIB investments to be made available to develop affordable single-family homes. As Habitat faces a year with unprecedented development challenges due to COVID-19, the need for more homes for families to buy has not decreased. Habitat remains committed to providing affordable homeownership opportunities for low-income families and families of color throughout the Twin Cities.
Minnesota has one of the worst racial disparities in homeownership in the nation (read more in our Race & Housing Resource Center). This glaring inequity (shown below) drives our work every day.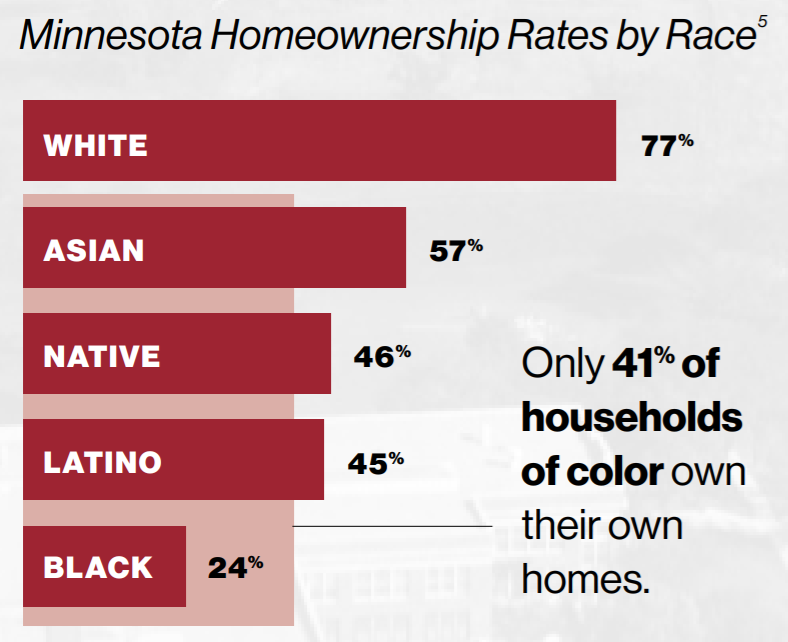 Graph shown is from our "Racial disparities in housing" report. Read the entire report here.
In addition, 64,000 households of color statewide are income-qualified to own a home but continue to rent due to a lack of affordable homeownership opportunities. We believe that we must give more families the chance to buy a home, the single most effective means of building wealth. If we are serious about providing equitable opportunities for every household, we must build more affordable homes. Expanding HIBs for single-family development would make all the difference in stabilizing affordable home production across Minnesota.
Another special session is set to begin on August 13, but legislative leaders do not anticipate considering a bonding package this month. The best chance for a bonding bill to pass will be in September. Habitat will continue to advocate for lawmakers to support the expanded use of HIBs for single-family development as the legislature negotiates a bonding package. With this investment in affordable homeownership, we can work towards a reality where all of our neighbors have a safe, stable place to call home.
Sign up for action alerts to keep up with our advocacy efforts and take action in support of affordable homeownership.