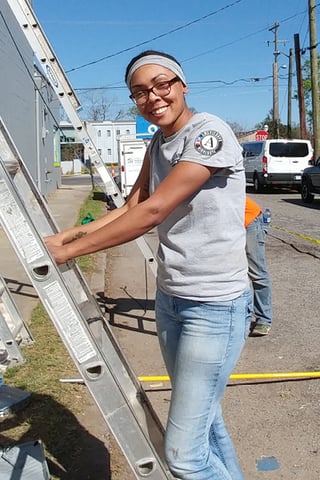 If you've ever volunteered with Twin Cities Habitat, you've likely worked with an AmeriCorps member on site. The work and impact of Twin Cities Habitat would not be possible without the commitment of AmeriCorps members. The program is unique because it gives members the chance to develop their skills by leading and acting out the mission of Habitat while devoting a year to service.
Rarely in life are you presented with an opportunity that can change you forever as a person and, at the same time, allow you to have a positive impact. While serving with Twin Cities Habitat, AmeriCorps members gain knowledge on both the technical requirements that go into building high-quality homes and the leadership qualities necessary to orchestrate the volunteer crews to get the job done.
The impact on an AmeriCorps member's life after their term is significant:
AmeriCorps alumni are more likely to obtain their bachelor's degree after service
over 80% say that their service benefitted their career
they are twice as likely to stay involved in their community
over 94% of them are registered to vote.
They are also set up for success: AmeriCorps alumni at Habitat have roles such as Project Management, Volunteer Program Manager, and Construction Site Supervisor.


With funding for this program now in jeopardy, it is more important now than ever to be talking about AmeriCorps and how it benefits the community. Habitat is currently working to protect this and all other national service programs. Please contact your members of Congress today and ask them to protect these programs that are critical to Habitat's success. You can take action here.