Now that we've settled into our new office, we want to show you around!
Sign up to tour Twin Cities Habitat for Humanity's new office building and see first-hand how this space will greatly increase the positive impact Habitat can have in our community.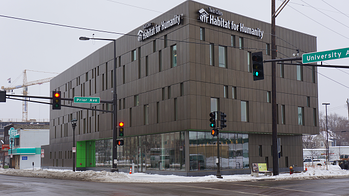 Tour Dates & Times:
Thursday, May 15, 2014
9:00 a.m.
Tuesday, May 27, 2014
4:00 p.m.
Tuesday, June 10, 2014
9:00 a.m.
Thursday, June 26, 2014
4:00 p.m.
1954 University Avenue, St. Paul, MN 55104
Space is limited to 15 guests per tour, and you must sign up to reserve your spot. Additional day-of and parking information will be sent to your email prior to the event.