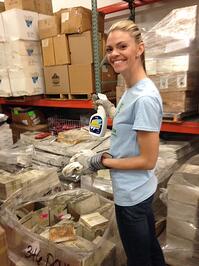 After adding to their staff, hosting their first-ever storewide sale and expanding into a new space earlier this year, the Twin Cities Habitat for Humanity ReStore has hit yet another milestone: helping to fund the construction of three Habitat homes for low-income families in the Twin Cities!
"As the newest ReStore Staff member, I find myself continually amazed by the generosity of our volunteers and donors; devoting time and product to the store," said Jill Carmody, Manager at the ReStore. "With their help, I am confident that the ReStore will continue to increase the funding of many more Habitat homes in the Twin Cities."
The ReStore staff acknowledges that this feat wouldn't have been possible without the support of their loyal customers, generous donors and wonderful volunteers. Customer traffic to the store has tripled this past year and the local community has provided a never-ending supply of flooring, doors, appliances and construction tools to offer up for sale.
"The ReStore is 100 percent donations based," said ReStore Senior Operations Manager, Pete O'Keefe. "Besides thanking our shoppers, we are amazed at how the donations keep ramping up via word of mouth. The local community keeps us busy by dropping off usable light fixtures, tools or lumber at our Donation Door. In addition, the new ReStore truck keeps busy picking up excess materials from Twin Cities' contractors, businesses and retailers."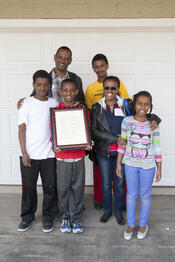 With summer construction in high gear, the ReStore staff is energized and ready to contribute even more during their next fiscal year – and you can help! Here's how:
Share with friends and family that the ReStore is a great place to shop for deals on gently used and new home improvement and building materials.

Donate appliances, excess construction materials and other accepted items to the ReStore.

Help staff and shoppers, and develop some friendships while volunteering at the Store!
Congratulations to the ReStore staff, supporters and community for helping to provide affordable housing for three more Minnesota families!