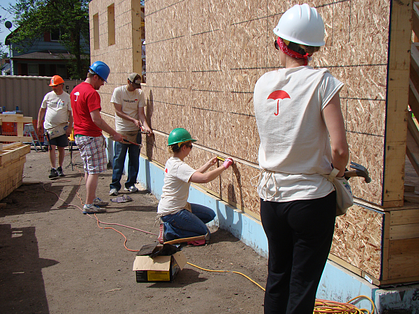 We here at Twin Cities Habitat for Humanity couldn't get the work done without the help of all of our dedicated partners.
Travelers is one of these partners, and they are certainly dedicated. Since 1990, Travelers has committed over 3,000 volunteers and 50,000 volunteer hours to sponsor and build more than 22 homes in the Twin Cities. But our partnership with Travelers goes back even before that.
"Travelers has a very long history with Habitat," said Mark Turbak, our Corporate and In Kind Relations Senior Associate. "Travelers has been sponsoring home build constructions since nearly the very beginning of our affiliate in 1985. Their history is as long as we've been keeping records!"
"We believe that many risks to life and property can be mitigated with smarter community development strategies, many of which are activated in the builds supported by Travelers both through the sponsorship and volunteers," said Gary Erickson, a a retired Travelers VP.
Gary himself was a dedicated Habitat volunteer, heading the committee that organized the Travelers build each year.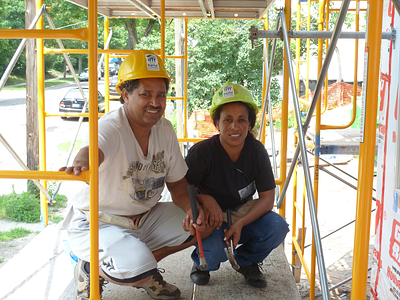 Travelers' current build site on Manitoba Avenue in St. Paul will be the new home of Sltan and Gebregiorgis, who moved to the United States from Ethiopia seeking a better life for themselves and their six children.
Thanks to Travelers' sponsorship, the family will finally have the spacious home they sorely need.
Travelers has been sponsoring at least one home build a year since the 90s, Mark said. Between 2001 and 2014, Travelers employees and partners have built 11 homes.
They have also donated over $1 million to Twin Cities Habitat for Humanity.
"Travelers' partnership with Twin Cities Habitat continues to have a substantial impact," said Kate Loe, Director of Donor and Volunteer Development. "The on-going support from long-term partners like Travelers ensures Twin Cities Habitat will continue our work to transform the lives of hard working families through the promise of a safe, affordable place to call home."
Travelers has made a significant impact through its partnership with Twin Cities Habitat, but the partnership has been a special part of our efforts in St. Paul.
"They've been building in St. Paul for at least the last 10 years and they take great pride in that," said Riley Moynihan, our Constituent Engagement Senior Associate. "Also, they do a good job at engaging their community partners."
Travelers gives five days of its build to Securian – another major corporation in St. Paul – and another five to the City of St. Paul. Mayor Coleman has actually volunteered on the Travelers build site the last few years.
Beyond their impact on the St. Paul community and Habitat homeowners, Travelers' efforts help build comradery in their office.
"Participating in a build is a valuable team-building experience for employees as they connect with their co-workers outside of a corporate setting. For example, even though I was the business unit manager, once on-site, I approached my team members for their guidance and instruction," Gary said. "Every day I spent volunteering at a Habitat build was a fun day and even though I've retired, I'm confident that Travelers will continue to support Habitat as they've done over the past twenty years."