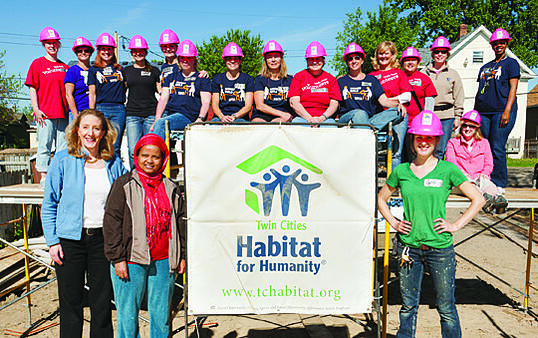 Twin Cities Habitat for Humanity's Women Build program has a long record of success empowering women.
This fall, Women Build volunteers are working on their 21st home in the Twin Cities! And now, we are launching a whole new way for women to engage in our mission of eliminating poverty housing. It's called Women of Habitat: Hearth & Hope. This giving circle brings philanthropic women together throughout the year for meaningful and fun events.
Women of Habitat is a great opportunity to help create positive change for families and neighborhoods all while networking with the Twin Cities' top female leaders. Please join us for the upcoming Women of Habitat: Hearth & Hope Luncheon and Salon on Thursday, November 21 from noon to 1:30 at Plymouth Congregational Church in Minneapolis. Sue Haigh, President & CEO Twin Cities Habitat for Humanity and Board Chair Metropolitan Council, will moderate a discussion on The Power of Women Impacting Community.
Participants include:
Mary Brainerd, President and CEO of HealthPartners
Dr. Reatha Clark King, Board Chair, National Association of Corporate Foundations
Tina Smith, Governor Mark Dayton's Chief of Staff
Tickets are $100. Admission is complimentary for Women of Habitat members. Visit www.tchabitat.org/womenofhabitat to learn about becoming a member of Women of Habitat and
for more details about this and other upcoming events.