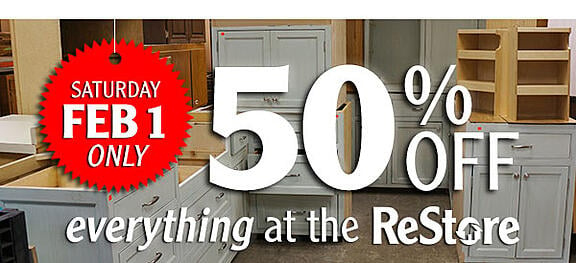 Twin Cities Habitat for Humanity's ReStore is excited to announce its first annual 50% off sale on Saturday, February 1, 2014. This is a one day only sale from 10:00 a.m. to 4:00 p.m. The 50 percent off sale is a great way for the ReStore to show appreciation to the surrounding community for its constant support.
The Habitat ReStore serves three main purposes: First, to raise funds for families in need of stable housing; Second, offer a way to recycle building materials and provide them at a discount to customers; and finally increase the awareness of Habitat's mission by bringing people together to build homes, communities and hope.
Our inventory includes appliances, furniture, windows, doors, lighting, tools and much more! It's the perfect place for bargain seekers and DIYers to shop and find great deals for everything from small projects to large home remodeling updates.
To give you an idea of just how much shoppers can save, here is a list of just a few items you can typically find at the ReStore:
Item
Regular ReStore Price
Price during sale
Doors
5$ to 40$
$2.50 to $20
Windows
Averaging $100
$50
Paint
$8/gallon
$4/gallon
Kitchen Cabinets
Typically $10 to $100
All half price
Ceramic Tile
12' X 12' @ $1 each,
6' X 6' @$0.50 each
12' X 12' @ $0.50 each,
6' X 6' @$0.25 each
The Restore is located at 510 County Road D West, New Brighton, MN 55112. All items purchased 2/1/14 at 50% off must be picked up that day---no product holds.