We continue to process the pain and hope of our nation's uprising for racial justice amid a global health crisis. You can see our recent statements on the uprising here, our COVID-19 web page here, and our Race & Housing resource center here. Expanding homeownership is a key component of racial equity and health, so our mission has never been more important—and we'll continue to share the stories of Habitat's work.
Guest Blog by Mike Robertson
Twin Cities Habitat A Brush With Kindness Program Manager
When I signed up for last year's Habitat 500, I really wasn't sure what to expect. I've been a serious cyclist for about 30 years, but have never done any "cause" rides. As causes go, of course, the Hab500 is a perfect fit for me as Program Manager of Twin Cities Habitat's A Brush with Kindness Program. I've been part of the Habitat family for a decade, helping homeowners throughout the Twin Cities metro area paint and repair the homes they love and preserving affordable homeownership in the process.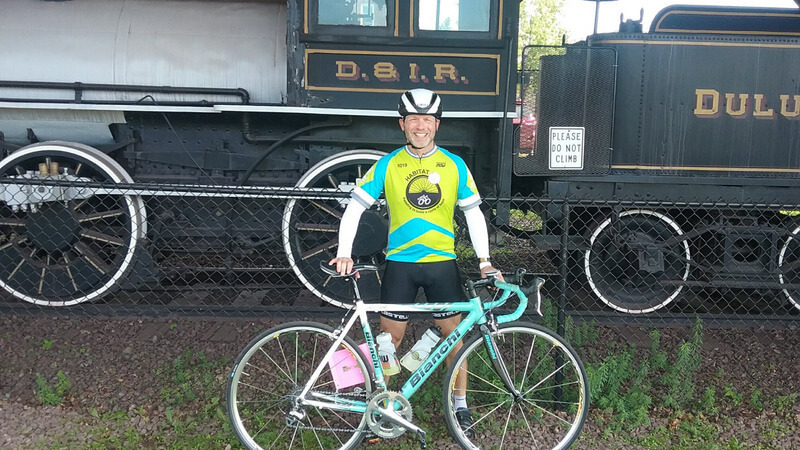 I took the plunge and signed up for the opening 1-Day option, figuring it would be a great way to test the water. The staff at Habitat Minnesota did a great job making the online registration and fundraising process user friendly, and I soon had my own page online to share my progress on and off the bike. The outpouring of support was amazing, and I quickly passed my initial fundraising goal by reaching out to friends, family, and co-workers through social media and email.
When I arrived at Hermantown Middle School (just outside Duluth), I was warmly greeted by event staff and began setting up camp. Later that evening, there was a thorough orientation for new riders that helped me mentally prepare for the ride. Knowing there was a "sag wagon" available to get any struggling rider through the day—or just down the road a ways—was a huge relief. I met people from all over who had been doing the ride for many years. I connected with first-time rider Laura Slavey from the Winona Habitat affiliate and we decided to try to ride together the next day.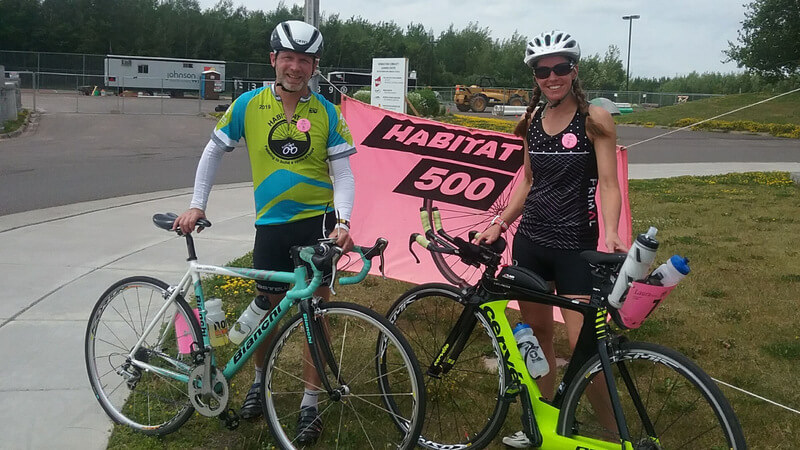 The day started out cool and clear when we got onto the course before 7:00 a.m. We wanted to beat the heat coming later. A gorgeous, well-marked course took us along the Scenic Highway north all the way up to Two Harbors. There were well-stocked rest-stops along the way and over a hundred friendly riders to keep us company on the roads. On the way back, the course turned inland, the weather got hot, and the roads hilly. Laura and I reminded each other to keep eating and drinking, talked about our work, our families, and we took turns drafting behind each other to get a break from the wind.
By the time we got back to Hermantown, my personal gas-tank was empty. But I felt a huge sense of accomplishment and gratitude for the many donors who supported me, and to the many volunteers who have made this event happen for almost three decades.
This year, the event has gone virtual due to COVID-19. While I'll miss the camaraderie of fellow Hab500 riders (and the rest stations!), I'm signed up to raise more money and hope to ride more miles to support affordable housing production and preservation. The virtual format allows the flexibility to ride wherever you want, whenever you want—super convenient! All of your miles get tracked through Strava (a fitness/social connection app) on your phone, and you can see what other Hab500 riders are doing and encourage them to reach their goals by giving them kudos and sending them messages.
Most importantly, supporting Habitat's mission across the state is critical for the health and stability of our communities. I hope you consider joining the Virtual 2020 Habitat 500 this year. And, if you'd like to donate to my fundraising effort, click here.