Back in 2013, Delilah bought a house with Twin Cities Habitat for Humanity. By becoming a homeowner, Delilah hoped to provide a safe and stable place for her two daughters to grow up and pursue their goals.
Six years later, Delilah's wishes for her family have become a reality. At just 15, Delilah's youngest daughter, Timiya Reese, is the author of Brianna's Voice, a children's book about a young girl who stands up to bullying in her school.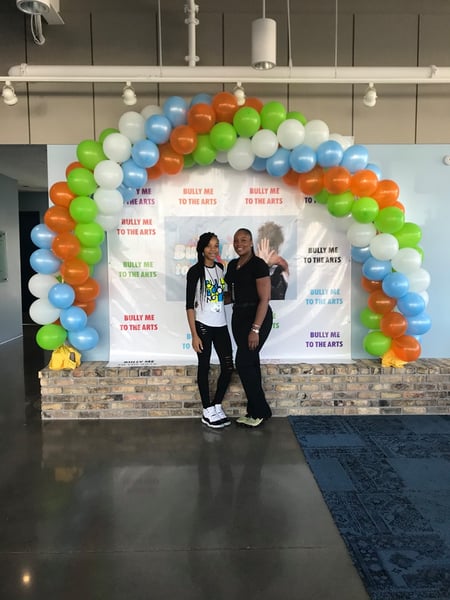 Timiya and Delilah at "Bully Me to the Arts"
Timiya wrote the book when she was 13 and has since become an anti-bullying activist and advocate for self-empowerment. Most recently, as part of National Bullying Prevention Month, Timiya and her mother decided to host an event to bring awareness to bullying in schools. When looking for a place to host the event, Timiya and her mother instantly thought of Twin Cities Habitat.
"It just seemed like the perfect place to have this event. I love Habitat and I'm grateful for all that this organization has done for me and my family," Delilah mentioned.
Having worked with Delilah in the past, we were happy to offer our office space for the event.
The "Bully Me to the Arts" event focused on encouraging children to turn to the arts to combat bullying. At the event, children had the opportunity to attend various art sessions, where they could engage in painting, music, dancing, and writing.
Besides offering free food and a chance to win prizes, the event also included a panel of guest speakers. The panel of speakers was made up of youth educators and anti-bullying activists (including Timiya) who shared their advice and tips for how to deal with bullying in school.
When given the chance to speak, Timiya explained to those in attendance, "When people try to stop you from being who you are, you have to persevere."
She also mentioned how all the speakers on the panel, including herself, had each channeled their experiences with bullying into art.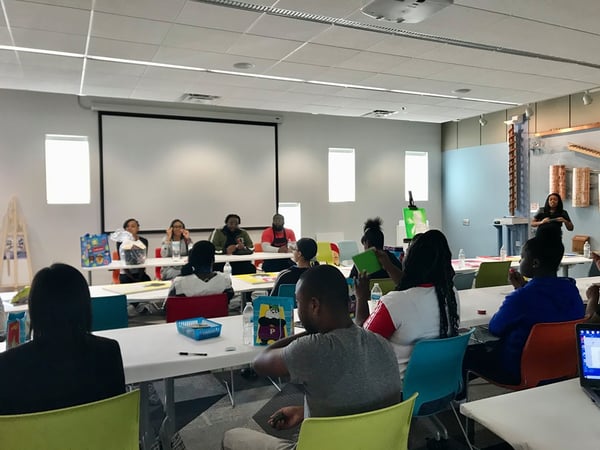 Speaker Panel at "Bully Me to the Arts"
"He turned his experiences into music, she turned them into a coloring book, and I turned mine into a book. You can turn your negative experiences into positive ones," Timiya added while gesturing to the other members of the panel.
The last activity of the event involved having participants write two positive affirmations for themselves. After writing these affirmations, some of the participants were invited to stand up and share what they wrote with others.
"We wanted to do this activity because we know that sometimes we can be our own worst bullies," explained Toviaz Bridgewater-Sly, who moderated the speaker panel.
Overall, Timiya hopes to continue to advocate against bullying in schools and show how art can be used in the process. That's why she plans to host the same event next year and hopes it will be even more successful.