Have you been considering buying a home with Habitat, but you're not sure where to start? Join us at an upcoming Habitat Homeownership Information Session.
Twin Cities Habitat for Humanity hosts an online information session every Wednesday at 12:00 p.m. CST for people interested in learning about our Homeownership Program. Simply register here to join us at an upcoming session.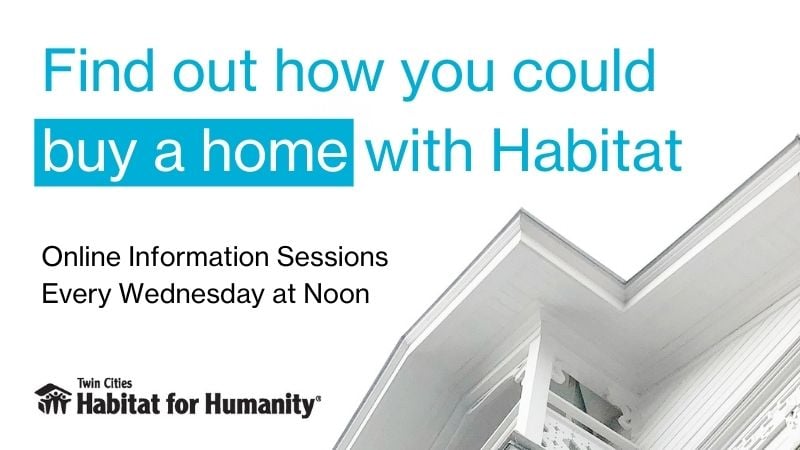 More about Online Information Sessions
When you join an online information session, you'll learn about:
Habitat's Homeownership Program
What it takes to qualify to buy a home or participate in financial coaching
How you can begin your homebuying journey
Where to start if you're not yet eligible for Habitat Homeownership
Each information session includes a 10-minute presentation from a Habitat staff member, then an open forum to ask questions. The Habitat team is always here to help you in your homebuying journey and address any questions or hesitations you may have.
Watch a Recording Now
If you'd prefer to watch the webinar on your own time, you can easily access a recording by filling out the appropriate form on this page.
When you watch the recorded information session, you won't be able to have your questions answered in real-time, but our team will follow up as quickly as possible.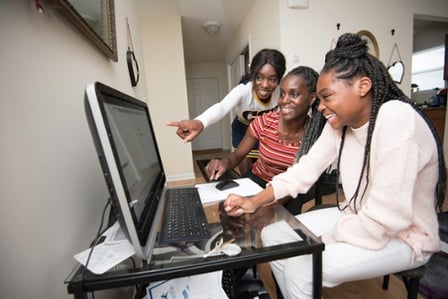 All Your Homebuying Resources
Buying a home is complicated. Twin Cities Habitat for Humanity is here to support you through the process. Check out the resources below for more information about buying a home and Habitat's Homeownership Program.
First-Time Homebuyer Video Library: Find helpful videos about buying a home in our first-time homebuyer video series. These videos are intended to be helpful to everyone exploring homeownership, not just Habitat clients.


First-Time Homebuyer Guide: Read our step-by-step guide to buying your first house, even if you're not looking to buy with Habitat. You can also download a PDF of the guide so you can print it out, take notes, and always keep it close by.


Habitat Homeownership Help Center: Find answers to the most-asked questions about our Homeownership Program, the application process, the TruePath Mortgage*, and more.


Find Out if You're Eligible Now
If you want to get started on your Habitat journey right away, it's easy to find out if you qualify to apply—get started here. You'll fill out an Eligibility Questionnaire, then we'll send you an email to let you know if you qualify to apply for our program.
Wherever you are on your homebuying journey, Habitat is here to help! We look forward to working with you during this exciting stage of life.
*The TruePath Mortgage is provided by TCHFH Lending, Inc., a wholly-owned nonprofit lending subsidiary of Twin Cities Habitat for Humanity.