At Twin Cities Habitat for Humanity, we are very blessed to have the opportunity to work with friendly, dedicated and generous volunteers each and every day. They fill a variety of roles, and every person brings a unique skillset and personality – but they all come with a heart ready to serve.
Tom and Sue Sohrweide were introduced to Habitat and recruited to volunteer along with other members of their St. Andrew's Lutheran Church congregation. Tom, Sue and their two children have all been out on-site over the years, helping to build homes for deserving Twin Cities families. In fact, one of their favorite Habitat memories is building alongside their children, and they recall how the day was filled with building tasks, and yet, "our kids and their friends were still allowed to be kids and have some fun." Sue has also served as a Habitat site host, welcoming volunteers on their build day, and providing food and beverages for the entire volunteer crew.
"There are so many generous people that are willing to give of their time and talents for the betterment of our communities," Tom said.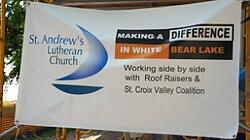 While volunteering on a recent Habitat home build sponsored by St. Andrew's, and attending their regular church services, Tom and Sue heard about the need for a partner family to support and assist the family that would be moving into the home. The Sohrweide's decided that they wanted to step up and volunteer as Neighborhood Family Partners, not only because of their love of serving others- but also because the new home was so close to their own!
"Our 'interview' to become a family partner was very educational, and we learned a lot about the extensive process a family goes through before being able to buy a Habitat home," Sue shared. "We like the concept of affordable housing, as we have been homeowners and know the pride that comes with that. The fact that the family has to be in a position to be good homeowners and provide sweat equity makes us feel that we are partnering with a family to help them achieve their goal and assisting them to achieve success when that goal has finally been reached."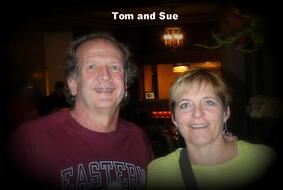 As Neighborhood Family Partners (NFP), Tom and Sue were matched to a Habitat family to help create a welcoming climate in their new community. NFP volunteers must be current homeowners who have an understanding of basic home maintenance, are engaged in their community, and have a desire to act as a friend and mentor to a Habitat family, as well as be part of a mutual learning relationship. The NFP volunteers work with the family for one year, and check-in on them on a quarterly basis.
Tom and Sue have met with the Ali/Mohamud family once since they moved into their Habitat home at the end of October. The family of seven is excited to have a new Habitat home, as parents Khadijo and Abdirizak believe having a stable place to live, a good education and a job are essential parts of life, and they are excited to be able to provide a bright future for their five children.
One of Sue's other favorite Habitat memories involves their new partner family:
"I'll never forget the big and welcoming hug I got from the youngest family member during our first quarterly visit with the family just a few months ago!"
The Sohrweide's are looking forward to working alongside the family in the coming months, and providing help and guidance to ensure the family continues their success as Habitat homeowners.
"Unfortunately, not every Habitat family has the opportunity to work with a Neighborhood Family Partner, because of the limited number of volunteers in this role. So, we are always looking for more volunteers to help guide families' transition into homeownership," said Ben Swegarden, Post-Purchase Support Associate at Twin Cities Habitat. "However, I've seen many unique and lasting relationships formed between from the families that were paired with a Neighborhood Family Partner. I've been told many times how rewarding and educational this experience is, for both sides of the partnership."