Last week, Twin Cities Habitat celebrated eight families who achieved their dream of homeownership.
On Monday, January 29, Habitat staff gathered to congratulate homeowners who bought homes on the open market using Habitat's affordable mortgage*. President and CEO of Twin Cities Habitat Sue Haigh shared the history of Habitat. "You are joining a wonderful family," said Sue.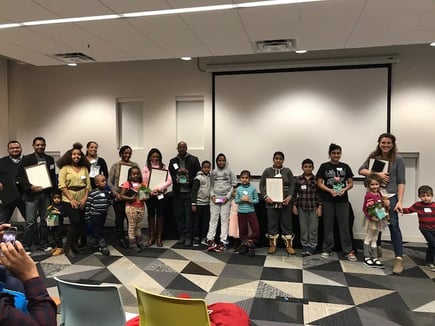 Maureen Holman, Twin Cities Habitat's Community Loan Officer, was thrilled to introduce the homebuyers and share her experience working with them. Her words about each partner included: excited, organized, and impressive.
The homeowners worked with real estate agents to find the right home for their family. Real Estate Agent Heather Phonseya shared her experience working with Twin Cities Habitat's partner families. When the opportunity presented itself to work with families, Heather asked, "What can I do to be a part of this team?"
The fun continued on Thursday, February 1 with another home dedication. Habitat staff and volunteers gathered to celebrate homeowner Sinying. "Thank you very much for being here. I'm just so grateful to be a part of the Habitat family. It's amazing to say I'm a homeowner. I will continue to give back and I promise to take good care of it for a long time," said Sinying.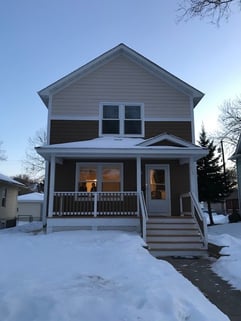 There were many volunteers who contributed time, energy, and some special mementos to this home's construction. A group of volunteers from Interfaith Builders signed a 2x4 in the basement and St. Paul's United Church of Christ had their youth group create a fleece blanket for the family of four. Site Supervisor Jimi Way was so impressed with everyone who came to site, especially the St. Paul Regular crew who celebrated one of their members 95th birthday on site.
Judy McNamara, Twin Cities Habitat's Vice Board Chair and Ecolab representative, presented the golden rule and dedication litany. She shared that right when she walked in the home, Sinying's son Benjamin walked up to her and said, "This is my home! We are going to live here!" Bringing smiles and laughter to all those gathered.
We are so excited for all families celebrated last week. Congrats and may you find comfort in your new home!
*All Habitat mortgages are originated by TCHFH Lending, Inc., a wholly-owned subsidiary of Twin Cities Habitat for Humanity, Inc.