Guest Blog by Jackie Peak,
Twin Cities Habitat for Humanity Staff
When asked what faith communities are examples of a partner involved in all aspects of Habitat, First Universalist in Minneapolis is one of the first I think of. Members of First Universalist have been volunteering and donating in support of Twin Cities Habitat's mission to eliminate poverty housing from our community since 1991.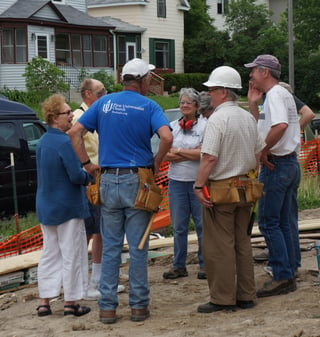 In 2014, First Universalist asked members to donate half of what they normally spend on holiday gifts to "The House that Love Built." It was a tremendous success and resulted in a large family being able to purchase a safe, new home in North Minneapolis. That same year, some First Universalist members became "Habitat Housing Heroes" to advocate for these housing goals: advance affordable ownership opportunities, promote access to safe, quality, and affordable housing across the continuum of housing, promote financial stability for individuals and families and cultivate and preserve healthy and vibrant communities.
Last month, we celebrated this long partnership with Habitat Sunday, held at First Universalist on December 4. This fall and winter the congregation has been highlighting each of their seven partnerships through Partner Sundays planned by their Faithful Action Council. That morning, Habitat homeowner Yemane, his wife Bizunesh and their family brilliantly represented Twin Cities Habitat for Humanity during both religious services and the social hour. Yemane spoke of the meaning of home and the goals he and has family can now accomplish because of their new stable home. Additionally, First Universalist Housing Heroes were on hand to encourage congregants to sign postcards to their Minneapolis city council members to support more affordable housing in the city's budget.
First Universalist has congregants involved at every level at Habitat. They have a regular crew that builds once a month plus a week during the summer, there are volunteers who are neighborhood family partnership and so many members are Housing Heroes.
If you or your faith community want to get more involved with Twin Cities Habitat for Humanity contact our volunteer coordinator at volunteer@tchabitat.org.