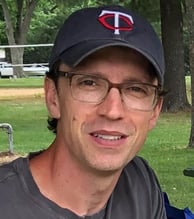 Sharing my story through this blog is a privilege, and I feel so fortunate to represent Twin Cities Habitat in my field. I currently serve as a Site Supervisor, following a term as a Construction Volunteer Facilitator with AmeriCorps. But this is not the role I envisioned for myself a year ago.
Until this past January, I worked for a global insurance brokerage and consulting firm, where I'd been for 17 years. Prior to beginning this career in 2004, I enjoyed working in construction, landscaping, and other jobs during high school and college. My long tenure in a corporate environment offered a great experience. I gained valuable lessons in leadership, communication, planning and organizing, and of course, flexibility. I mean, does anything ever go exactly as planned in any field of work? Above all, though, I worked with such great people, and those relationships have continued to grow even after my departure.
With that being said, I couldn't ignore a growing feeling that something was missing. So, in the summer of 2021, I took a leave of absence to discover what that may be. My first step was exploring new volunteer opportunities, as I knew my next journey would be mission-driven and focused on the local community. First, this led me to Habitat's ReStore Home Improvement Outlet in Minneapolis. Thanks to ReStore Senior Manager Jill Carmody and the ReStore staff, I was immediately drawn to being a regular weekly volunteer. Then, after stocking the ever-changing inventory for a few weeks – building materials, doors, windows, and tools – I wanted to learn the many ways I could use or install these items. And what better way to learn than to volunteer on a build site?
For my first day on site in October 2021, I was welcomed by Site Supervisor Beth and several 3M regular volunteers in Hastings, MN. Like with ReStore, my experience was so positive that I kept coming back (whether Beth or the 3M folks liked it or not). Admittedly, I had a lot to learn, and each day I was nervous about if I would grasp the project given. But my fears were always calmed by the team on site. This experience led me to more volunteer days in Cottage Grove, Chaska, and North Minneapolis. Everywhere I went, I kept finding great Twin Cities Habitat staff, AmeriCorps members, and volunteers. During a build day in North Minneapolis, thanks to Site Supervisor Zack and AmeriCorps member Will, I learned about the AmeriCorps program and the need for more Construction Volunteer Facilitators. I applied that evening.
I surprised even myself by making a 180 degree career change in a matter of hours. For years, though, my heart and gut had known I needed to serve a mission I believed in. My head eventually came around. Fast forward to today, and I have been able to find a role that combines my long-standing interest in construction and "hands on" work, professional career experience, and passion to support families in my community.
My interest in the Twin Cities Habitat mission and nonprofit model, as well as my curiosity about construction work, grew each day as I served through AmeriCorps. So, when a position for Site Supervisor opened, I knew I wanted to apply and commit to Habitat as a full-time employee. In September, I joined Habitat's talented field staff as its newest (and maybe most nervous) Site Supervisor. I am excited for what the future will bring, and I am grateful to my Site Supervisors (Katie and Porcha), the Habitat staff, AmeriCorps members, and volunteers for being such an inclusive, enthusiastic, and welcoming group. When I reflect on my journey to Habitat, my wife always says that we exited the expressway in pursuit of a more scenic route. And now, I don't even see the expressway anywhere in sight—just natural beauty.
---
Passionate about our mission and want to use your skills for good? Chances are, we have a place for you at Twin Cities Habitat for Humanity. Explore AmeriCorps, volunteer, or career opportunities today!