One key to running a successful nonprofit is finding partners whose work aligns closely with (or complements) your mission. A very smart woman I know summed it up as, "You must have mutually beneficial partnerships." After all, there is no such thing as a free lunch—not even in the nonprofit world. This is a strategy that has worked great at bringing significant corporate investment to Twin Cities Habitat for Humanity's mission over the past 30 years.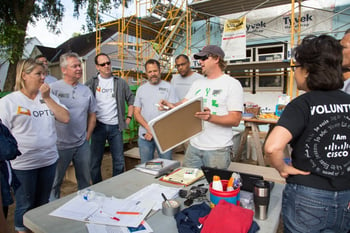 From our side, Habitat gets the capital it needs to finance home construction and repair work, while corporations have the opportunity to meet several of their needs at the same time (e.g. team building volunteerism, a strong presence in the community, affordable homeownership for potential workers or customers, positive public exposure around their corporate philanthropy, etc.).
One great example of a mutually beneficial partnership was on display at a construction site I visited in Richfield where volunteers from Optum and Cisco Systems, Inc. were working side-by-side. A division of UnitedHealth Group, Optum™ is a health services and innovation company on a mission to help make the health system work better for everyone. Optum and Cisco do a lot of businesses together and each company had brought high-level executives out as volunteer builders for the day. It was a chance for employees to interact across departments, and companies, in a whole new way.
The Habitat volunteer experience can be very powerful. It forces people to try new things (but in a safe and accessible way). Strong, new bonds can form quickly when you're hanging your first piece of sheetrock with someone you've only ever interacted with via email. When Habitat volunteers break for the day, they leave with a tremendous feeling of satisfaction. They can see what they've helped build and they know their labor has contributed to a family being able to affordably buy a home where they can raise their children. Habitat volunteering both empowers the volunteer and the family that will benefit from buying the home (another mutually beneficial partnership).
This empowerment cycle gets people coming back year after year (and sometimes week after week) to help Habitat again. Lynne Liebrenz, who coordinates Optum's volunteering, says the company has no problem recruiting people—many of whom spend months looking forward to their chance to get out and do it. Jamie Schreiber, who handled the task for Cisco, says the same thing. Jamie and Lynne both pointed out that recruitment is easier because their companies' executives are more than willing to step up and volunteer themselves. Having the chance to build a stronger corporate culture is just another way companies benefit from sponsoring homes with Habitat.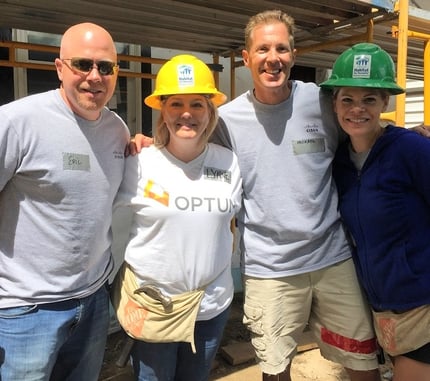 As is the case with so many Twin Cities Habitat sponsors, the mutually beneficial partnership with Optum goes beyond the rewarding volunteering experience available to employees. Optum is a company that wants to make the health care system work better for everyone.
At this point, there's plenty of evidence linking the benefits of decent housing and better health. The public is well aware of some issues (e.g. lead paint is a risk to children, overcrowding spreads contagious diseases, and mold exasperates respiratory illnesses) but less aware of others. Did you know radon, which is found in many Minnesota homes, is the second leading cause of lung cancer?
Because Twin Cities Habitat strives to improve health outcomes by building decent homes (we are extremely proud of our exceptional work around radon and other health/housing issues), we're a natural fit for Optum's corporate mission. Again, it's a partnership that's mutually beneficial.
If improving health or housing is important to you, please consider partnering with Twin Cities Habitat on a build site. Another way to get involved would be to attend our Women of Habitat Hope Builders Luncheon on October 6, 2015. Mary Brainerd, President and CEO of HealthPartners, will moderate a panel of women who are leaders in the health care field. The participants will include: Sharon Sayles Belton, former Minneapolis Mayor and Board Chair for Hennepin County Medical Center; Kathryn Correia, President and CEO of HealthEast Care System; and Dr. Penny Wheeler, M.D., President and CEO of Allina Health.