We asked Beth a few questions about her experience with Jordan Week of Kindness and Twin Cities Habitat's A Brush with Kindness program. Here are her responses...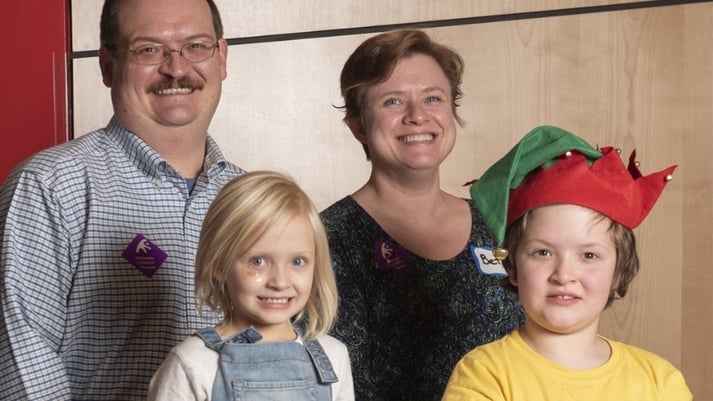 Beth, her husband Aaron, and children Alexandra & Erik at the Homeowner Networking event
How and why did you decide to get involved with the Jordan Week of Kindness project?
My neighbor Audua is chair of Jordan Area Community Council and she knew about a need for a volunteer that knew a thing or two about plants. She sees me out gardening all the time and suggested I get in touch with Polina, who is the Neighborhood Revitalization Program Manager at Twin Cities Habitat. When she described what I might be doing, I was in!
What was the planning process like for you and your family?
It wasn't just waiting around for the time to come to help direct people or moving plants around the block to make people's front yards pretty. It involved going door to door on my street to collect and pass out information about the block party planning. I remember thinking "This involves door knocking?!? I had never done this before! Polina calmly took my hand as I switched gears. She said it's all part of the process, and promised to be with me as long as it took. Luckily, it only took one day to show me the ropes. The do's and don'ts about door knocking & passing out flyers, and all the etiquette therein.
We talked to three homeowners that day. Collected consenting signatures for barricading the street, talked about the free flowers coming to our street and volunteer opportunities, and introduced myself of course! Many of my neighbors never officially met before. I started feeling really good about meeting everyone, and it was fun to get to know them.
Most of the door knocking was done on my own time, between a busy life at home and my kids' school. I brought my children along as often as I could, so my neighbors might be more at ease. I used up a good part of our dining room table for organizing flyers and updating information as I collected it in bits and pieces. I felt I was getting behind, so I called for help and my neighbor Audua and Cathy Spann from Jordan Area Community Council. That about tied up the rest of the block. I then spent the remaining weeks beating the street in the hot-hot sun. Dragging my kids along and passing out more Habitat flyers and inviting people to the block party.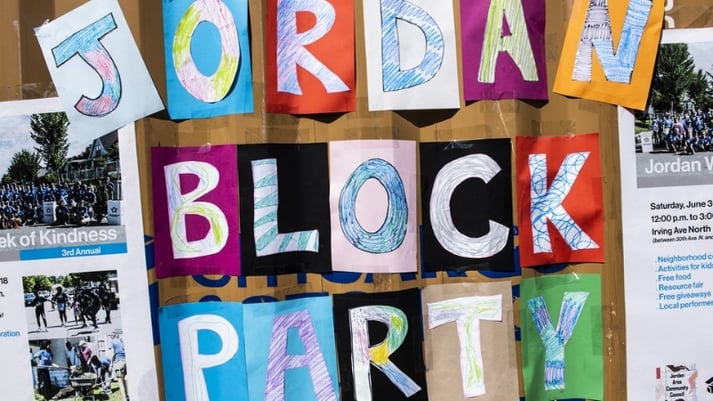 Tell us about a favorite moment of both the planning process and the celebration itself?
My favorite part of the block party was well... it was AMAZING! But getting my dance on at the beginning with Cathy Spann… WHOA! Good loud music can really ramp up your mood! I really loved the goodwill, smiles, energy, and I LOVED the drums and African dancing! Wow! to think that stuff could ever come to our street! The sign the kids and I made the night before was later featured (we were trying anything to make that storage unit look pretty). That made us feel good!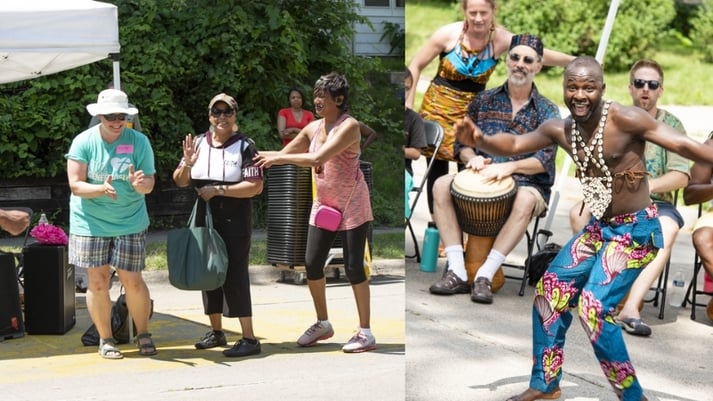 Beth, Cathy, and other neighbors grooving to the music!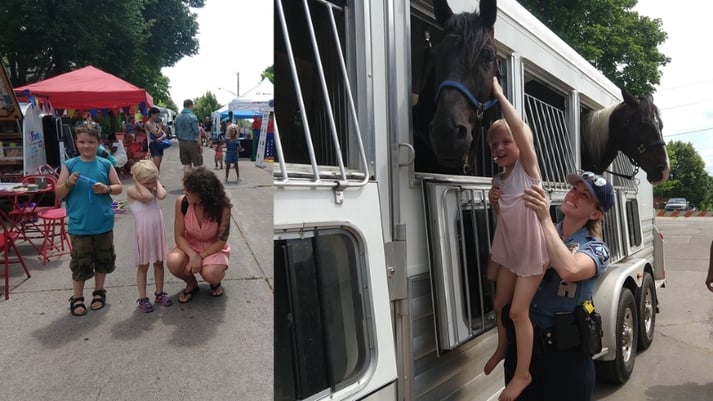 Beth and Aaron's children having fun during Jordan Week of Kindness celebration
Now that several months have passed since the event, how do you see your block being impacted by this project?
Well, they have us, and we have them now. But most importantly we are surrounded by friends now in our community. I feel they know more about us, and we do about them too. I feel we look out for each other. I have continued contact with about 1/3 my neighbors since the party, but for the most part my family tends to keep to ourselves, and so does the rest of the block. My family sure does like our quiet neighborhood, but will always open our door to our neighbors; especially if they need help.
We attend performances of our resident musician Liz, I give occasional cat care advice to Georgianna (who let my kids visit her cat Lovely's kittens!). I have made lawn maintenance connections for a sweet neighbor with limited access to the internet. I will occasionally shovel a few extra 100 feet of snow when I know my neighbors are at work, (and my tendinitis isn't acting up) and another neighbor down the street makes regular trips back and forth with his snow blower after a messy snowy day. Abi is known as our resident "Snow Angel". Xiong shared her lemongrass with us, just because my kids were curious, and we thanked her with a basket she made from the leaves.
Many of us really did keep our beautiful hanging flower baskets up to the bitter end of summer. It was fun to see them fly proud and beautiful.
What impact did the ABWK home repair projects have on you, your family, and your block?
It was a HUGE impact to our family! It seemed like a massive project with many stages that pretty much was incorporated into our entire summer. Our house had quickly fallen into disrepair and it was embarrassing. It looked haggard and was indeed hazardous in many aspects and areas. It was only a matter of time before we started getting citations from the city and our insurance company. Once we were on the A Brush with Kindness radar, we found out we had a massive amount of lead in and around the house, and a huge desire to rectify it with our small children. It took MASSIVE amounts of our own energy to prep for the volunteers, hundreds of trips and money at Menards to keep up with our own repairs and obligations.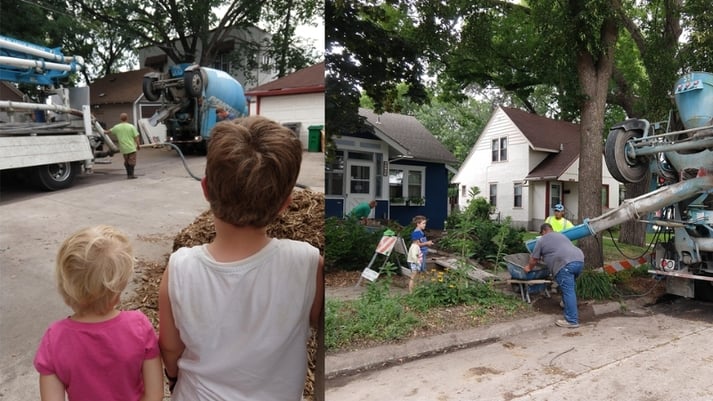 The kids were there every step of the way during the home repair projects
Apparently, our house must have been invisible because once it was painted, people actually stopped by and wanted to know if we had just built it, or to tell us how great it looked. We were quite taken back from our neighbors' positive reactions. Our house is just so beautiful now, it's kind of a jewel. It makes me smile because it now contributes to the well-being of our neighborhood and the other well painted houses around it. The new sidewalk, pavement, and steps really top off the effect.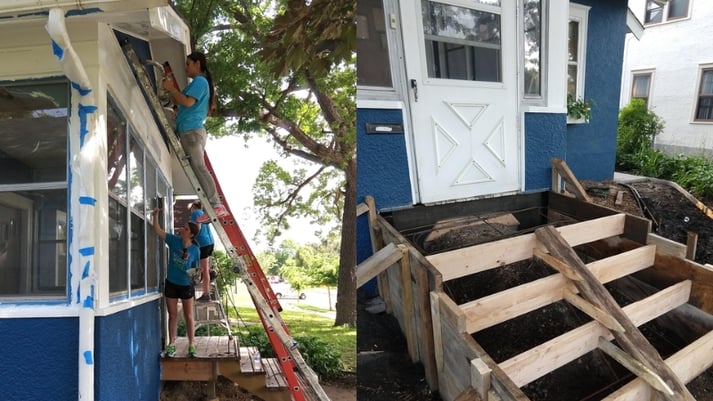 A Brush with Kindness volunteers and staff hard at work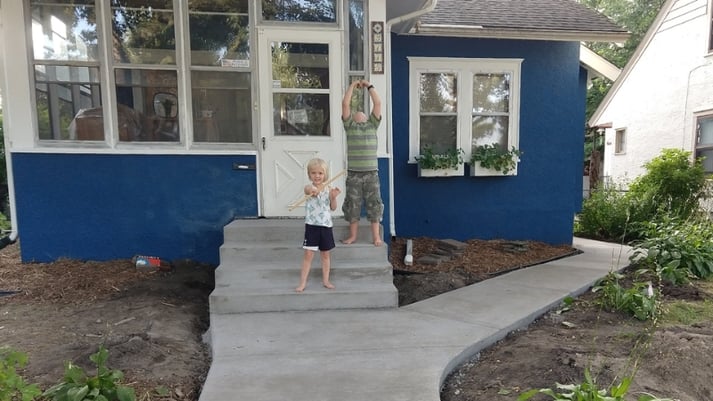 Beth and Aaron's children pose in front of their newly repaired home!
How would you spread the work about A Brush with Kindness or Jordan Week of Kindness?
We have to come to THEM when they are home. It can be annoying when someone I don't know knocks on my door, but I see it's kind of the only way to spread the good word sometimes. FACE TO FACE and wow—it's really hard work, but so necessary!